Celebrate Cinco De Mayo with Us!!! It's a Tone It Up Fiesta!
By Katrina Scott on


Hola chica!! 💃 It's Cinco de Mayo and we're all celebrating!!
Give us margaritas and guac and we're in heaven! ; ) We know what you're thinking ~ Bikini Series is kicking off Monday…so how can I keep it #TIUapproved this weekend with so many chips and cheesy burritos everywhere? You know we always got you!
We want you to enjoy yourself today and there are SO MANY delicious healthy options to celebrate Cinco de Mayo. We put together our best tips for a #TIUapproved fiesta, whether you're hosting your girls or hitting a restaurant.


Invite your girls over and whip up some super easy and delish apps and cocktails!
Taco 'bout it!
We're obsessed with these Spicy Black Bean Tacos featured from your brand new Bikini Series 8 week Meal Plan!!! Perf for Taco Tuesday...or Saturday 😌🌮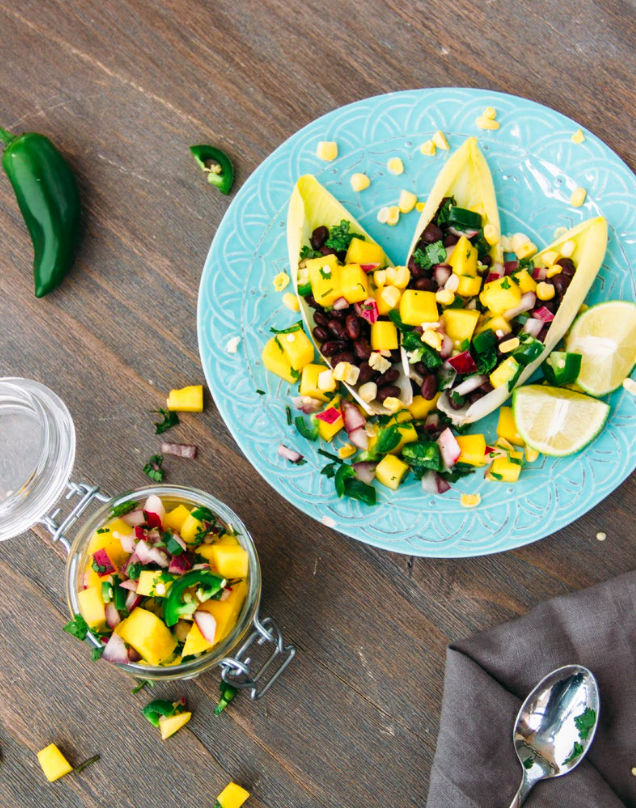 Spicy Black Bean Mango Tacos
Makes 3 tacos per serving (salsa makes 4 servings)
Ingredients: 
3 (or more) endive lettuce leaves
1⁄2 cup black beans
4 oz. grilled white fish or shrimp
Salsa: 
½ mango, diced
1 red bell pepper, diced
¼ cup red onion, diced
¼ cup cilantro, diced
1 jalapeño, diced
2 limes, juiced
Pinch of salt
Directions: 
1) Combine all ingredients for the salsa in a bowl.
2)  Lay endive leaves on a plate. Add black beans, fish, and 1⁄4 cup mango salsa. Serve with ¼ cup guacamole.
I dip, you dip, we dip
Chips are just a vessel for the guac and salsa, amiright? We like to swap tortilla chips for sliced veggies like cucumber, carrots, and bell peppers (mmm…so good!).
We're obsessed with THIS Bikini Series guacamole for get-togethers.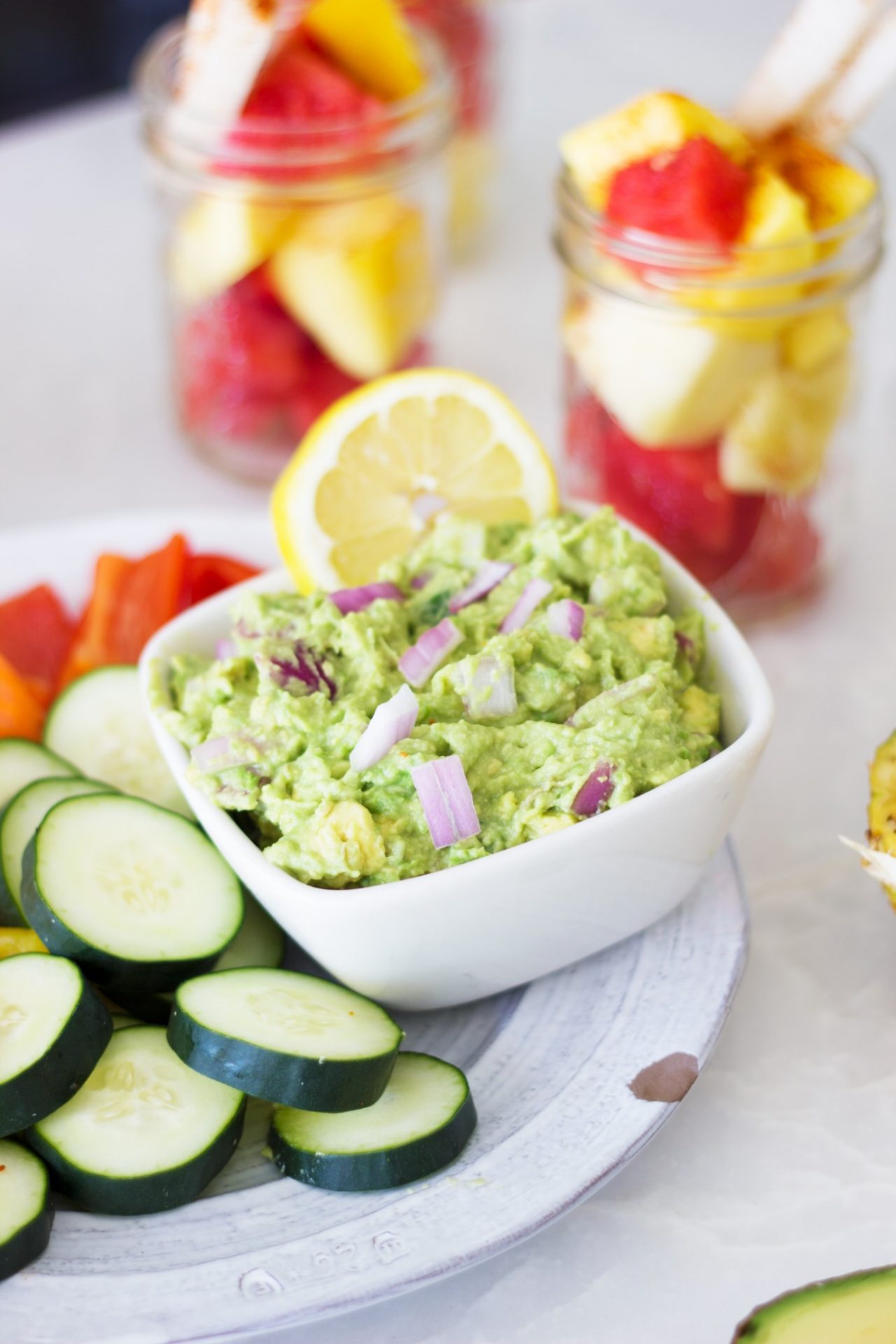 And we took the Pineapple Pico Salsa from the Blackened Salmon recipe in the Bikini Series Edition of the Tone It Up Nutrition Plan and served it in a pineapple. Gotta love a serving piece you can eat too! ; )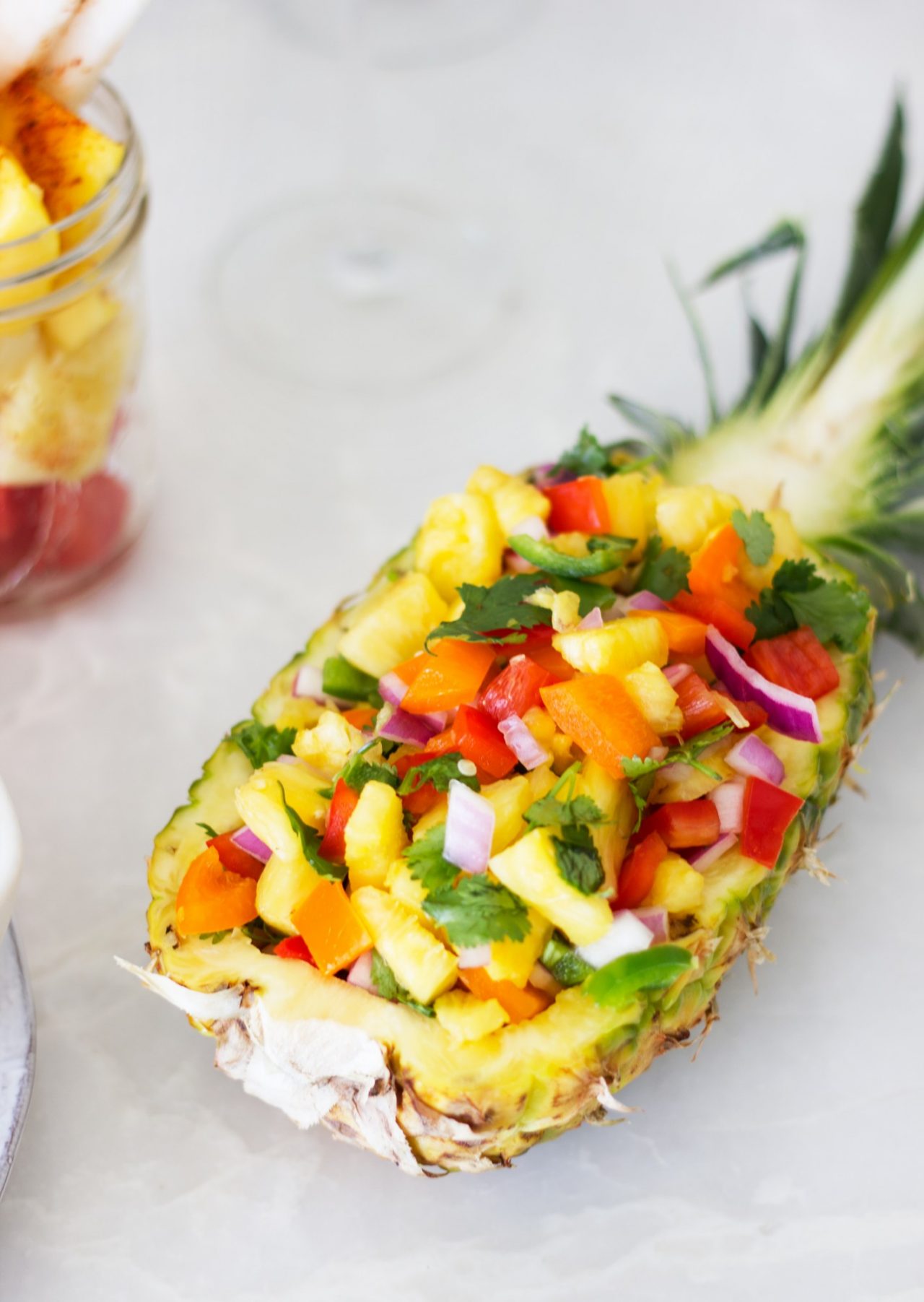 Try out the recipe ~
Ingredients:
1/4 cup fresh pineapple, chopped
1/4 cup bell pepper, chopped
1 jalepeño, diced
1/2 cup red onion, diced
1/4 cup cilantro, diced
1 lime, juiced
Pinch of salt
1. Mix all the ingredients together in a bowl. Keep in the fridge for up to four days.
Spicy Margarita!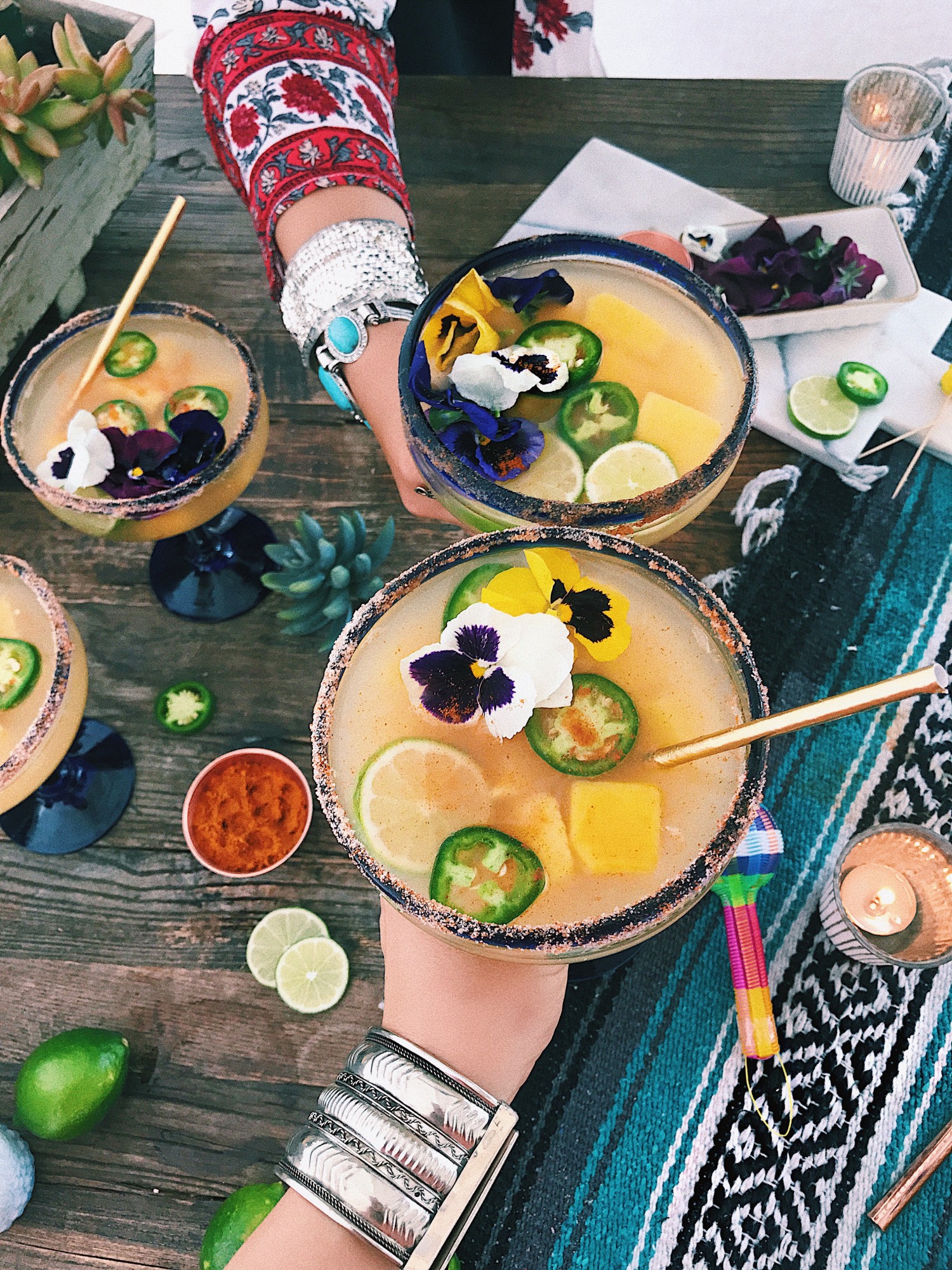 We tried this recipe on a shoot a while back and it was AMAZING!!!!! Perfect for Taco Tuesdays too!
Makes 2 servings...
4 oz. tequila
2 limes, freshly squeezed
10 oz. Cayenne Kombucha (We used Health-Ade Kombucha!)
We poured over frozen pineapple and sprinkled with more cayenne!
Garnish with a lime :)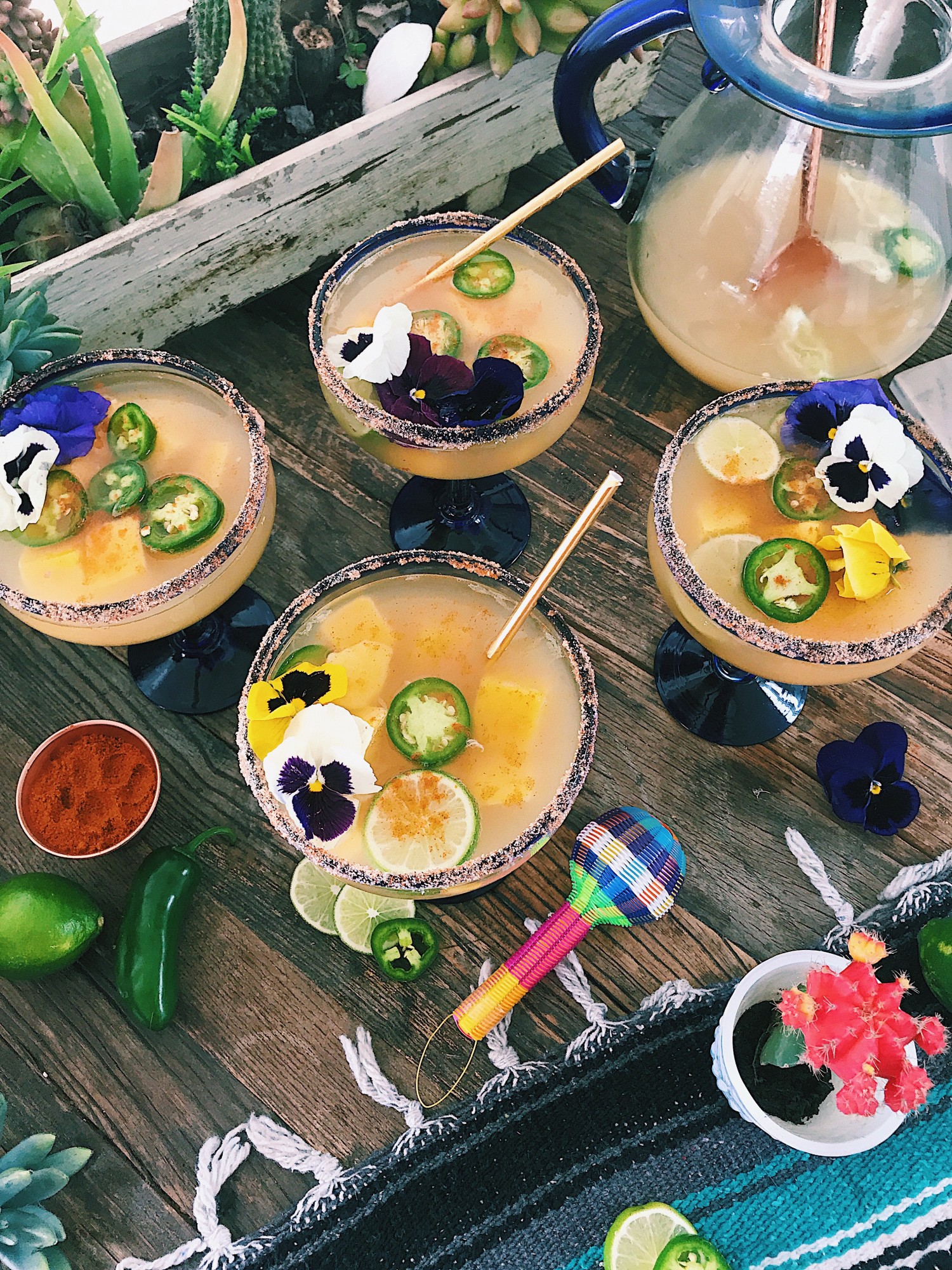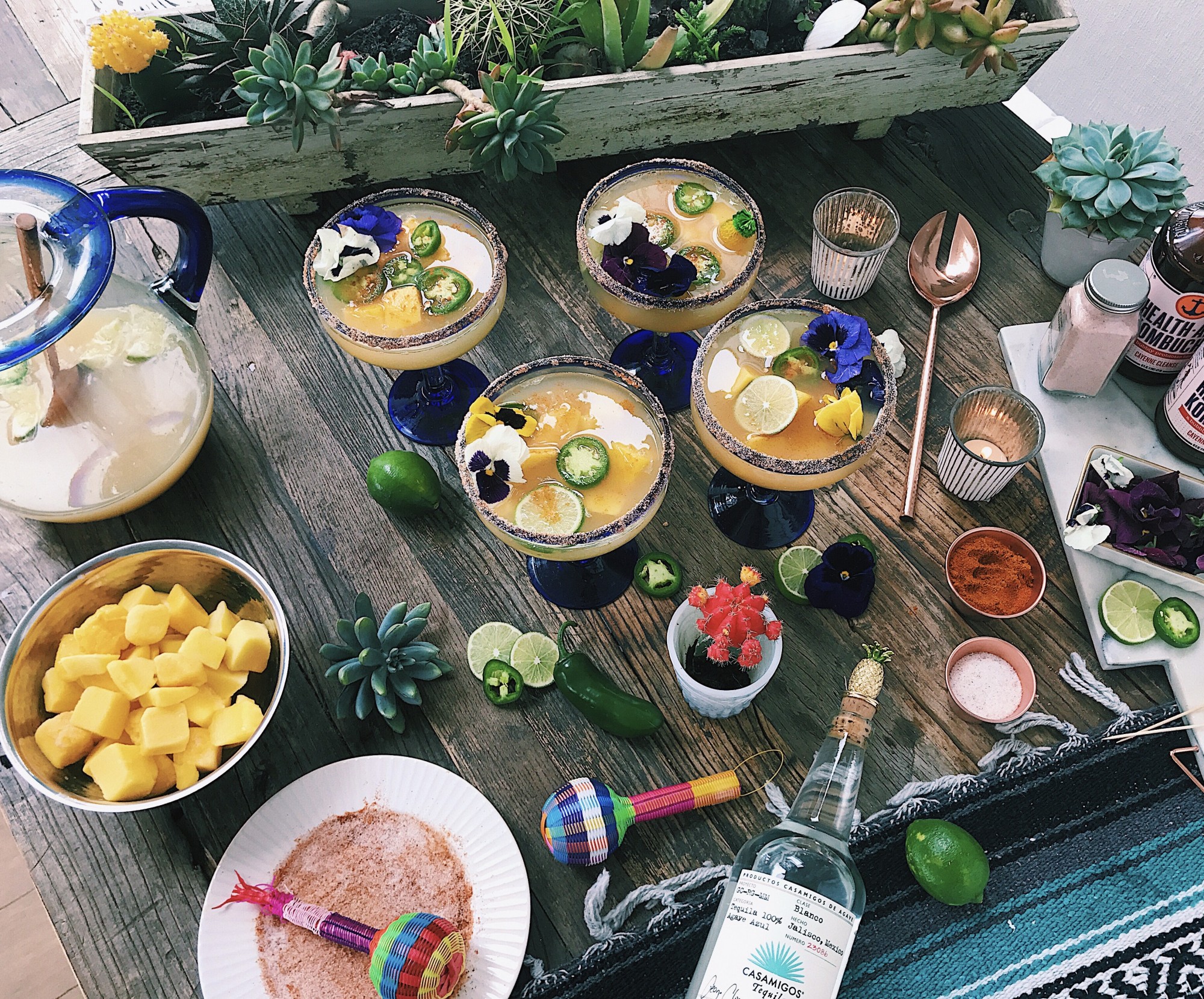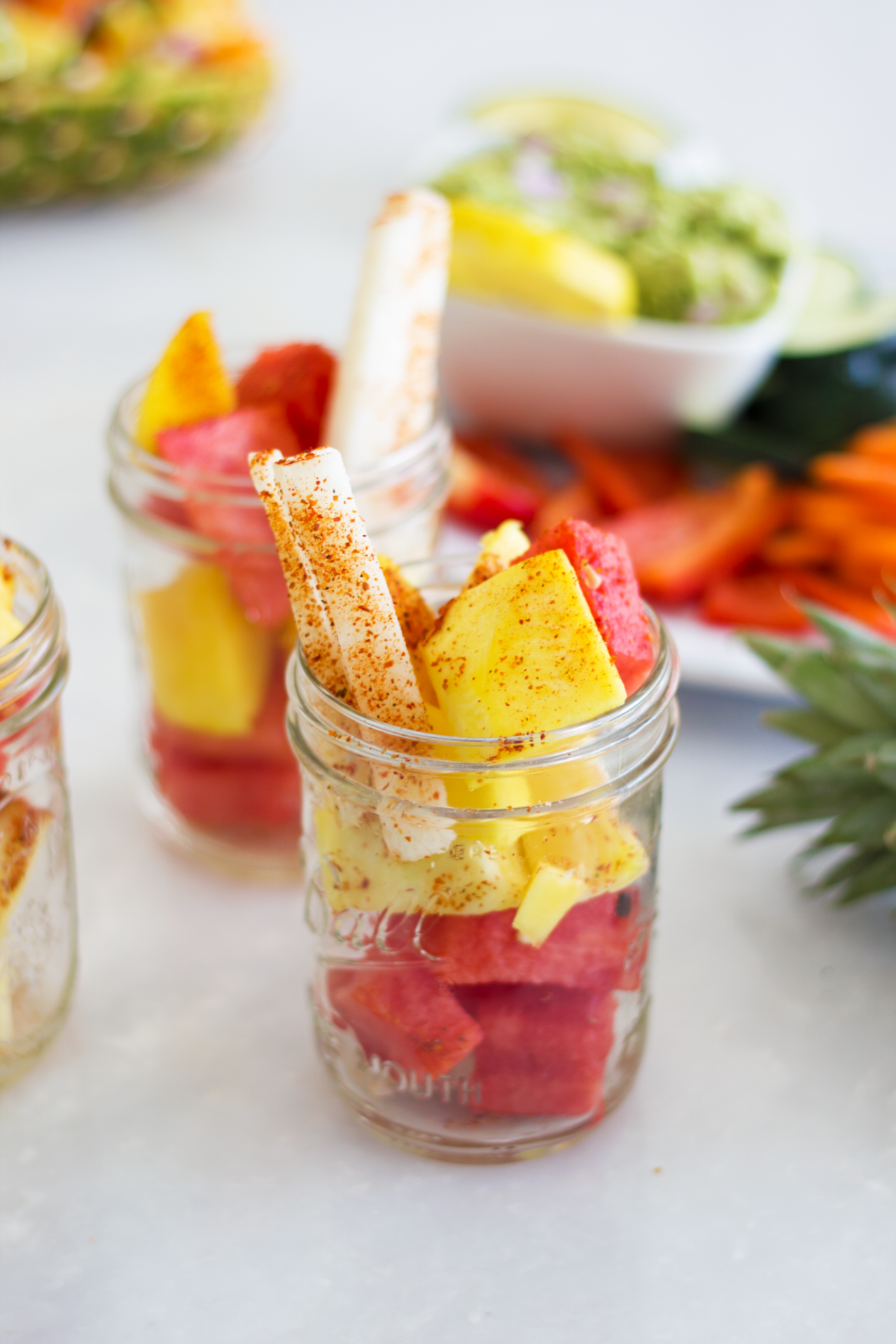 This treat is so easy to put together! Just add sliced watermelon, mango, jicama, and pineapple (from the pico pineapple bowl!) to mason jars and sprinkle on Tajin seasoning.


There are lots of healthy options at Mexican restaurants if ya know what to look for! And don't be afraid to ask for substitutions ~ we do it all the time!!
Pile on…
Chicken, veggies, beans, pico de gallo, jalapeños, and salsa! Bring it on!!
Hold the…
Sour cream, white or Spanish rice, chips, and cheese. Instead, swap these for guac and salsa, brown rice, and veggies!
Get naked girl
Lots of restaurants serve Naked Burritos with a lean protein, veggies, beans, and sometimes brown rice. This is a great alternative to tacos and burritos. Or order fajitas and enjoy the tortillas in moderation.
Keep your marg clean
When you're ordering a margarita at a restaurant, try to avoid sugary mixers and pre-made mixes. Instead, keep it fresh with just tequila, lime juice, and a touch of honey. Most restaurants have a simple marg like this on their menu or the bartender can mix something up for you. And remember to have a glass of sparkling water between drinks. Nobody's got time for a hangover! We got Bikini Series b🍑🍑ty to kick!
Salud chica!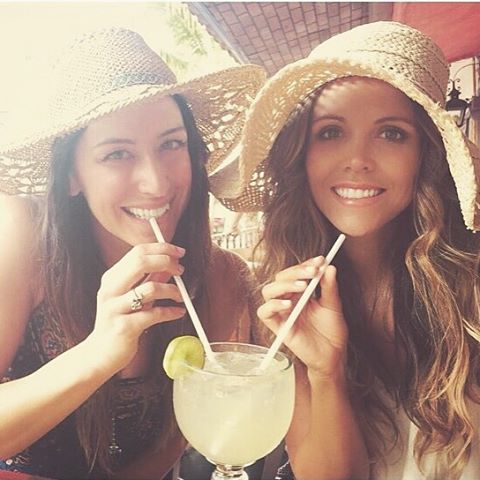 Are you ready to feel your best evaaaa this summer?! Join us for the BIKINI SERIES! Sign up HERE and we'll send you all the info you need to get started. We're all kicking it off together MONDAY!!!!