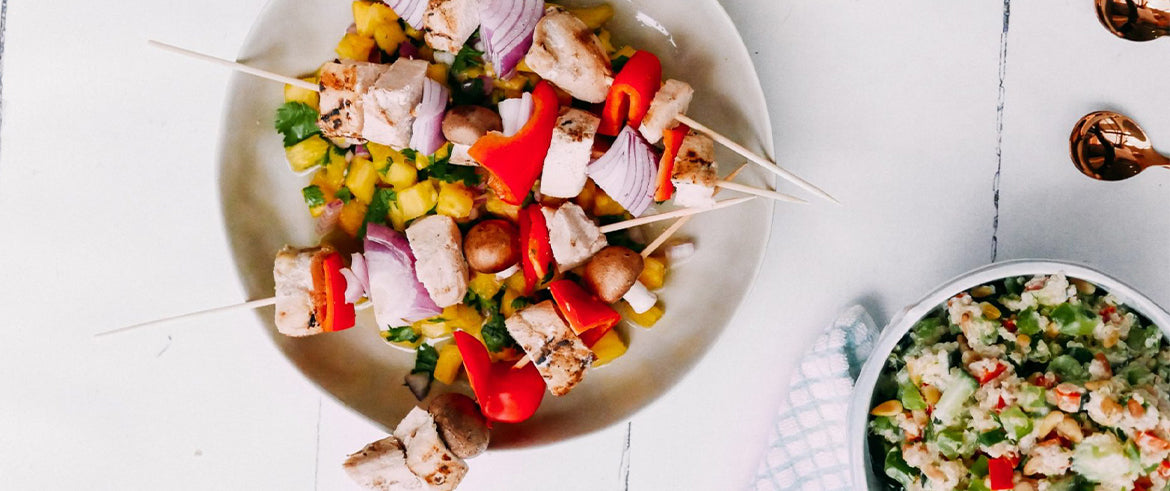 Recipes + Workouts For The 4th and All Summer Long!
By Tone It Up on
What are your plans for the 4th of July this weekend ~ beach day, BBQ, just relaxing?! Whatever you're up to, we want to ensure you're fueling that beautiful body right and staying on track with your fitness goals. 
So you feel extra fit for the 4th, here's a new advanced workout to get you in the red, white, and blue spirit!  You'll be doing each move for 40 seconds, followed by 20 seconds of rest. The circuit repeats 4 times, delivering the ultimate cardio endurance challenge. You got this!
We're also sharing our favorite healthy and festive recipes fit for a full weekend of celebration. We hope you have the best weekend! ♥️🇺🇸💙 
For a Festive Breakfast
Red, White, & Blueberry Smoothie Bowl 
Makes 1 serving 
INGREDIENTS

1 cup unsweetened almond milk

1 scoop vanilla

Tone It Up Protein




1/2 cup frozen cauliflower pieces or whole pieces

1 Tbsp. peanut butter

1/2 cup blueberries

1 Tbsp. ground chia seeds
DIRECTIONS
Combine all ingredients in a high-speed blender and blend until smooth.

Top with unsweetened coconut flakes, blackberries, and raspberries!
For a Delicious Dessert 
Summer Protein Popsicles
INGREDIENTS

1 ½ cups of Plant-Based Yogurt or Greek Yogurt
1 ½  cups Plant-Based Milk

2 scoops of 

Tone It Up Protein
1 Frozen Banana
OPTIONAL TOPPINGS:
Vegan White Chocolate Chips

Raspberries

Strawberries

Blueberries
DIRECTIONS
Using a blender, mix your yogurt, milk, banana and protein powder together.

Pour your blended mixture into the popsicle molds and place your toppings as you please.

Freeze overnight and remove from mold when you are ready to eat.

Enjoy!
For a Tasty Appetizer
Quinoa Salad
Makes 4 servings
INGREDIENTS

1 cup cooked quinoa

2 celery stalks, diced

1 red bell pepper, diced

1 green bell pepper, diced

5 green onions, diced

1 cucumber, diced

1/2 cup pine nuts
DRESSING

1/4 cup Greek or almond milk yogurt

1 lemon, juiced

2 Tbsp. fresh dill

1/4 tsp. garlic powder

Pinch of salt
DIRECTIONS 
 Toss all of the ingredients for the salad in a large bowl until well combined.

In a smaller bowl, add all of the ingredients for the dressing and whisk to combine.

Drizzle over the quinoa salad and toss to combine. Store in the fridge until ready to serve.
For The Grill
Grilled Chicken Skewers Recipe
Makes 4 servings

INGREDIENTS
4 chicken breasts, 6 oz. each, cut into 1 inch cubes

1 bunch fresh basil

1 red onion, cut into big pieces

2 zucchinis, cut into big pieces

2 bell peppers, cut into big pieces

pinch of salt

4 tsp. olive oil

4 wooden skewers, soaked in water for at least 30 minutes before use
DIRECTIONS 
Preheat the grill to medium.

Add each ingredient to the skewers. Drizzle olive oil and sprinkle salt. Put on the grill and cook for about 6 minutes on each side, or until the chicken is fully cooked.
Looking to level up your BBQ game? Check out this post with hot grill tips and another delicious recipe.