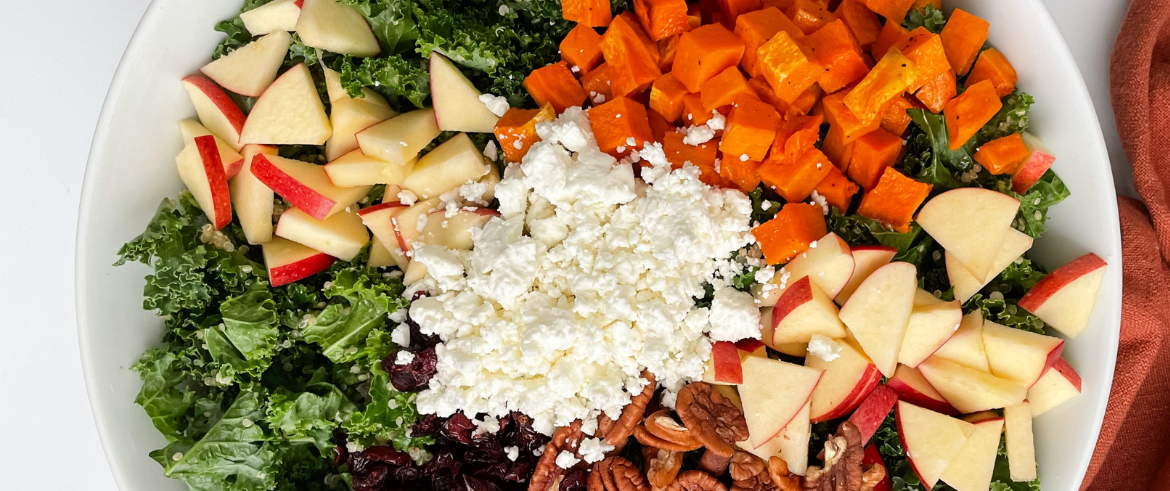 Tasty + Healthy Holiday Recipes
By Tone It Up on
Thanksgiving is around the corner and that means expressing gratitude, spending time with loved ones, giving back, and of course…the food! Here are 3 of our favorite recipes to incorporate some nutritious and delicious options into your upcoming holiday festivities. 
Fall Trail Mix
A great snack with the perfect blend of crunchy, sweet, and savory!
 
Makes 8 Servings 
INGREDIENTS 
1/4 cup pure maple syrup

1 1/2 tsp pumpkin pie spice

1/8 tsp sea salt

2/3 cup pecan halves

1/3 cup pepitas or roasted pumpkin seeds

1/3 cup sunflower seeds

1/3 cup sliced almonds

1/3 cup dried cherries

1/3 cup dried apricots

1/4 cup golden raisins
INSTRUCTIONS
Line a large baking sheet with parchment paper and set it aside

Set a large saucepan over medium-high heat and begin to boil the maple syrup

Add in the pumpkin spice, salt, and the nuts and fold it in and continue to stir until the nuts have caramelized and the syrup reduces (take about 3-5 minutes)

Spread the mixture in an even layer on the prepared baking sheet and the mixture cool completely

Once hardened, add the apricots, cherries, raisins, and cinnamon chips to the pan (you can add any of your favorite toppings, these are ones we recommend!)

Break up the candied nuts into clusters and store in an airtight container
Autumn Kale and Quinoa Salad
by Registered Dietitian Mallory Choate
This salad is the perfect side dish to add to your turkey-day spread! 🍁🦃🧡
 INGREDIENTS 
6-8 cups of kale (about 2 bunches)

3 cups of butternut squash, cubed and roasted

1-2 medium apples, chopped into bite sized pieces (gala or honey crisp are great!)

1 cup pecan halves

1 cup dried cranberries

4 oz. goat cheese, crumbled

½ cup Maple Dijon dressing 
Maple Dijon Dressing
1/4 cup olive oil

2 Tbsp lemon juice

2 Tbsp dijon mustard

2 Tbsp apple cider vinegar

3 Tbsp maple syrup
INSTRUCTIONS
Mix up your dressing! Add all ingredients to a small jar & shake it up to combine!
Cut or tear kale into bite sized pieces and place in a large serving bowl.
Pour salad dressing over kale and massage into the kale to soften the leaves. (this helps the kale taste less bitter & easier to digest!)
Top kale salad base with additional ingredients – roasted butternut squash, chopped apples, pecans, cranberries, and goat cheese.
Serve as is for a gorgeous table placed salad or toss and serve all mixed up!
Pecan Maple Sweet Potato Casserole
Comfort Food Perfected 🧡


Makes 8 Servings 
INGREDIENTS
6 large Sweet Potatoes,peeled and cubed
1 Tbs. Cinnamon
1 tsp. Nutmeg
1 Tbs. Maple Syrup
1 Tbs. Olive Oil
1/2 Cup Almond Milk
1 Cup Pecans, (crushed or whole)
2 Tbs. real Honey
1 Tbs. Cinnamon
INSTRUCTIONS
Bring a large pot of water to a boil and add cubed sweet potatoes. Lower heat and simmer for about 15 minutes until potatoes have softened. Drain the sweet potatoes and place back in the pot.
Add almond milk, maple syrup, oil and spices and mash or whip with a mixer until a smooth even consistency has been reached. Season with fresh ground black pepper and a pinch of sea salt to taste.
In a separate bowl, mix together pecans, honey and cinnamon until the pecans are completely covered. If you want a more crumbly topping,crush the pecans using a food processor before mixing with honey and cinnamon.
Coat a baking dish with organic cooking spray. Evenly spread the mashed sweet potatoes in the dish. Top with honey pecan blend. Place in oven preheated to 350° degrees for 25 minutes.
Indulge guilt free! We can't wait to see what you make. For more healthy Thanksgiving-worthy recipes, check out the Tone It Up app!