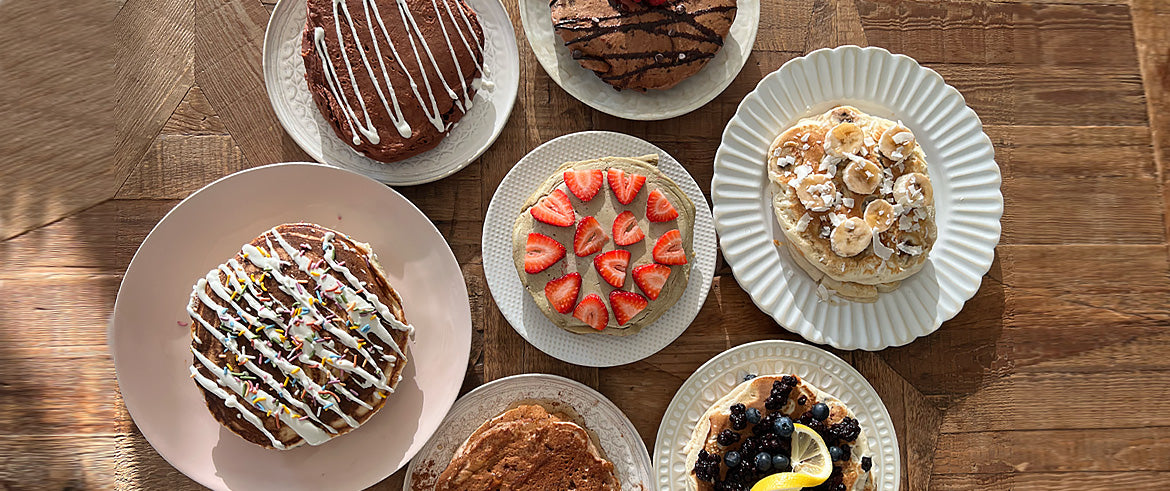 Pancake Week: TIU Edition
By Tone It Up on
Join us for Pancake Week: TIU Edition. The winter calls for warm breakfast treats and we wanted to mix it up. Here are 7 new pancake recipes to spice up your morning post-workout protein boost. Made with the same base recipe, these pancakes are totally customizable and DELICIOUS.
If you're making them for your family or friends, just make a few more servings! Remember to cook them LOW & SLOW for the best results.
Here's a shopping list if you're heading into the store:
*Amounts depend on recipes and servings*
1. Tone It Up Vanilla, Protein & Greens, and Chocolate Protein Powder
2. Monkfruit Sweetener (or other sweeteners)
3. Baking Powder
4. Bananas
5. Plant-based Milk
6. Vanilla extract
7. Egg whites (or swap for apple sauce to make them vegan)
8. Lemons
9. Blueberries
10. Raspberries
11. Matcha Powder
12. Shredded Coconut
13. Strawberries
14. Cinnamon
15. Beets
16. Plant Based Greek Yogurt
17. Vegan Cream Cheese
18. Maple Syrup
19. Chocolate Chips
20. Vegan Cake Sprinkles
Find your recipes here:
We can't wait to see what you create! Be sure to tag us with your morning treats with #TIUTeam #TIUNutrition.
Happy Pancak-ing!