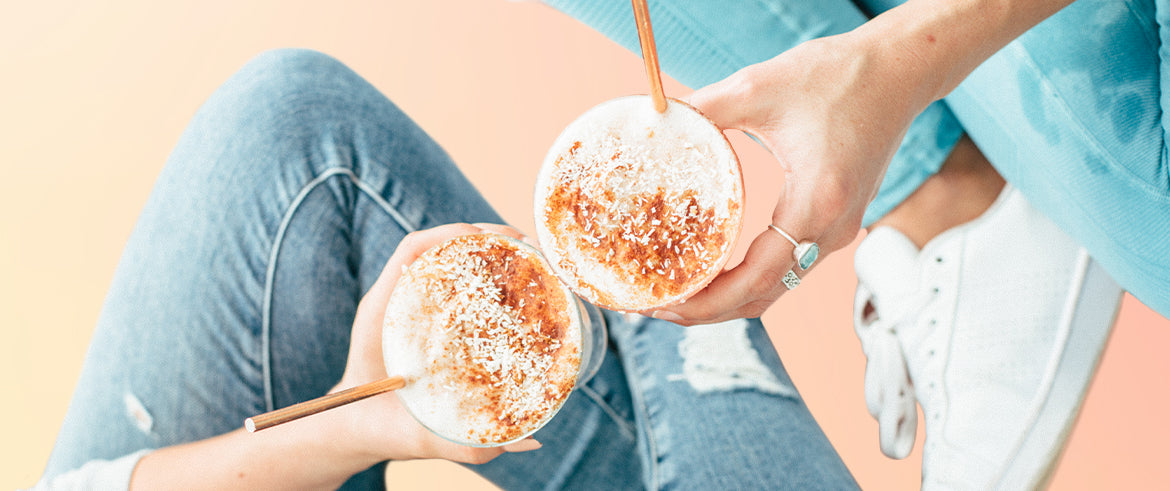 DELICIOUS PROTEIN RECIPES
By Tone It Up on
Tone it Up Protein is made for women, by women. With up to 15g of protein in each serving, our protein powders are a perfect addition into your life. Incorporating more protein in your life has a lot of benefits for your overall wellness journey.
Here are the top 4 benefits of protein:
BOOSTS YOUR METABOLISM

FORMS LEAN MUSCLES

KEEPS YOU SATISFIED BETWEEN MEALS

KEEPS YOUR ENERGY STEADY
It is easy to incorporate Tone It Up protein powders into your day! Try making these favorite recipes and snacks today!
For the pancake lover:
CLASSIC TONE IT UP PROTEIN PANCAKES
Makes 1 serving
Ingredients: 
1 scoop

Tone It Up Protein

(your fave flavor!)

½ banana, mashed

½ Tbsp. almond milk

¼ cup egg whites

1 tsp. cinnamon

Coconut oil spray
Directions: 
Mash banana with almond milk before stirring in remaining ingredients.

Spray pan with cooking spray and heat over medium-low before pouring in batter. Cook on each side for 3-4 minutes. The key to the perfect protein pancake is to cook them slow and low!
For the smoothie lover:
BERRY CAULIFLOWER SMOOTHIE

Makes 1 Serving
Ingredients: 
1 scoop vanilla Tone It Up Protein

1⁄2 tsp. Spirulina

1⁄2 frozen banana

1 cup unsweetened almond milk

1⁄2 cup frozen cauliflower
Toppings: 
1 Tbsp. unsweetened coconut shavings

1 tsp. chia seeds

1⁄2 cup raspberries

1 Tbsp. cacao nibs
DIRECTIONS
Blend all smoothie ingredients until smooth.

Add toppings and enjoy! 
For the sweet tooth:
PROTEIN POPS
Makes 1 serving
INGREDIENTS
Cake mix: 
¼ cup almond butter

¼ cup shredded unsweetened coconut flakes

2 dates, pitted

½ cup gluten-free oat flour

¼ cup pure maple syrup

¼ tsp. vanilla

Pinch of salt
Glaze: 
1 cup Greek yogurt

½ tsp. vanilla extract 
DIRECTIONS 
Combine glaze ingredients together and set aside.

Combine all cake ingredients in a food processor and blend until well combined. Roll dough into 1 Tbsp. balls. 

Place balls in the freezer for at least 30 minutes to set.

Evenly coat balls in yogurt glaze. 

Place in the freezer for at least 1 hour or until frosting is set. Store in the fridge for up to 5 days. Enjoy!
For the fruit lover:
PEACH PIE PARFAIT RECIPE
Makes 2 servings
INGREDIENTS
1 scoop

Vanilla Tone It Up Protein

6 oz. unsweetened nut milk of your choice 

1 small frozen banana

½ cup frozen peaches

Juice from ½ a lemon

1 tsp. ground flaxseed

Dash of cinnamon

½ cup GF granola

½ cup plain or almond yogurt

Fresh peach slices 

Honey 
DIRECTIONS
Add protein, nut milk, banana, frozen peaches, lemon juice, flaxseed, and cinnamon to a high-speed blender and blend until smooth. 

In 2 glasses or bowls, add ¼ cup granola, ¼ cup yogurt, and half of the peach pie smoothie into each. Top with fresh peach slices, sprinkle of granola, drizzle of honey, and dash of cinnamon. 
---
We can't wait to see which recipes you try! Snag your favorite powders at Target today.
Want more? Check out all of our amazing recipes in the Tone It Up App!