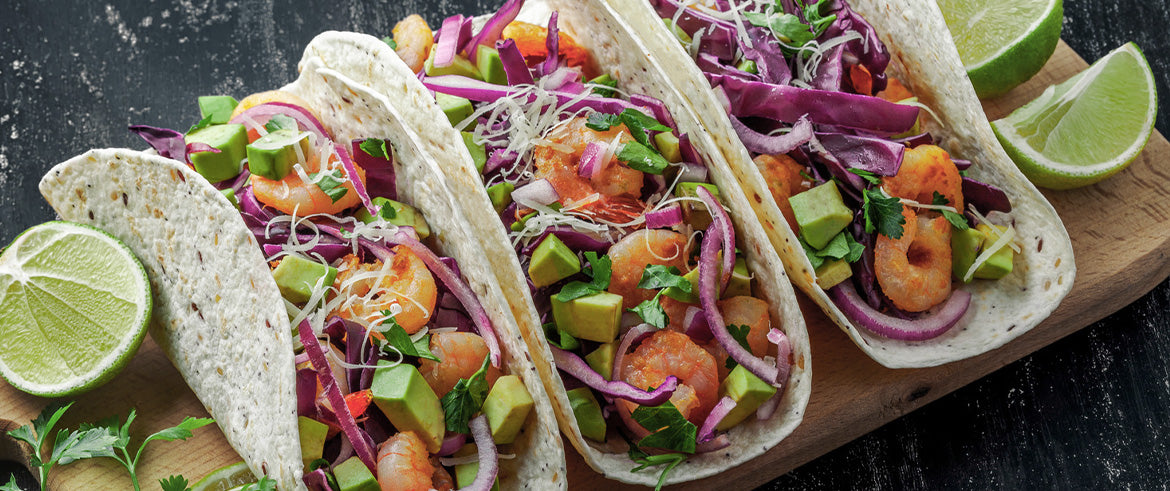 Summer Grilling Recipes
By Tone It Up on
Summer is in full swing and we're going all in! Summer is the time for family vacations, parties, day trips to pools, beaches, theme parks, and most importantly cooking amazing meals on the grill. We're sharing some of our new and existing favorite recipes, perfect for grilling! Tag us on Instagram when you make them and save us some leftovers with #TIUTeam 😉 
No grill? No problem! These meals can easily be cooked in the oven or in a skillet.
Tip: For quick grilled tasting veggies just season and toss them in the broiler until the edges are slightly charred. This gives veggies like broccoli, cauliflower, and sweet potato the smoky flavor like they just came off the grill! Make sure to flip the veggies every 5 minutes...and in 20-25 minutes you're done!
#1 (New) Vegetarian Black Bean Burger
Summer calls for a childhood favorite - burgers! This tasty black bean burger is a perfect recipe for your next pool party or outdoor dinner with your family. Whether you're vegetarian or not - this burger is sure to satisfy. 
Patty Ingredients: 
3 cups cooked black beans, drained and rinsed

⅓ cup grated yellow onion

2 minced cloves of garlic

1 chili pepper in adobo sauce (from a can), diced 

1 tbsp of adobo sauce 

1 tbsp tamari 

1 tbsp balsamic vinegar

1/2 tsp cumin

½ tsp chili powder

½ tsp salt

1 tsp black pepper

1 egg

Vegan Substitute: Make a flax egg! In a small bowl mix 1 tbsp

ground flaxseed with 2.5 tbsp warm water and set aside for 5 minutes to thicken

3/4 cup panko bread crumbs 
Optional Ingredients: 
To serve: select a hamburger bun or to add in more veggies serve between grilled red pepper, portobello mushrooms, or a lettuce wrap! 

Add on your favorite toppings such as lettuce, tomato, red onion, or any other ingredients you have around! 
Instructions
In a large bowl, combine the beans, onion, garlic, chipotle, adobo sauce, tamari, balsamic, cumin, salt, and pepper. Use a masher until the mixture holds together but still has black bean chunks.

Add your egg or egg substitute and fold in until combined. 

Fold in your panko until combined. 

Form the mixture into 6 patties with your hands. If you notice the patties are too wet to form - set your mixture in the fridge for 10-20 minutes. 

Preheat your grill to 400°F and lightly brush your patties with olive oil or similar. Grill for 7-10 minutes on one side and 3-5 minutes on the other. 

(Alternatively) Cook in your cast iron skillet over medium heat for 5 minutes or until charred on both sides. 

Serve with your choice of bun and toppings! Enjoy 
#2 
Grilled Cilantro Lime Shrimp Tacos
Tacos are exactly what you need on a warm summer night. These shrimp tacos are a family favorite, plus are quick and easy to prepare! 
Cilantro Lime Marinade Ingredients:
1-2 pounds of raw shrimp - we suggest peeled + deveined 

¼ cup olive oil

¼ cup freshly squeezed lime juice (2-3 juicy limes)

2 tbsp fresh chopped cilantro

3 tsp minced garlic

¼ tsp salt

1 tsp soy sauce

⅛ tsp crushed red pepper flakes
Ingredients to serve:
Your choice of taco shell - we love serving these on a thin pita bread

Lime juice
Pico De Gallo
Cilantro  
Instructions:
Whisk together olive oil, lime juice, cilantro, garlic, salt, soy sauce, and crushed red pepper. Add into a resealable bag. 

Add shrimp to the bag, release excess air, and seal. Set aside in your fridge for 15 to 60 minutes. 

Grill shrimp on skewers over medium heat for 3-4 minutes each side, or until shrimp is cooked through. Alternatively grill in a pan for 3-4 minutes on each side or bake on a foil lined sheet pan at

400°F for 10-12 minutes. 

Add shrimp to your taco shell and garnish with your favorite toppings! If you are going shell-less these are perfect to serve over your favorite salad or with grilled veggies.
#3 
Lemon Dijon Chicken
Ingredients:
1 pound of chicken breast

1 lemon

1 teaspoon of Mustard (we prefer Dijon mustard)

1/2 teaspoon garlic powder

1 tablespoon olive oil

Salt and Pepper
Instructions:

Mix in a bowl the lemon juice, mustard, olive oil, garlic powder,  salt, and pepper in a large bowl.
Marine the chicken in the mixture for at least 30 min
Put the chicken on the grill and cook for 4 minutes on each side. They should be done after about 8-10 minutes.
#4 
Jalapeño Burger
Ingredients:
1 pound lean ground beef (90%)

1/2 cup shredded cheddar cheese

1/4 cup chopped onion

1/4 cup chopped jalapenos

1 teaspoon salt

1/2 teaspoon black pepper

4 hamburger buns Or lettuce to wrap

Your favorite toppings, such as lettuce, tomato, and, mustard
Instructions:

Preheat your grill to medium-high heat.

In a large bowl, combine the ground beef, cheddar cheese, onion, jalapenos, salt, and pepper. Mix well.

Form the mixture into 4 patties.

Grill the patties for 4-5 minutes per side, or until cooked through.

Serve on buns or lettuce wraps with your favorite toppings.
#5 Sara's Quinoa Summer Salad
Try Sara's Quinoa Summer Salad as the perfect side dish for your next bbq! It is quick, nutrient dense, and full of flavor!
Ingredients:

1 cup quinoa
2 cups bone broth
1/4 red onion
1/2 large cucumber
2 cups cherry tomatoes
1/2 can chickpeas
1/2 can kidney beans
1 cup corn
2 limes juiced
1 avocado
cilantro to taste
Instructions:

Add all of the ingredients to a large bowl and toss to combine. Add cilantro to your preferences! Keep refrigerated and serve cold. 
Check out more of our new release grilling recipes in the TIU app and don't forget the sides!