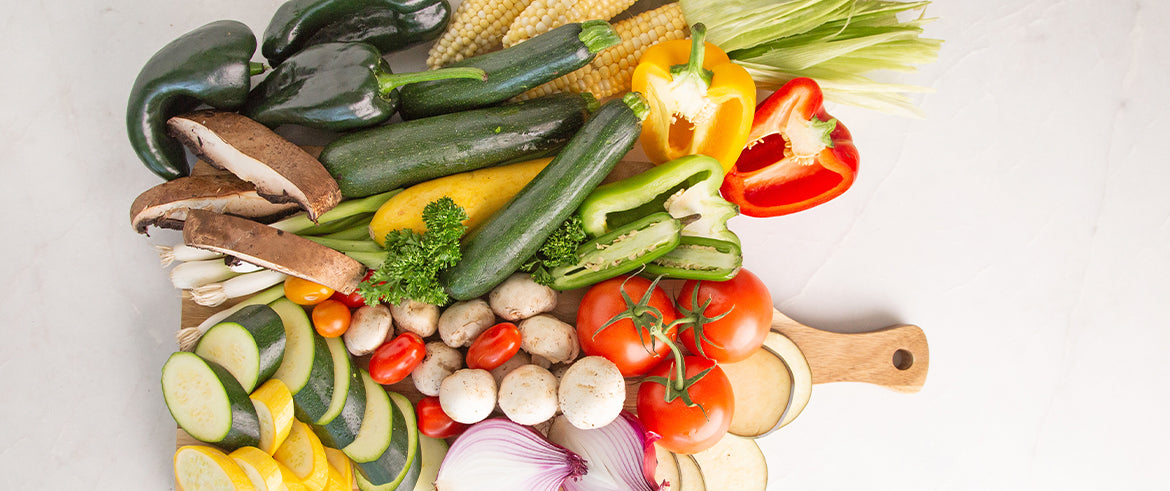 Get Your Grill On 🔥
By Tone It Up on
It's National Grilling Month! That's why we're cooking up some of our very best grilling tips for you — so you can make the most out of your BBQ nights. For the best results, always remember:
# 1 ALUMINUM FOIL IS YOUR BFF 
Always put prepped meats and veggies in their own separate aluminum foil packets. This keeps things clean, and makes it very easy to transport food out to the grill. Aluminum foil is inexpensive and eliminates dishes! You can also use foil to steam veggies on the grill and to cook fish in packets. 
# 2 ADD SOME SPICE
Store-bought marinades are usually high in sodium and sugar, so we like to keep it simple with olive oil, a dash of salt and pepper, and whatever herbs and spices we're feeling that night. 
#3 BRUSH IT OFF
Before putting any food on the grill, use a grill brush to clean and remove any residue or debris AFTER the grill has been preheated. The heat kills off any bacteria, and it's much easier to brush it once the residue has been charred.
#4 REST DAY
When you're grilling meats, they need to rest before serving. Tent your grilled meats in aluminum foil for 10 minutes after grilling. This allows the juices to redistribute internally and for the meat to finish cooking. Sometimes we serve our salads while the meat is resting.
#5 GETTIN' STEAMY
If you want to mix things up and steam your veggies on the grill, it's totally doable and very easy. Fold a 2-3-foot long piece of aluminum foil over itself to create a double-layered rectangle of foil. Lay it flat, and from here, place your veggies in the center of the foil and fold the edges up to create a foil packet enclosing the veggies. 
#6 PLANK TIME
Using a cedar plank is one of the best ways to prepare fish on the grill. Soak the plank in hot water for at least 15 minutes before grilling. That way, onces your fish is sitting on the cedar plank on the grill, the fish will pull the moisture and cedar flavor out of the board.
Here's 2 tasty recipes to try this month. 
1. CEDAR PLANKED SALMON ON THE GRILL
INGREDIENTS 
1 cedar plank 

2 6-ounce wild-caught salmon filets 

3 Tbsp. whole grain mustard

1/4 cup maple syrup 

Salt and pepper to taste
DIRECTIONS 
 Soak the cedar planks for at least 1 hour in salted warm water, then drain. 

 Mix the mustard and maple syrup in a small bowl. 

Pat down the salmon with a paper towel. Season with salt and pepper. 

Place the salmon, skin-side down, on the soaked cedar plank and brush the mustard and syrup mixture over the entire piece.

Start the grill and place the cedar plank with salmon in the center. Cover the grill and cook for about 20 to 30 minutes
2. GRILLED SLIDERS
INGREDIENTS
1/4 lb ground meat (turkey, chicken, or lean beef) or your favorite veggie burger

3 slices yellow onion
1/4 cup sprouts
1/4 avocado
1/4 cup fresh corn
3 kale leaves
3 crimini mushroom caps, stems removed, or 3 baby bella mushrooms (for sliders)
Pinch of salt
TIU approved condiments
DIRECTIONS 
Form three small patties with protein and sprinkle with salt and pepper

Grill your patties - ensuring they are cooked all the way through
Lay out the mushrooms and add the cooked patties and remaining ingredients to top each one. Top with mushroom cap.
Happy Grilling love! Tag us in what you make with #TIUTeam.