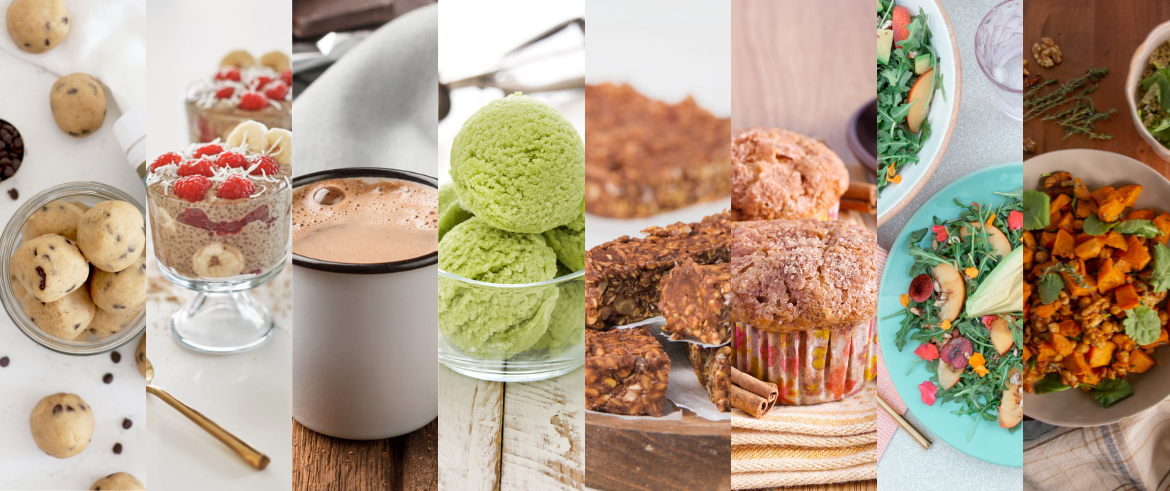 8 Foods + Recipes That Lower Cortisol for a Healthy Body & Mind
By Tone It Up on
It's Stress Awareness Month & we're here to help you lower your cortisol levels with simple changes. What you eat has a big impact on your overall health, including your cortisol levels. Discover 8 nourishing foods that can effortlessly enhance your wellness routine, along with recipes from registered dietitians to seamlessly incorporate them into your diet! 
1.  Dark Chocolate
Dark chocolate is rich in fiber, iron, and magnesium, which aid in reducing cortisol levels, and also contains zinc and copper for extra benefits.
2. Seeds
Omega-3 fatty acids help to support blood sugar control, which reduces cortisol levels. You can find these omegas in Pumpkin seeds, chia seeds, hemp seeds, flax seeds, or ground flax meal.
3. Adaptogens
Adaptogens such as reishi mushrooms and ashwagandha help minimize damage from free radicals and reduce high cortisol levels.
4. Spinach
Spinach is super high in magnesium, as well as potassium, folate, fiber, iron, and vitamins A, C, plus K!
 5. Bananas
Bananas include magnesium, potassium, and soluble fiber to help lower inflammation. They're also loaded with vitamins like A, B-6, and C.
6. Nuts
Nuts, especially walnuts and almonds, balance blood sugar and cortisol levels. Plus their healthy fats will keep you fueled!

7. Avocados 
Avocados are rich with heart-healthy monounsaturated fat, magnesium, potassium, B vitamins and vitamin K. Magnesium rich foods help level cortisol levels and also promotes better sleep.
8. Sweet Potatoes
Sweet potatoes include vitamin B-6, potassium, and magnesium which help to promote cortisol regulation.
Happy Stress-Reducing!
xoxo,
Tone It Up