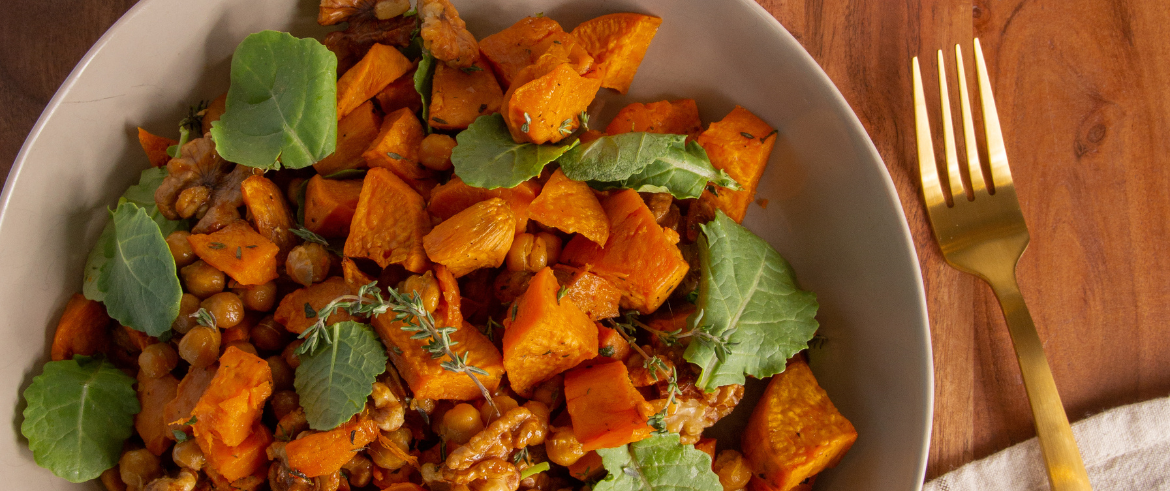 Quinoa Sweet Potato Salad
By Tone It Up on
Servings: 4
Ingredients: 
2 large sweet potatoes, peeled and diced
2 shallots, peeled and roughly chopped
a sprig of rosemary or thyme
a pinch of salt
1 Tbsp extra virgin olive oil
1 14-ounce can chickpeas, rinsed and drained
1/2 cup whole walnuts
2 tablespoons maple syrup
1 cup cooked quinoa
4 cups baby kale
½ cup TIU approved dressing 
quinoa (for serving, optional)
Instructions: 
1. Preheat the oven to 425 degrees
2. Spray a large sheet pan and spread cubed sweet potatoes with shallots and herbs evenly. Toss with olive oil and salt
3. Roast for around 20 minutes until tender
4. Add in the chickpeas and stir it all together. Roast for another 20 minutes.
5. In a small bowl toss the walnuts with the maple syrup and salt and add to the sheet pan. Bake for 5 more minutes.
6. Remove the stems from the herbs and serve the mixture with quinoa, leafy greens and your favorite TIU dressing!