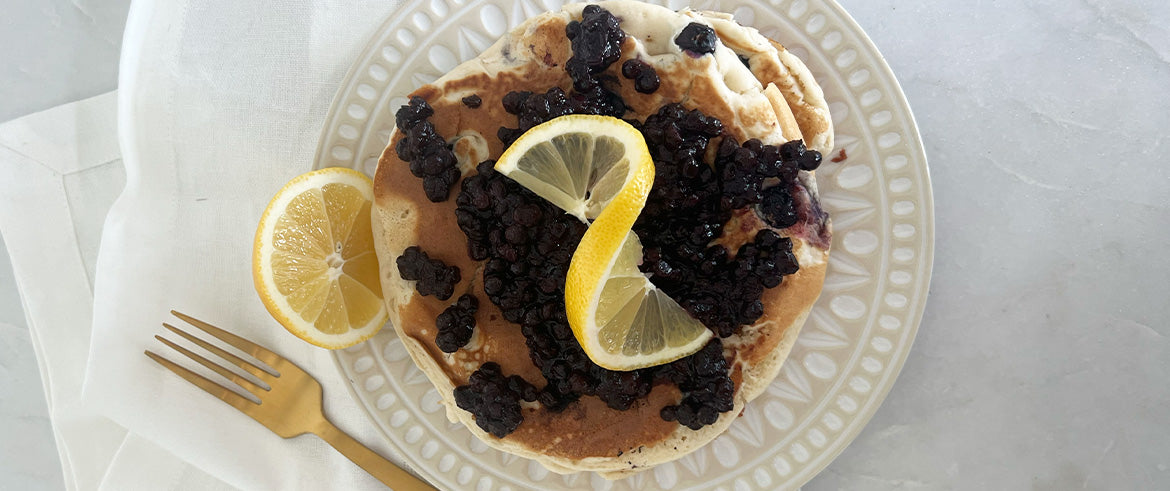 Lemon Blueberry Protein Pancakes
By Tone It Up on
Vegan Substitute Included
Servings: 1
Ingredients
1 scoop Tone It Up Vanilla Protein Powder
2 tbsp. sweetener of choice (i.e. monkfruit sweetener)
1 tsp. baking powder
1 medium ripe banana, mashed
1/2 cup plant-based milk (add more for desired consistency as needed)
½ tsp. vanilla extract
1/4 cup egg white (Vegan Substitute: 1/4 cup applesauce)
1 Lemon
1/2 cup blueberries (during cooking)

Blueberry Compote
1 cup frozen blueberries
1.5 tbsp. maple syrup
1 tbsp. lemon juice


Instructions:
Mash banana with almond milk before stirring in remaining ingredients.

Stir in remaining ingredients and add more plant based-milk as needed.

Spray pan with coconut oil spray and heat over a medium-low heat before pouring in batter. Add a handful of blueberries to the pancakes while they're cooking. Cook for 3-4 minutes on each side.

The key is to cook them low & slow!

Serve Immediately with your desired toppings- we recommend lemon zest and the below compote recipe! 
Blueberry Compote:
Add the frozen blueberries in a small pot on medium-high heat.

Once the blueberries are soft & not frozen, slightly mash with a fork to let some of the juice out.

Stir in the maple syrup and lemon juice and heat to a boil.

Once the mixture is boiling for about 1-2 minutes, place on the lowest heat to allow the mixture to thicken.

Pour blueberry compote over your pancakes and toppings. Enjoy!