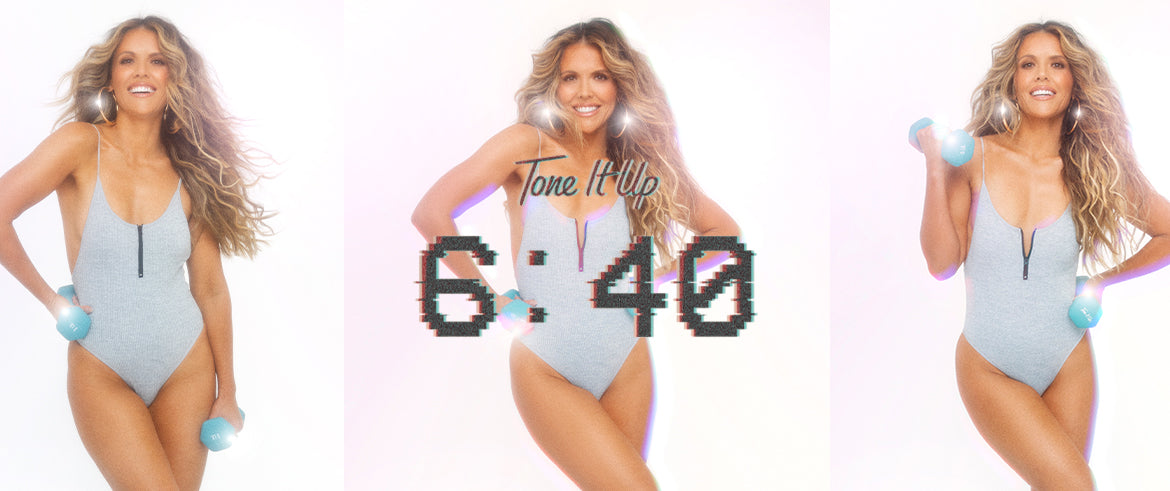 Calling All Busy Boss Babes & TIU Mamas ~ Join Me For Tone It Up 6:40
By Tone It Up on
Hi beautiful, it's Katrina! I'm so excited to share something really special and personal that I've poured my heart into...and now I'm honored to have you join me on this journey! Your Tone It Up 6:40 program is here 🦋
This 6-week program is designed to support you as you evolve into your highest self. As women, there's always so much pressure on us to look backwards — to wind back the clock, to resist change. I know change can be uncomfortable, but it is also beautiful and empowering when you truly embrace it. We are meant to evolve, so I want us all to celebrate ourselves and our bodies at every stage. 
I decided to make the symbol of this program a butterfly because it represents metamorphosis, evolution, and beautiful new chapters. As I was developing this program, my mom, Mama Jane, also reminded me that I had butterflies as a backdrop in my nursery when I was little — it felt like the perfect piece of me to bring into this program and share with you. 
By joining this program, you are saying YES to your own evolution. You are making decisions that align with your future self. You are giving yourself permission to step into a new chapter of your life where you prioritize your health and your own personal growth. You are declaring, "I deserve beautiful experiences now and I am going to make that happen." And I am here to support you every step of the way!
Below I'm sharing details of the program — you can learn more and sign up here! We're all starting together in the TIU app on May 17th. 
I am honored to have you join me on this journey 🙏 You are so worthy, beautiful, and stronger than you know!
xxo,
Kat 
---
Tone It Up 6:40 Program Details 
Who Is This Program For? 
I designed this program specifically for busy boss babes and TIU mamas like you who have a lot going on. As women, we so often put everyone else's needs before our own. During the next 6 weeks, you'll commit to prioritizing YOUR wellness and caring for YOUR beautiful body! 
Why Is It Called 6:40? 
The program is 6 weeks, we are aiming for 6 workouts per week, and the routines are all 40 minutes long (more on the workouts in a minute!). 
6:40 also represents the time, and setting aside time in the morning that is just for you. The concept was born one morning when I was doing yoga. Once I was done, I looked at the clock and saw 6:40...that was it. Before 6:40 am is me time, where I can dedicate myself to my wellness and personal growth. After 6:40 am is when I take on everything else. And I know I'm not alone in this. For a lot of us, if we don't get our workouts in first thing (before the house wakes up and work starts), they just don't happen. 
For this program, I encourage you to join the 6 am club and get your workout done by 6:40 am so you can take on the day! Remember, taking 40 minutes for your workouts is less than 4% of your day. For me, the mornings are the only time I can get my workout in, but do what works best for you. 
What Does It Include? 
Brand new workouts: You're going to love the new HIIT, yoga sculpt, strength training, booty, abs, arms, and stretching routines! You'll be aiming for 6 workouts per week and each workout is 40 minutes. They're designed for a busy lifestyle, so you'll get maximum metabolism boosting and toning results in a short amount of time. This program also includes move-based workouts you can do anywhere, anytime!

6:40 Meal Plan: 6 weeks of healthy recipes, meal-by-meal guides, and grocery lists to keep you organized. This program allows more flexibility than ever! You'll have 3 main meals, plus up to 3 snacks and treats per day.

6:40 Journal: When you sign up for the program, I'll immediately send you your digital journal! I created this journal to keep you motivated, inspired, and excited throughout the program. 

Support, accountability, & love from me and the entire #TIUteam: Check in throughout the program using #TIU640 so we can all be there for each other as we evolve and reach new heights! 
When Does It Start? 
You can start anytime you want! The program is 6 weeks long. We're kicking it off May 17th and it'll be waiting in the app for you whenever you're ready.
How Will I Feel With This Program? 
Strong

Confident

Powerful

Fit

Energized 

Embodied 

Supported 

Excited to embrace your evolution!
I'm In! How Do I Join? 
You can find your Tone It Up 6:40 program in the Tone It Up app. Simply go to the "Workouts" screen and you'll find your 6:40 program in the top carousel called "Programs." Tap "join" and you're in! If you're already on a program, add 6:40 to your queue so it's waiting for you. 
You can get more details and sign up for your free journal here. 
See ya in there!
---
Are you in?! YES! Join me for Tone It Up 6:40
HERE
to get started!
I'M READY!