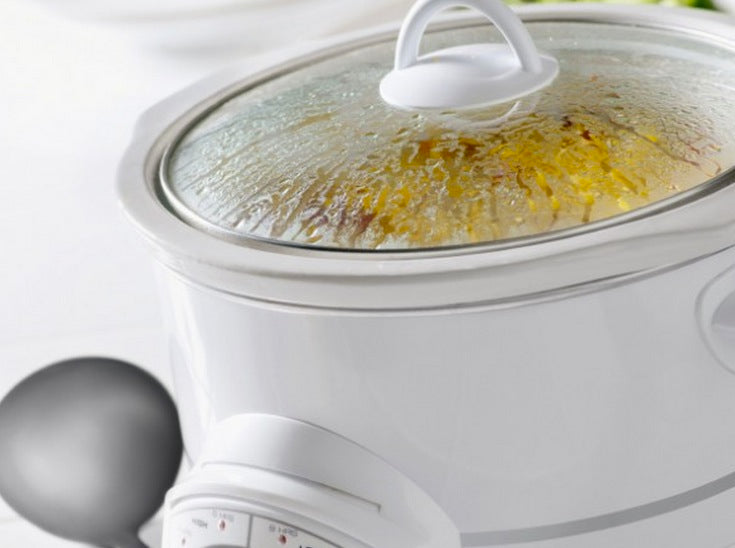 Convenient Crock Pot Recipes
By Katrina Scott on
When your schedule gets crazy, getting a hot, tasty dinner together every night can be a challenge. Instead of popping something in the microwave or resorting to fast food, try making one of these delicious Crock Pot recipes!
Using a slow cooker is a healthy way to prepare a hot meal. There is nothing better than coming home at the end of a chilly fall day to a dinner that is ready to serve and has your whole kitchen filled with delicious, seasonal aromas. These are five of our favorite slow cooker recipes that can be prepped in the morning (or night before) and left alone to cook while you're out handling the more important things in life :)
White Bean Turkey Chili
1 lb. Lean Ground Turkey 2 Tbs.Olive Oil 2 Cloves Garlic, finely chopped 1 White Onion, diced 4 Cans Navy Beans (15 oz.) 1/4 cup fresh Jalapeno Pepper, diced 1 Tbs. Cumin 1 tsp. Cinnamon 1/4 cup Sweet Corn 1 Cup Pinot Grigio (or your favorite white wine) 3 cups Vegetable broth Oregano Top with finely chopped Cilantro + If you like spicy add in a little chili powder and cayenne pepper ;) Saute garlic. Add ground Turkey into the skillet. Cook on medium heat while breaking the meat up with a spatula. Remove from skillet and place in crock pot. Saute onion until it turns clear. Add to crock pot. Add in the rest of the ingredients.  Cook on low for 6 hours or so.
Greek Chicken
1 cup Quinoa 1 Small Whole Chicken (3-5 lbs.), skin removed 1 Red Onion, diced 2 Cups Vegetable Broth 1/2 cup Greek Yogurt Juice of 1 Lemon 1 Tbs. Oregano 1 Tbs. Basil Place all ingredients except chicken and quinoa in crock pot and stir well. Add in chicken (you can keep it whole or break it into breast, thigh, leg, wing etc. This recipe also works with frozen boneless, skinless chicken breasts... just defrost first). Cook on low for 6+ hours. Use a thermometer to make sure the internal temperature of the chicken has reached 165 degrees (F). Right before serving cook quinoa on stove top according to package instructions. Serve chicken on top of quinoa and top with excess sauce from the crock pot & garnish with sliced black or kalmata olives and cucumber slices.
Savory Fall Stew
1 Cup Lentils 3/4 Cup Quinoa 1 cup Water 2 Quarts Vegetable Broth 2 cups Mushrooms, sliced 1 cup Carrots, sliced 1 yellow Onion, diced 1 Tbs. Black Pepper 1 Tbs. Basil 2 cloves Garlic 2 tsp. Thyme Mix ingredients together in crock pot and cook on low for 4 to 6 hours.
Black Bean Soup
4 cans of Black Beans
1 cup tomatoes, diced 2 cups Vegetable Juice (tomato, V-8 etc.) 2 Tbs. Cumin Pinch of Sea Salt 1/4 cup Jalapeno, diced 1 1/2 Tbs. Chili Powder 1 1/2 tsp. Oregano 1 Tbs. Coriander 1 1/2 tsp. Basil 1/8 tsp. Cayenne Pepper 2 tsp. all-natural, unsweetened Cocoa Powder 1 Tbs. Ground Flax Seed 1/3 cup Olive Oil 2 Onions, diced 1 Green Bell Pepper, diced Juice of 1 Orange 3 cloves Garlic, minced 1 Tbs. Apple Cider Vinegar In a skillet saute onions, peppers and garlic until onions turn clear. Add all ingredients into crock pot and cook on low for 6 hours. If desired, remove a portion of the contents of the pot and puree using a blender or a food processor. Stir the puree back into the pot for a smoother creamier soup ;)
Stuffed Peppers
1 lb. Veggie Patty Mix (Crumbled veggie burgers, 'ground beef' style veggie protein) 4 large Red Bell Peppers 1 cup Onion, diced 3 clove of Garlic, minced 1 Tbs. Fresh Cilantro, finely chopped (optional) 4 tsp. Jalapeno Pepper, dice 2 Tbs. Olive Oil 4 Tbs. Nutritional Yeast Cut the top off of the pepper and rinse inside thoroughly to remove seeds. Saute onions and garlic in a skillet until onions turn clear. In a bowl mix together all remaining ingredients (except for nutritional yeast) and the sauteed onions/garlic together. Fill each hollow pepper with an equal amount of this mixture. Place peppers into the crock pot and pour 1/2 cup of water around the base of the peppers. Cook on low for 4 to 6 hours. Garnish your finished pepper with Nutritional Yeast as your 'cheesy' topping! Enjoy!!!! What's your favorite slow cooked recipe? Let us know in the comments below :)
Learn more about how to fuel your body, increase your metabolism and reach your health goals with the Tone It Up Nutrition Plan!
Now is the perfect time to reach your health and fitness goals~ just like these incredible Tone It Up members!