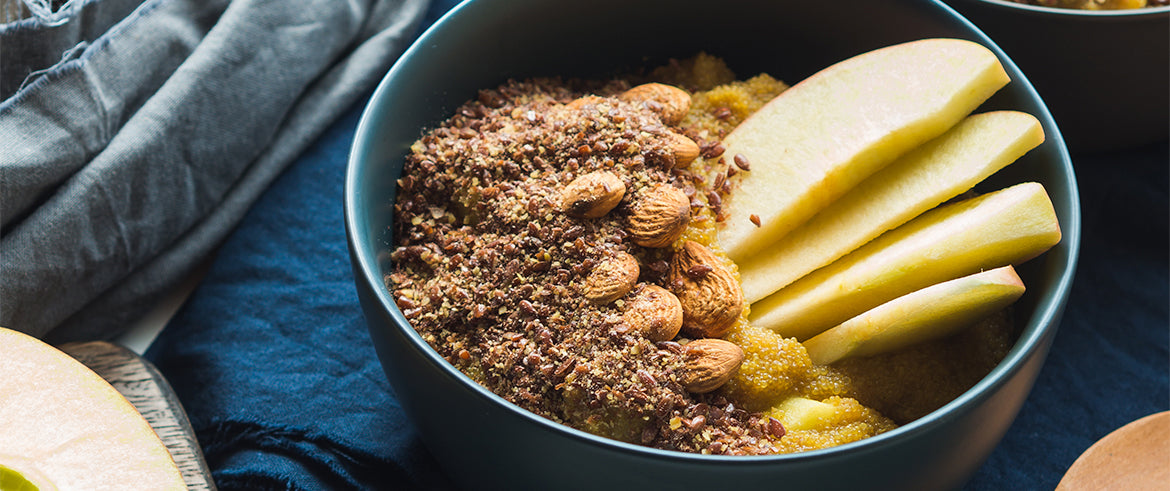 Get a Sneak Peek at Your Brand New Fall Meal Plan Recipes
By Tone It Up on
With our 6-week Fall Challenge coming up on October 4th, that means we have a brand new meal plan for you! This plan is filled with seasonal fall recipes — everything from smoothies, to lattes, to crockpot dishes, to tacos — plus meal-by-meal guides, meal prep tips, and nutrition advice to help you feel healthy, nourished, and energized for fall. 
You'll get the full plan when you sign up for the Fall Challenge here! Want a 'lil sneak peek? We get you! We're giving you an exclusive look at some of our favorite new recipes below. We know fall is a busy season, so these are all super quick and easy for you to whip up and enjoy. 
Berry Ginger Smoothie Recipe
Makes 1 serving
INGREDIENTS: 
1 cup mixed berries

½-inch of ginger

1 cup unsweetened plant-based milk

1 scoop

vanilla Tone It Up Protein 

1 cup spinach or kale

2 tsp. chia seeds

Half of a celery stalk

Handful of ice
DIRECTIONS: 
Combine all ingredients in a blender and blend until smooth. 
Apple Pie Oats Recipe
Makes 2 servings
INGREDIENTS: 
½ cup oats (gluten-free if preferred)

½ apple, diced 

2 tsp. lemon juice

1 tsp. cinnamon

1 scoop

vanilla Tone It Up Protein 

 ½ tsp. maple syrup
TOPPINGS:
DIRECTIONS: 
In a saucepan, bring 1 cup water to a boil and add oats. Cook on low for 3-5 minutes.

Meanwhile, combine diced apple with lemon juice and cinnamon. 

Add apple mixture to the oats. Add protein and maple syrup. Stir and top with chopped pecans. 
Simple Fall Pine Nut Salad Recipe
Makes 1 serving 
INGREDIENTS: 
¼ of an acorn squash

Olive oil for drizzling

2 Tbsp. pine nuts

1 ½ cups arugula

¼ apple, sliced

½ cup cooked beans or lentils of your choosing
DRESSING
1 Tbsp. olive oil

1 Tbsp. balsamic vinegar

1 tsp. dijon mustard
DIRECTIONS: 
Preheat oven to 350 degrees. 

Slice acorn squash and drizzle with olive oil. Bake for 30 minutes, or until golden brown,  flipping halfway through. 

Meanwhile, place pine nuts in a skillet over medium heat in an oil-free pan. Consistently stir with a wooden spoon until lightly browned. 

For dressing, mix all ingredients together. 

Combine all ingredients and top with dressing.
Crockpot Chicken & Veggies Recipe 
Makes 4 servings 
INGREDIENTS: 
2 cloves garlic cloves, minced

1/2 onion, chopped

1 cup quinoa

2 cups low-sodium vegetable broth

1 cup green beans

6 large carrots, cut in half

1 cup mushrooms, chopped

2 4 oz. fresh or frozen boneless, skinless chicken breasts

1 ½ Tbsp. olive oil

1 ½ Tbsp. coconut aminos

2 Tbsp. whole grain or dijon mustard

1 tsp. rosemary

1 tsp. thyme

Salt and pepper to taste
DIRECTIONS: 
Start crockpot on low. 

Add in all ingredients and cook for 6-8 hours (or 4 hours on high).
---
Looking for more delicious fall recipes, plus nutrition advice, meal-by-meal guides, meal prep tips, and grocery lists?! Sign up the Fall Challenge to get the full brand new Fall Meal Plan!