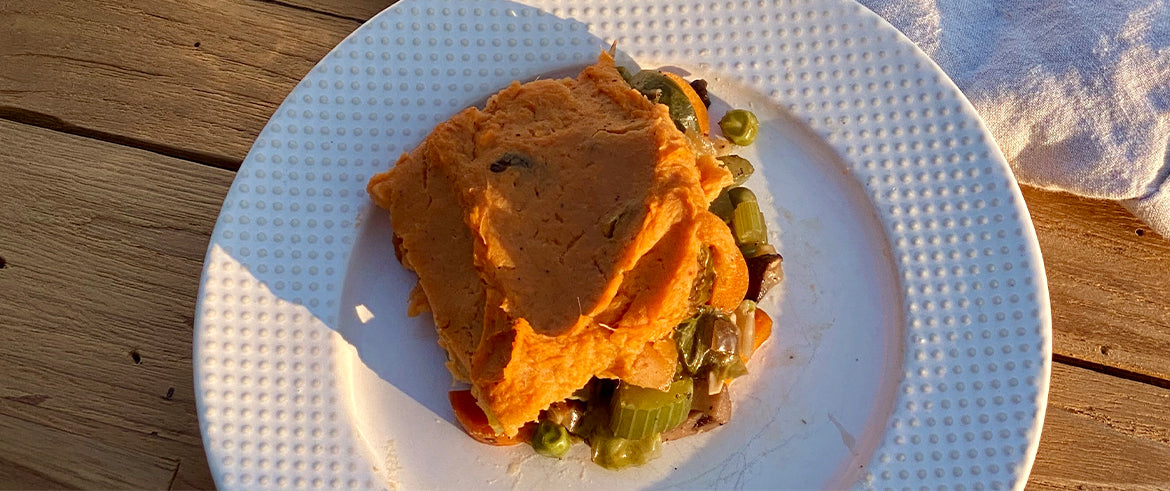 Autumn Veggie Pie Recipe ~ New From the Fall Challenge
By Tone It Up on
One of our favorite new recipes from the Fall Challenge Meal Plan is this savory and delicious Autumn Veggie Pie. It feels like fall in a dish…comforting and warm 🍂 
Plus, it's packed with tons of antioxidant-filled veggies. It's a classic comfort food with a healthy twist — perfect for cozy nights in with your friends and family! It heats up great too, so you can prep it on Sunday and enjoy it all week long!
Autumn Veggie Pie Recipe
Makes 4 servings 
INGREDIENTS:
VEGGIE MIXTURE:
1 Tbsp. olive oil

2 cloves garlic, minced 

1 small onion, chopped

1 cup chopped carrots

1 cup chopped brussel sprouts

1 cup chopped celery

1 cup chopped mushrooms

¾ cup peas

1 tsp. thyme

1 tsp. rosemary

Salt and pepper to taste
SWEET POTATO MIXTURE:
2 large sweet potatoes

½ cup coconut milk
DIRECTIONS:
Preheat oven to 400 degrees. 

On the stove top, heat a large pan over medium heat with olive oil. Add in garlic until fragrant. Add in onion until translucent. Add all remaining vegetables with rosemary and thyme. Mix together and sauté until tender. 

While the vegetables cook, peel the skin of the two sweet potatoes and cut in half. Add to a large pot of boiling water on high and allow to boil until you can pierce a fork through the potatoes. Once the potatoes are tender, drain the water from the pot. 

In a mixer or with a hand-held mixer, combine the sweet potatoes with coconut milk. Mix together until you have a creamy consistency. Add salt and pepper to taste. 

Place the sautéed vegetables evenly throughout the bottom of an oven-proof pan. Top the vegetables with a thick layer of sweet potatoes to cover the entire top. 

Bake for 30 minutes or until the sweet potatoes are golden brown
---
Looking for more delicious fall recipes, plus nutrition advice, meal-by-meal guides, meal prep tips, and grocery lists?! Sign up for  the Fall Challenge to get the full brand new Fall Meal Plan!