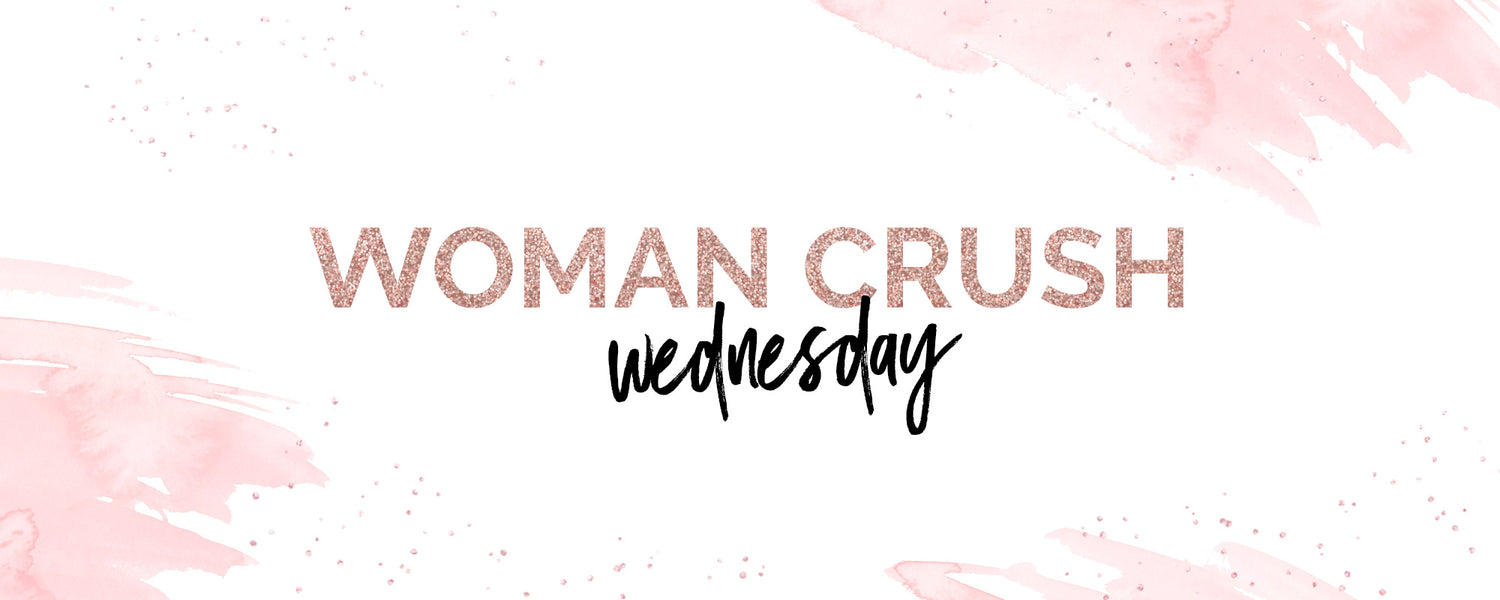 Woman Crush Wednesday | Sage Erickson!
By Katrina Scott on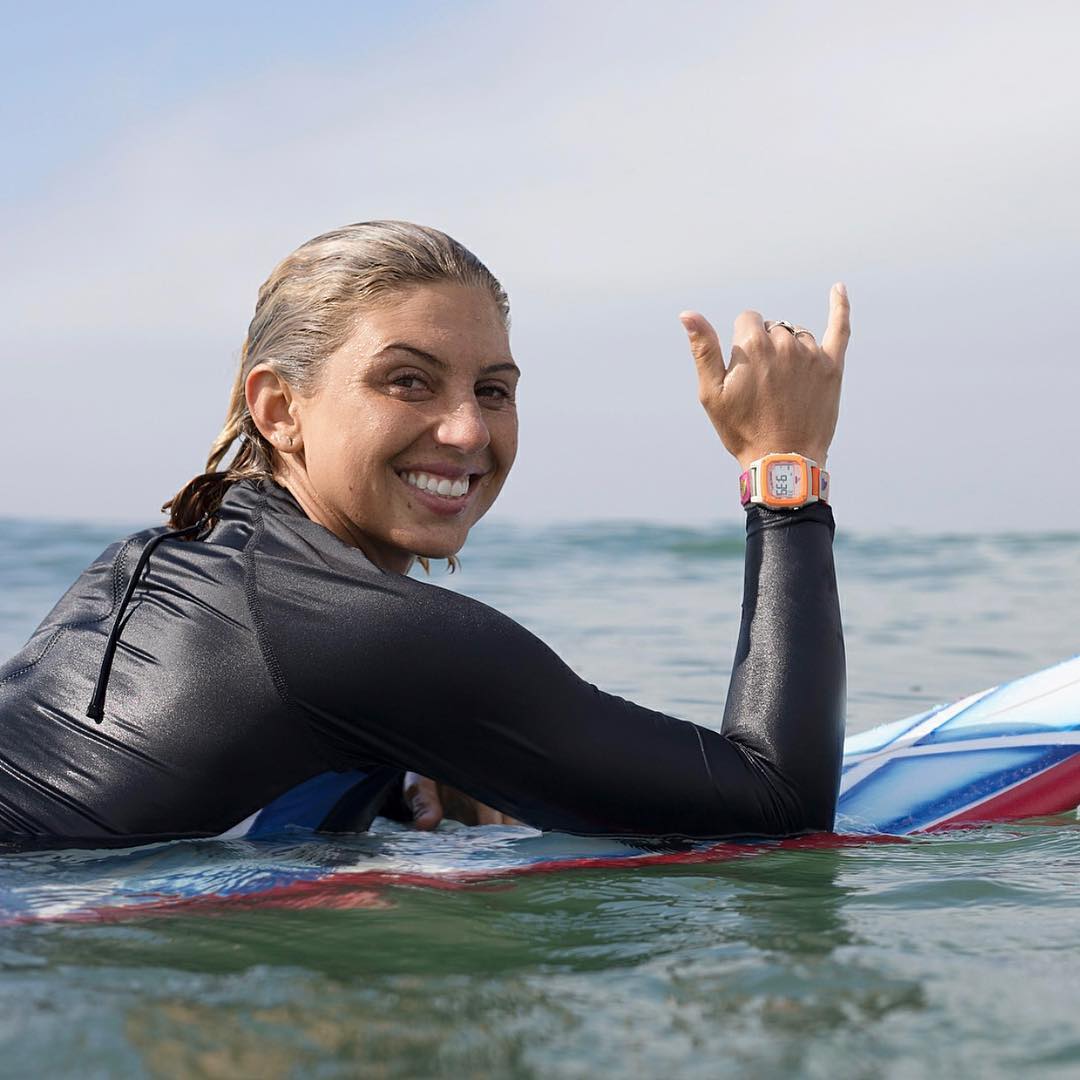 This babe is makin' some serious waves! We're SO proud of our girlfriend and Tone It Up Athlete Sage Erickson! Just this past weekend, Sage became the US Open of Surfing Champion!! She's such a badass!💪  🏄   Her strength, determination, and passion embody everything it means to be a #TIUgirl.
Recently we sat down with Sage when she was home in California (she travels 10 months of the year!). We chatted all about how she feels stronger than ever on the Tone It Up Nutrition Plan, her fave workouts and smoothies, surf tips for TIU girls, and her passion for art and photography.
Sage, you're such an inspiration and we're so lucky to have you as a friend and TIU girl! ❤️
Check out our full interview with Sage below!

How old were you when you started surfing?
I started surfing at the age of 11, and I started on the North Shore of Oahu.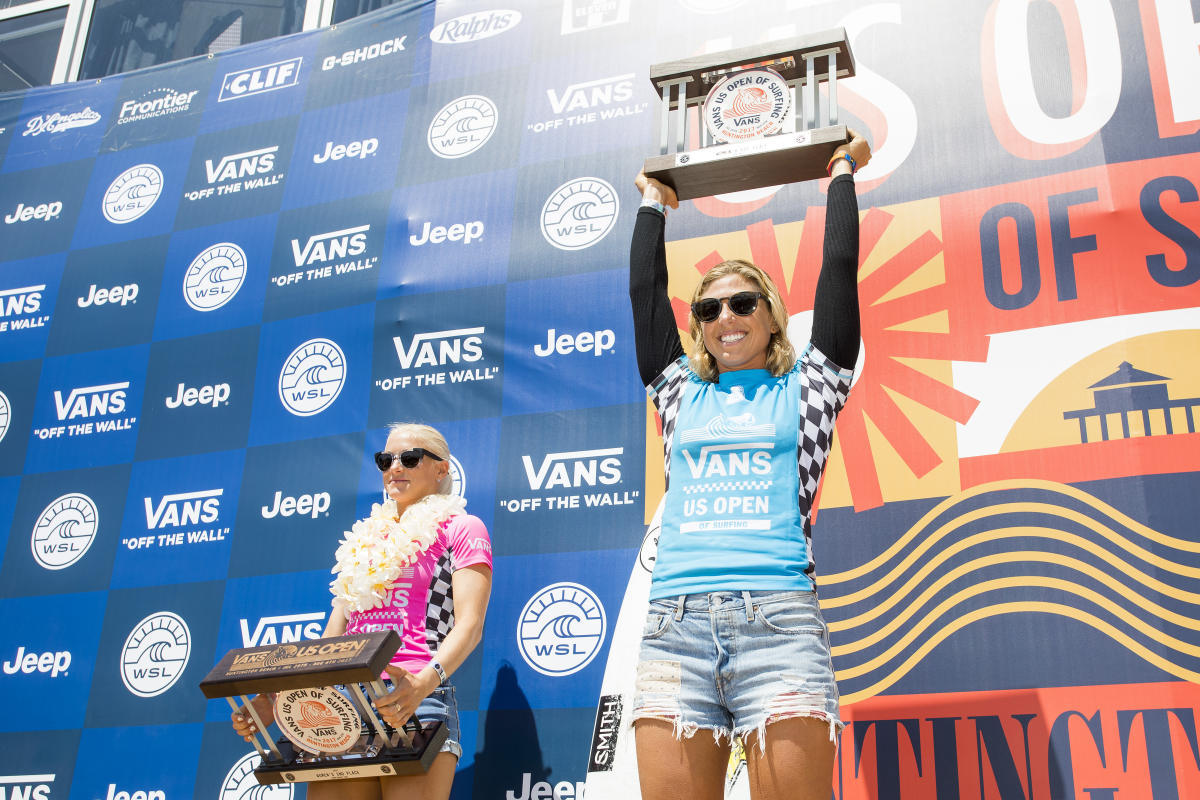 How do you prepare for a big competition? 
 I've learned to balance and figure out what works for me in the off season. I have two months off from competing a year. The first month is me enjoying home and my family, holiday food, and all the comforts of home because I travel 10 months out of the year. And I'm away from those things so I kinda let myself relax. And then during the second month, I'm in the gym four times a week and I'm surfing twice a day.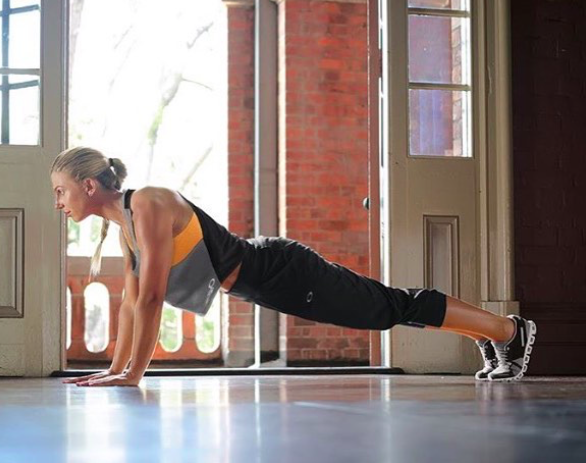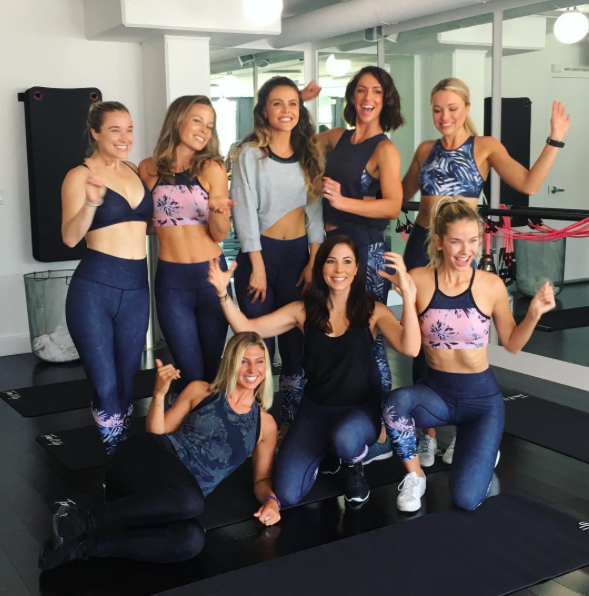 What are some of your fave workouts? 
I love doing group classes. I find it really inspiring to work out with a lot of women of every shape and size, and I've found that when you go with a friend or you work out with someone else, you're accountable to the workout. I do a class called Body Combat or I get a couple of my girlfriends and we do Tone It Up videos. We did quite a few videos when I was in Maui recently!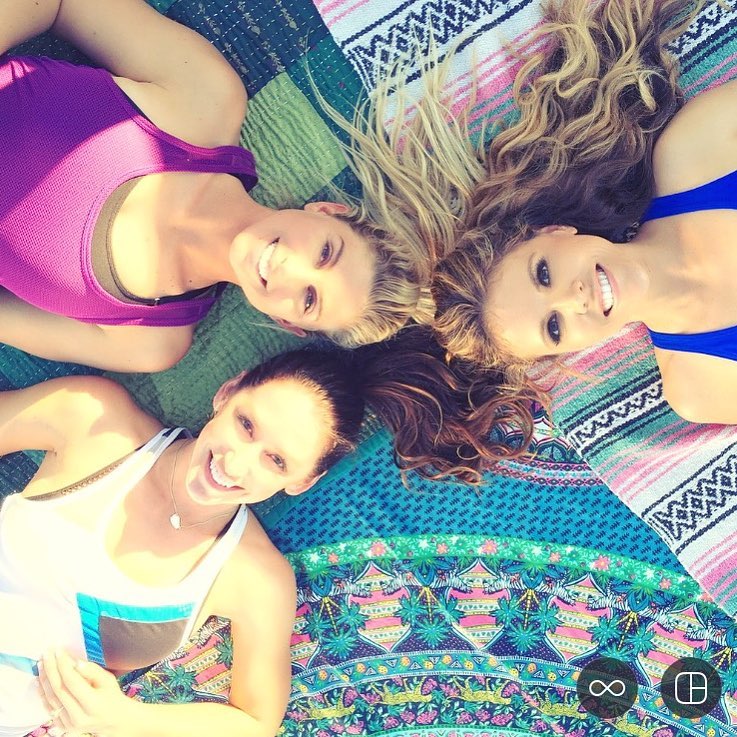 I've been into the booty ~ that's my target area. I'm always lookin' at Kat's booty like, 'I need to get there!'
What are your favorite strength training moves?
Recently I've done a lot of work with a kettlebell. Kettlebell swings, squatting, and overhead presses have all made me feel a lot stronger. I've been doing a lot of box jumps and different dynamic burpees on one leg, which kind of resembles getting up on my surfboard.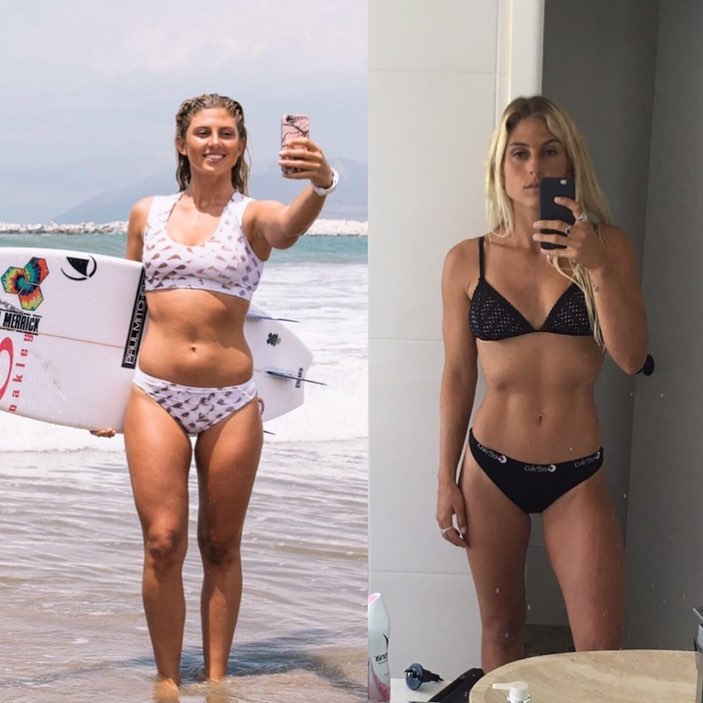 Your TIU transformation is gorgeous! How did the Tone It Up Nutrition Plan contribute to your success?
For me finding that inner joy was just about asking myself what makes me happy in and out of my sport. Being fit and feeling good in my clothes and having something to work for really is a big part of my life. I lost 12 pounds but it was never the process of 'I just want to cut weight' or 'I want to look like her,' but it was more like, 'When I feel good about myself that transcends into other areas.' Kat and Karena have been a huge motivation. They're such happy people and working out is such a big part of that.
For me it was just embodying being healthier, being active, and eating well. I think nutrition is huge. I could surf four hours a day and eat badly, and I don't look as fit. So it's definitely a big nutrition change.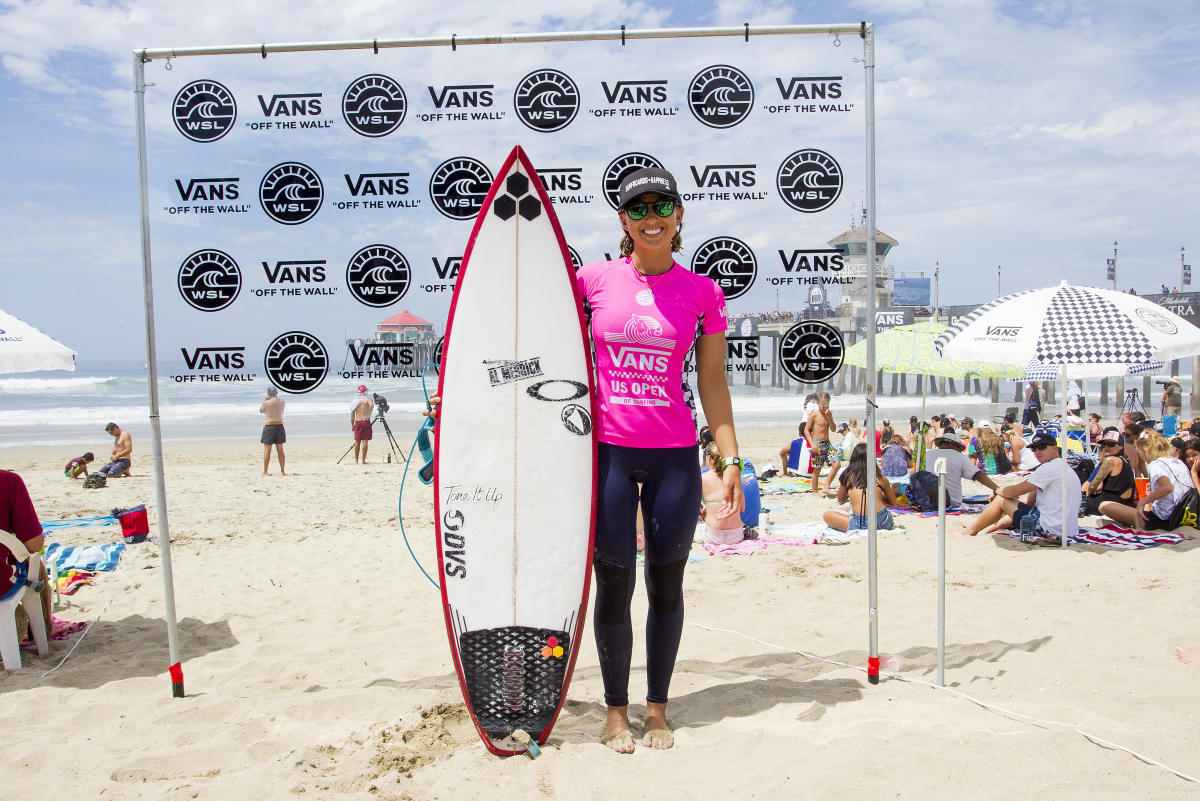 What are your favorite meals and snacks?
In the mornings, I always make my smoothie. I like to make it before surfing because then I don't have cravings while I'm in the water. I really love bars, too. Sometimes I go straight from surfing to the gym so I don't have time to have a huge meal. I'm a big fan of walnuts, almonds, peanut butter on brown rice crackers. I also love green juices. I probably have a green juice like a wellness tonic every day.
What's in your morning smoothie? 
I'm a vanilla fan! That's my flavor. I do my Vanilla Tone It Up Protein and berries. Today I did Vanilla TIU Protein, cherries, and I always add one green whether it's kale or spinach. And then ice and almond milk or coconut milk.
The Tone It Up Protein Sugar Cookies during the holidays. Those were amazing ~ that's probably my favorite desert. The Tone It Up Protein Pancakes are also incredible.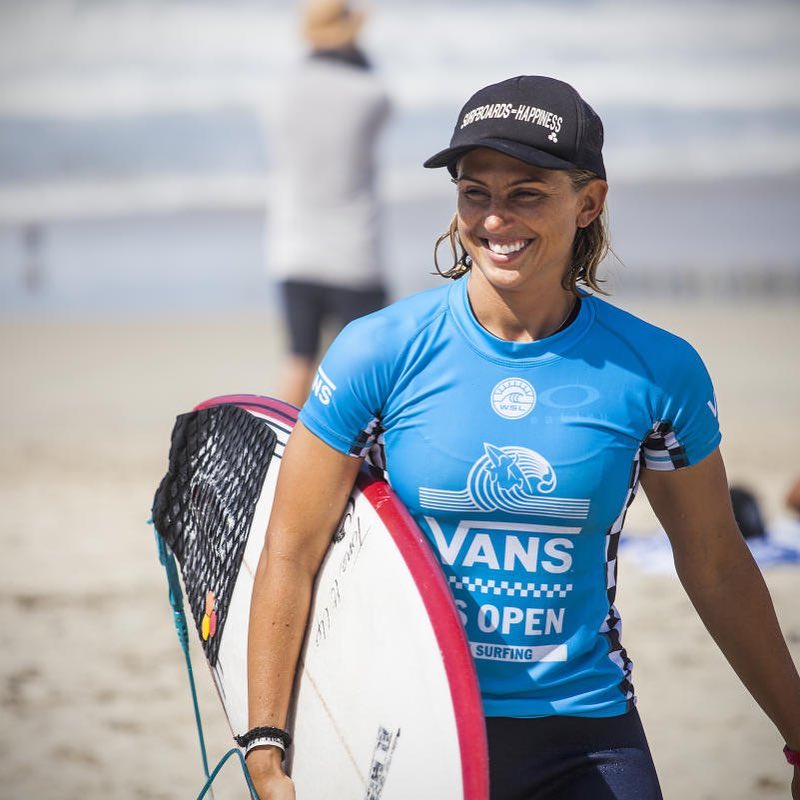 When you're not surfing, how do you unwind?
I love drawing on my surfboards and putting my favorite music on and being in my room at home. I don't spend that much time there so it's kind of like my own creative place and a space that is my own. Traveling on the road so much, I'm in other people's houses and hotels that other people have decorated in their world, so it's nice to be in mine.
I love taking photos too. I just bought this water housing which makes my camera waterproof, so I can take it out in the water and shoot surfing without it getting damaged. This is going to be a new hobby for me because I feel comfortable in the water and the waves. I can go out and capture things that if you were on land, you wouldn't be able to see. So photography and art and I love my friends. I love spending genuine time at my local coffee shop and catching up!
Since you're traveling so much, how do you stay positive and energized when you're on the road?
 I get to travel with my best friends who compete on the tour. So it's a little bit like my home away from home and we keep each other positive and encouraged. I also take my brother or I take friends with me. That's really fun because we get to enjoy another country together and they understand competing and how serious that is, so that helps with the balance.

Have you made some really close friends in the surfing community?
If I didn't surf, I wouldn't have the majority of my best friends. I'm always so thankful because we see the professionalism of this sport. We've all lost together and won together, so there's a connection that we share with competing. Surfing is an individual sport — all the pressure is on my shoulders when I'm out in the water. So having girls that understand that concept is amazing.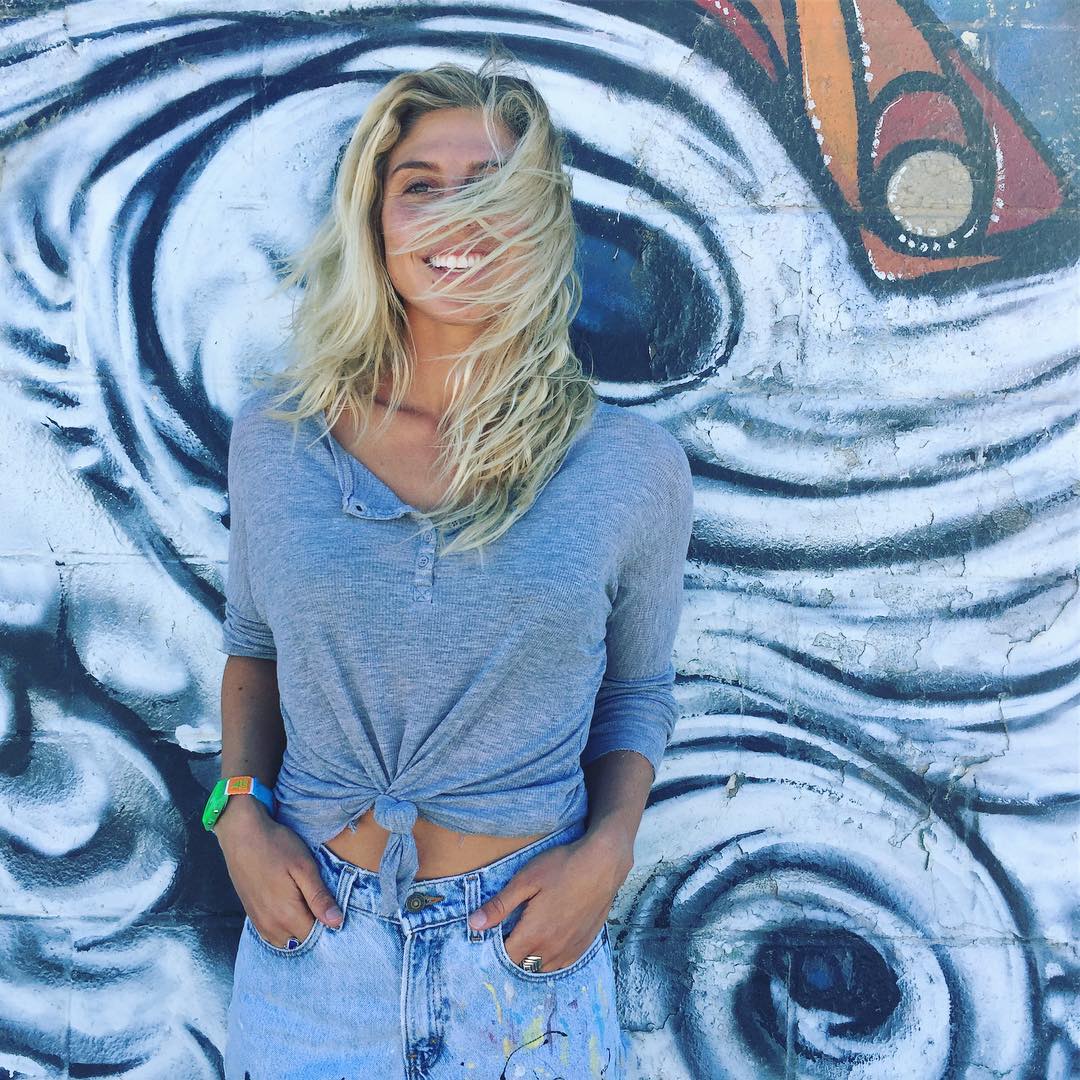 You have such a California cool style! What are your fashion tips for TIU girls?
I think the California girl is definitely beachy and flowy. I don't like really fitted things, but if I do I have a fitted, cute cutoff short and a slouchy sweatshirt or sweater. I'm huge on sweaters because at the beach it sometimes gets windy here and it's just a cute look. I think when you're comfortable and you feel that, it shows on the inside out.
Do you have a personal mantra?
I draw lions on my surfboard because I like what they represent. There's an inner fierceness that comes from a lion and they represent strength and leadership. 
You've been to beaches all over the world! Is there one that's most special to you?
I love a place called 'Whale Beach' in Australia. It's on the northern beaches of Sydney and it's its own private bay. The sand is white with a slight yellow tint and the water's turquoise. There's these beautiful homes nestled into the bay part away from the beach. And it's pretty much sunny all the time!
Do you have advice for TIU girls who want to learn to surf? 
I think so many times the things that we're most afraid of are the most rewarding after we do them. When I first started I wasn't good at it. People looked at me as not being very good, or I'd fall off awkwardly, or I'd be tired, but all of those things take practice so don't be discouraged by it.
Definitely go in conditions that you're comfortable with. It always helps when the sun is out and the waves are small. And go with someone who knows how to surf so that you're never put in a place where a wave's too big or you don't know what to do and you have to go under water. Don't give up and have fun and have a good teacher. Go with a couple girlfriends and you can all start with each other!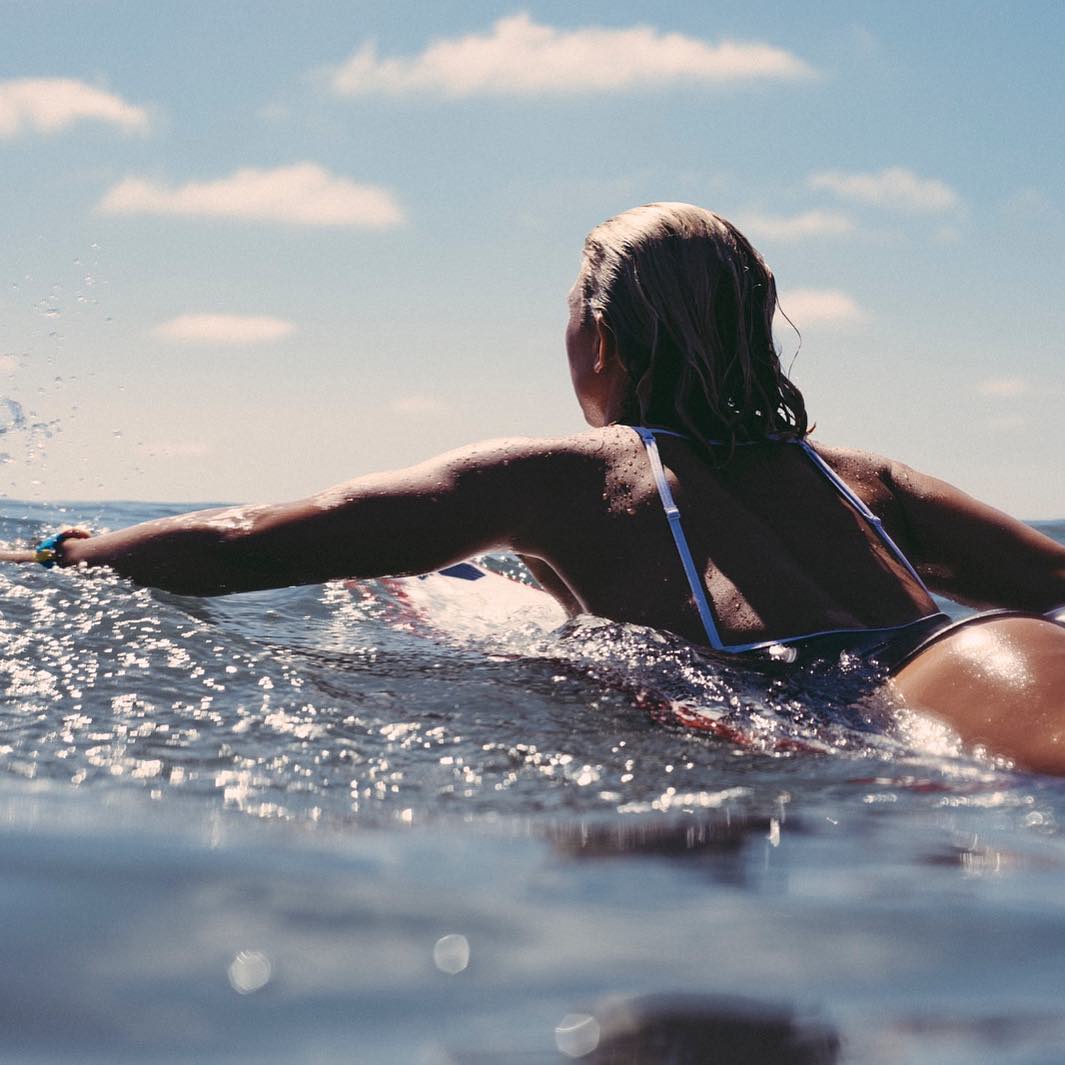 Rapid-fire questions!
Red, white, or pink wine?
Red
What's the last thing you treated yourself to?
I just bought that water housing for my camera!
What's the last thing you usually do before you go to bed at night?
I'm super into this essential oil diffuser. I have eucalyptus, tea tree, peppermint, orange, and lavender is my favorite. I've normally been doing a peppermint and then I put lavender on my wrists and my neck. It helps me relax and calm down.
What's your favorite dessert?
Brownies. Hands down brownies.
Ab or booty workout?
Abs are easier for me but I've been doing booty. 
If you could bring one beauty item to a deserted island, what would you bring?
Moisturizer. Definitely a facial moisturizer.
Do you have a favorite moisturizer?
Kiehl's — I'm obsessed with them! I have an avocado cream and their facial moisturizer. I think because I'm in the sun and the salt so much, I just feel parched and dry. 
Are you a morning person or a night owl?
Morning by far. I try to go to bed at least by 9. I'm like a 95 year old going on 26!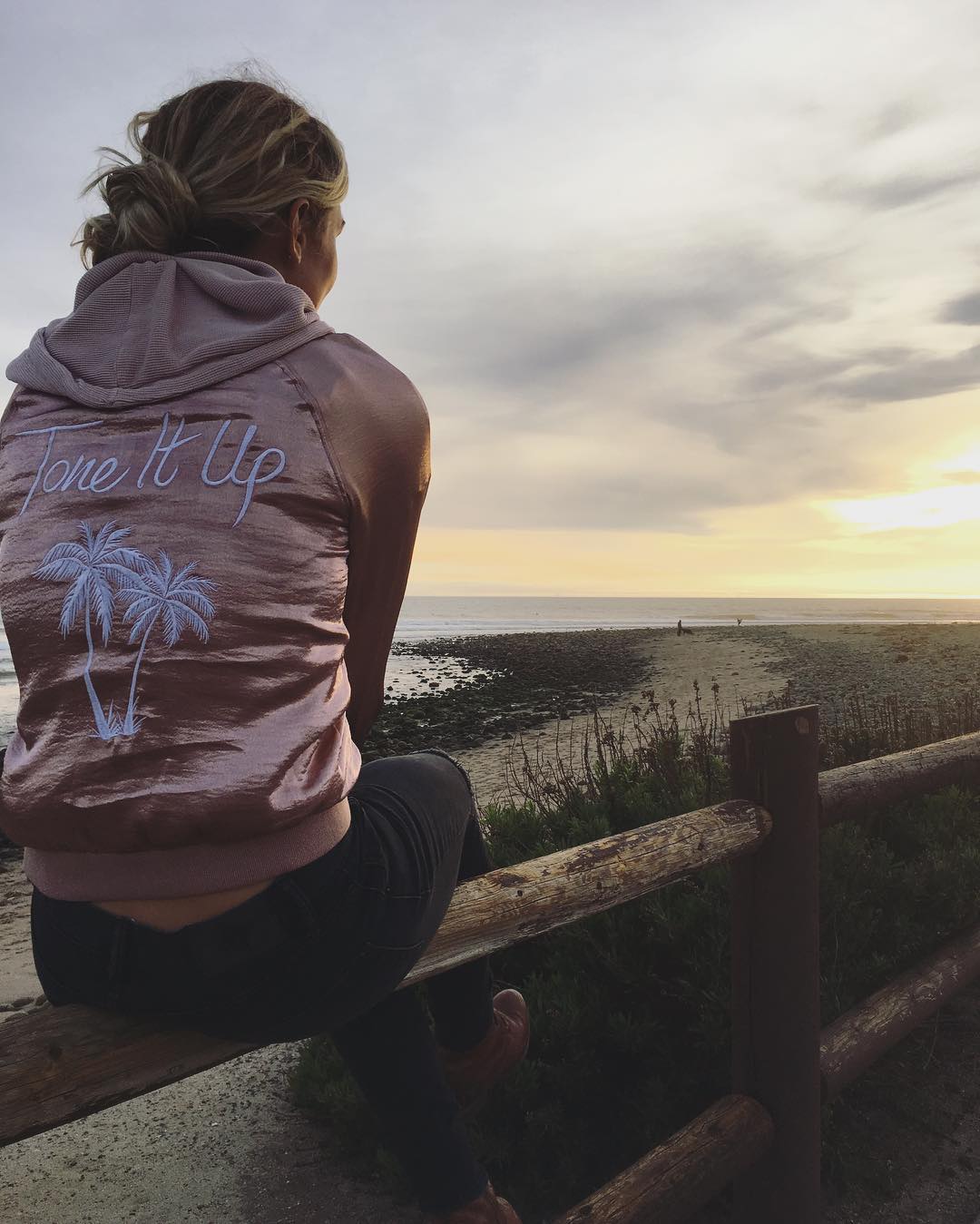 We're so proud of you Sage! Give her some love in the comments!