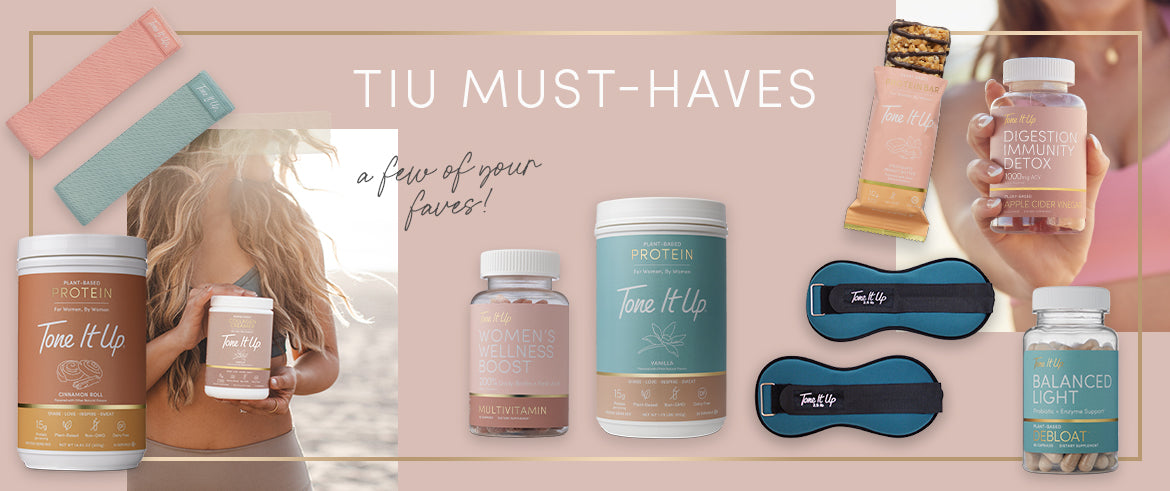 TIU Holiday Must-Haves
By Tone It Up on
Your Tone It Up Shop Holiday Gift Guide is here!! We rounded up the #TIUteams go-to products for feeling strong, energized, and confident. Whether you're stocking up for yourself to finish the year off strong or gifting a girlfriend, these goodies are for YOU! We can't wait to see what you pick out. 
Let the gifting begin! 
**PS you can save up to 70% on all these items right now for Black Friday. No code necessary :) 
---

Birthday Cake Bars 
This bar takes the cake! Our top seller, our Birthday cake bar is the perfect on the go snack.
Apple Cider Vinegar Gummies
Keep these at your desk or near your bed for an easy addition to your wellness routine.
Hip Bands
Work that booty! The ultimate sculpting bands.. 
Plant Based Vanilla Protein Powder 
This TIU staple is creamy and DELICIOUS - perfect for kickstarting your day, post-workout smoothies and baking.
Marine Collagen
Get glowing with sustainably sourced collagen for stronger hair, skin, & nails!
Ankle Weights 
Take your booty moves to the next level for even better results!
Women's Wellness Boost Multivitamin Gummies
From Vitamin A and C for immune health, to Vitamin B12 for an energy boost, to biotin for gorgeous hair, skin, and nails, you'll love the benefits! 
Chocolate Peanut Butter Bars
The dreamiest combo! Perfect for kickstarting your day, an AM/PM pick-me-up, or a post workout snack. 
Debloat Capsules
Feel light and balanced with our debloat capsules! 
Cinnamon Roll Protein Powder 
Shake it or Bake it! A must for the holiday season.