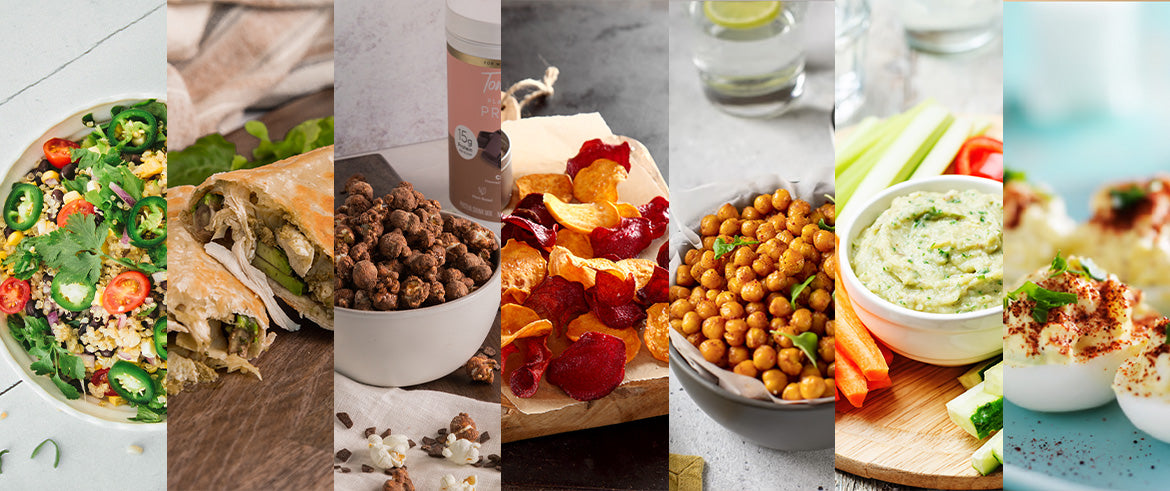 TIU-Approved Big Game Recipes 2023
By Tone It Up on
Alright girls let's huddle...it's almost game day! 🏈  Who are you rooting for on Sunday? Or are you just in it for the snacks?! No shame in that game 😉
We want you to feel amazing + enjoy yourself at any festivities you have planned, so we're sharing some of our favorite Tone It Up approved snacks, sides, and more!
7 Healthy Big Game Recipes
 
Grilled Chicken Pesto Wraps
Ingredients:
1/2 cup vegan mozzarella (if desired)
¼  cup basil pesto
1 cup shredded rotisserie chicken
1/2 cup canned artichoke hearts, chopped
1 avocado
2 tsp Italian seasoning
2 large whole wheat or GF tortillas (we love Ezekiel brand!)
Arugula or fresh basil (optional)
Oil for grilling
Instructions:
Lay out the tortillas, and in each of them place a layer of mozzarella (if using), basil pesto, artichoke hearts, shredded chicken and sliced avocado.

Sprinkle it with italian seasoning and place basil and arugula on top, if desired.

Preheat a skillet or grill pan on medium high heat

Fold the sides of the wrap and roll it up. Brush both sides with any oil of your choice.

Grill the wraps for about 4-6 minutes on each side or until golden.

Serve warm and enjoy!

Protein "Muddy Buddies"
Ingredients:
½ cup of natural nut butter
½ cup of dark chocolate chips
1 tbsp of coconut oil
1 Half Bag of popped popcorn 
Instructions:
Melt the coconut oil, nut butter, and chocolate chips in a microwave safe bowl until smooth
Pour half of the popcorn bag into a large bowl and pour in the melted chocolate mixture
Fold in the chocolate mixture to coat each popcorn piece
Sprinkle the popcorn with chocolate protein powder or collagen powder till desired amount
Enjoy!
Air Fryer Veggie Chips
Ingredients:
1 sweet potato
1 purple sweet potato
4 rainbow carrots
1 yukon potato
2 tbsp Avocado Oil
Salt
Pepper
Garlic powder
Onion powder
Instructions:
Scrub all vegetable clean and thinly slice them into circles

Pat them dry

Place vegetable slices in a bowl and drizzle avocado oil to lightly coat them

Sprinkle salt, pepper, garlic and onion powder and mix to coat each slice

Layer the slices in the air fryer basket in one layer

Place in air fryer on 320 degrees for 20-25 minutes

Repeat with the remaining slices and enjoy!

Guacamole Quinoa Salad
Serves 1- we recommend making 4-5 servings! 
Ingredients:
½ cup quinoa
¼ cup zucchini, chopped
¼ cup cilantro, chopped
½ cup black beans
½ jalapeno, diced
2 tbsp fresh corn
4 cups your fave leafy green (we love kale, spinach, and arugula!)
¼ cup salsa
2 tbsp guacamole
Directions: 
1. Add all ingredients to a bowl except for the salsa and guacamole, toss to combine. 
2. Top with salsa and guacamole.

Air Fried Crispy BBQ Chickpeas
Ingredients:
1 15.5 oz can chickpeas, rinsed and drained 
1 Tbsp avocado oil
2 tsp maple syrup
1 ½ tsp smoked paprika
1 tsp chipotle powder
¾ tsp garlic powder
¼ tsp sea salt
¼ tsp ground black pepper
Directions:
1. In a small bowl, mix together the chickpeas, avocado oil, maple syrup and other seasonings so all of the chickpeas are covered.
2. Set the air fryer timer for 6 minutes, at 375 degrees F. After 6 minutes, shake the basket to ensure all sides are crispy, then add another 6 minutes.
3. Transfer to a bowl to cool fully so the seasoning can dry.
You can season the chickpeas in many different fun ways. Our go faves are 
Everything Bagel Seasoning

Taco Seasoning

Korean BBQ Seasoning
Avocado Tahini Dip
Ingredients:
2 ripe avocados
¼ cup tahini
2 garlic cloves
¼ cup Fresh Lemon or Lime Juice
1 teaspoon ground cumin
½ cup fresh cilantro leaves
Dash of sea salt to taste, optional
Directions:
Place all ingredients into the food processor

Start the blender at its lowest speed, then quickly increase to its highest speed. Process until completely smooth. Ad water as needed

Serve with sliced raw seasonal vegetables.
Greek Yogurt Deviled Eggs
Ingredients: 
8 hard-boiled eggs
½ cup plain nonfat Greek yogurt
2 tsp Dijon mustard
¼ teaspoon smoked paprika, optional 
A pinch of cayenne pepper
Sea salt and pepper, to taste
 Directions: 
1. Cut each egg in half lengthwise. Remove the yolks into food processor
2. To the food processor, add Greek yogurt, Dijon mustard, sea salt, black pepper, smoked paprika and cayenne pepper.
3. Arrange the egg whites on a plate.
4. Spoon the mixture back into the egg whites. Sprinkle smoked paprika on top.
Looking for more fun, festive, & healthy recipes? Check out the recipe section of your Tone It Up app!