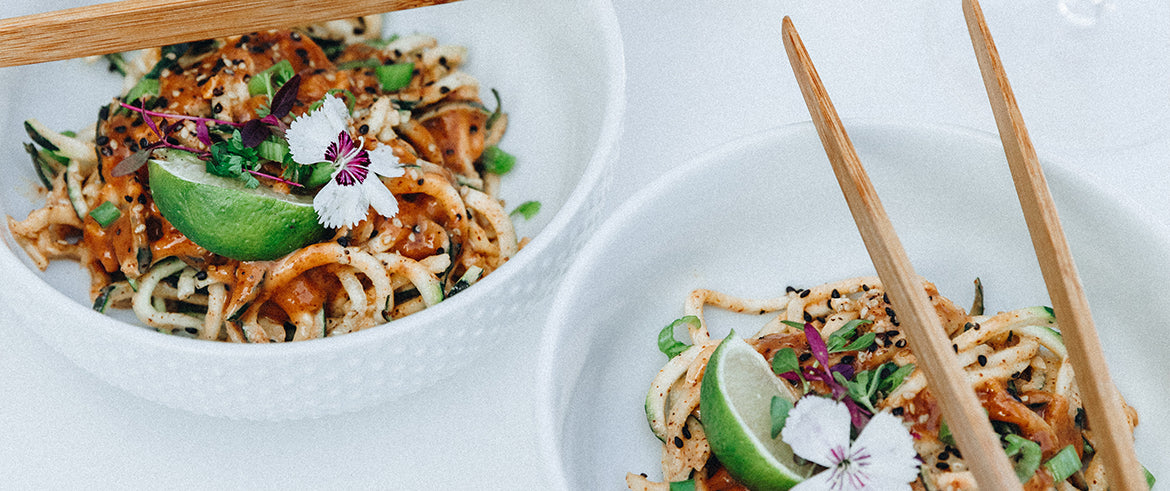 The New Way To Do Noodles + Our Fave 3 Recipes
By Tone It Up on
You know we love a good pasta dish! And as a TIU girl, you also know that we try to limit our carb intake in the evenings. By limiting carbs after 3 pm, you give your body more time to digest and process them. Plus, you can enjoy all your favorite healthy complex carbs (sweet potato, oats, multigrain bread) for breakfast and lunch. 
So what do we do when we're craving noodles at night? One word for you: zoodles! Zucchini noodles are so easy to whip up and surprisingly satisfying. Zucchini is filled with fiber, which keeps you satisfied and stabilizes your blood sugar. Plus, it delivers lots of immune-boosting vitamin C and antioxidants like lutein, zeaxanthin, and beta-carotene that support heart health and glowing skin. 
Check out three of our favorite healthy zoodle dishes. These make the best quick weeknight dinners!
Pesto Zoodles
Makes 2 servings
INGREDIENTS
3 spiralized zucchinis 

½ cup toasted pine nuts

2 ½ cups fresh basil

¼ cup parsley 

2 Tbsp. extra virgin olive oil

1 clove garlic, minced 

½ lemon, juiced

1 tsp. crushed red pepper

½ cup unsweetened nut milk

½ Tbsp. nutritional yeast

¼ tsp. salt

¼ tsp. pepper 
DIRECTIONS 
Place 3 spiralized zucchinis in a large oil-free pan on the stovetop.

Heat up until tender. Drain any excess water.

Meanwhile, in a blender or a food processor, combine all pesto ingredients until creamy.

Add pesto sauce to zoodles and combine. 
Spicy Sesame Zoodles
Makes 4 servings
SAUCE
1/2 cup almond butter

1/4 cup sesame oil

1/3 cup low-sodium tamari

1/4 cup rice vinegar

2 Tbsp. chili paste (like sambal oelek)

1 Tbsp. honey 

1 clove garlic, minced

1 tsp. fresh minced ginger
ZOODLES
1 tsp. olive oil

4-6 zucchini, spiralized or about a 10 oz. package of prepared spiralized zoodles

Salt and pepper to taste

Optional garnish: green onions and sesame seeds
DIRECTIONS
In a medium bowl, add all ingredients for the sauce and stir until well combined. Set aside.

Coat a medium sauté pan with olive oil over medium heat. Add zoodles and season with salt and pepper. Cook zoodles for about 2 minutes, stirring.

Add sauce to zoodles and stir to combine. Cook until the sauce is warm and remove from heat.

Portion into bowls. Garnish with green onions and sesame seeds. Enjoy!
Zucchini Pasta with Chicken Meatballs
Makes 3 servings
INGREDIENTS
1 lb. ground chicken 1 tsp. dried basil

1 tsp. ground garlic 1⁄2 tsp. salt

1 tsp. olive oil + 1⁄2 tsp. for zoodles

6 large zucchini, spiralized

TIU approved marinara sauce
DIRECTIONS
Preheat oven to 350 degrees.

In a bowl, combine ground chicken with 

dried basil, ground garlic, and salt. Roll ground chicken mixture into small meatballs. Place on a parchment paper lined baking sheet. Drizzle with olive oil.
Bake for 20-30 minutes (depending on how big the meatballs are).
Lightly sauté zoodles in 1⁄2 tsp. olive oil. Serve chicken meatballs over zoodles with 1⁄4 cup TIU approved marinara sauce per serving!
---
Looking for more Lean, Clean, N' Green recipes? Check out the nutrition section of your TIU app for hundreds of options to choose from!
GET THE APP