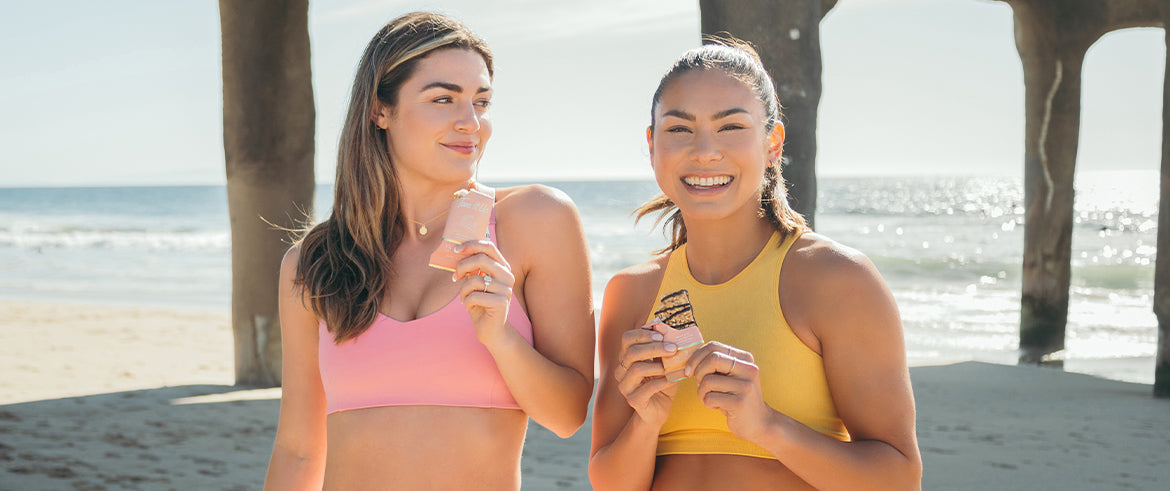 The Best Snacks To Energize Your Afternoon
By Tone It Up on
You know that feeling when 4 pm hits and you're ready for a nap? Yep, us too! That is usually around the time your blood sugar dips and you're tempted to reach for more coffee or a sugary snack to get you through the rest of the day. 
Instead, we rounded up our favorite healthy, energizing, and mood-boosting snacks that will keep you going and feeling amazing!
Your bars are the most convenient pick-me-up for busy days when you're on the go. Just stash some in your purse or car so they're always handy! The combination of protein, healthy fats, and complex carbs will give you long-lasting energy — without the midafternoon crash. The Chocolate Peanut Butter flavor is especially great for this because peanut butter's healthy fats keep your blood sugar stable. 
You know how we mentioned those afternoon sweet cravings? This is the healthiest way to satisfy that sweet tooth! Your Tone It Up cookies contain 10 grams of energizing plant-based protein, plus we never use unnatural sugar alcohols that can mess with your blood sugar levels. 
Homemade trail mix
Nuts and seeds deliver a dose of energizing healthy fats. They also contain an amino acid responsible for producing mood-boosting serotonin, so you'll get an extra lift. Cashews and pumpkin seeds are especially high in zinc, which has been shown to elevate mood. Mix together your own DIY trail mix and portion it out in little baggies so you can grab and go.  
Almond milk yogurt with blueberries 
Sometimes the mid-afternoon slump means brain fog and trouble focusing. This snack is the perfect antidote to that. Almonds help boost brain power and memory, and the antioxidants in blueberries have been shown to support brain function and concentration. We love almond yogurt with berries and a sprinkle of cinnamon or cocoa nibs. 
Green juice + handful of nuts
Green juice is a super convenient way to get complex carbs, which are the body's main source of energy. Be sure to pair your juice with healthy fats like nuts, which help balance out the carbs to stabilize blood sugar. Another amazing combo of healthy fats and complex carbs: whole grain toast with avocado!
---
Did you see?! Tone It Up bars and cookies are now available at Walmart! Find them out in your local store!