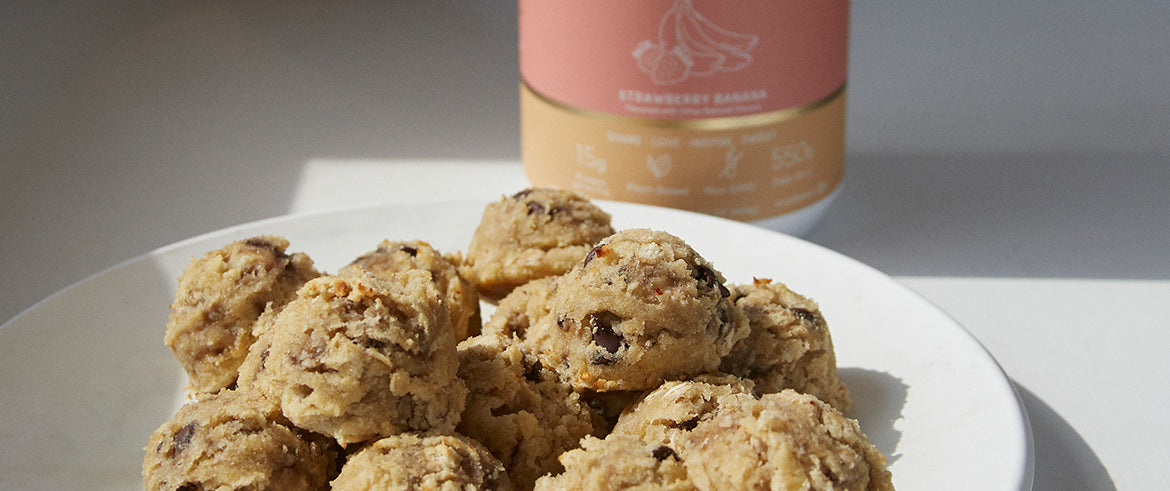 Strawberry Banana Protein + Immunity Protein Bites!
By Tone It Up on
This week we're sharing some of our favorite recipes made with your n Strawberry Banana Protein + Immunity, which delivers 15 grams of clean, plant-based protein and 550% of your daily vitamin C in just one scoop. The strawberry banana combo is so delicious and refreshing post-workout! 🍓🍌😋
STRAWBERRY BANANA PROTEIN BITES
Makes about 14 bites; serving size is 2 bites
Great for M2, M4, M6
INGREDIENTS
2 bananas
1⁄4 cup virgin coconut oil, melted
1 Tbsp. 100% maple syrup
1⁄4 cup unsweetened oat milk
1⁄2 cup + 2 Tbsp. coconut flour
1 egg
1⁄3 cup gluten-free oats
1 tsp. sea salt
1⁄2 tsp. baking powder
Dark Chocolate Chips (optional)
DIRECTIONS
Preheat the oven to 350 degrees.

In a large bowl, mash banana. Add all liquid ingredients and combine.

In a small bowl, mix dry ingredients together.

Combine dry ingredients with wet.

Form mixture into 14 small bite-sized pieces.

Bake for about 8 minutes.

Let cool before serving. 
Enjoy!
You can find your Strawberry Banana Immunity Protein Powder here!