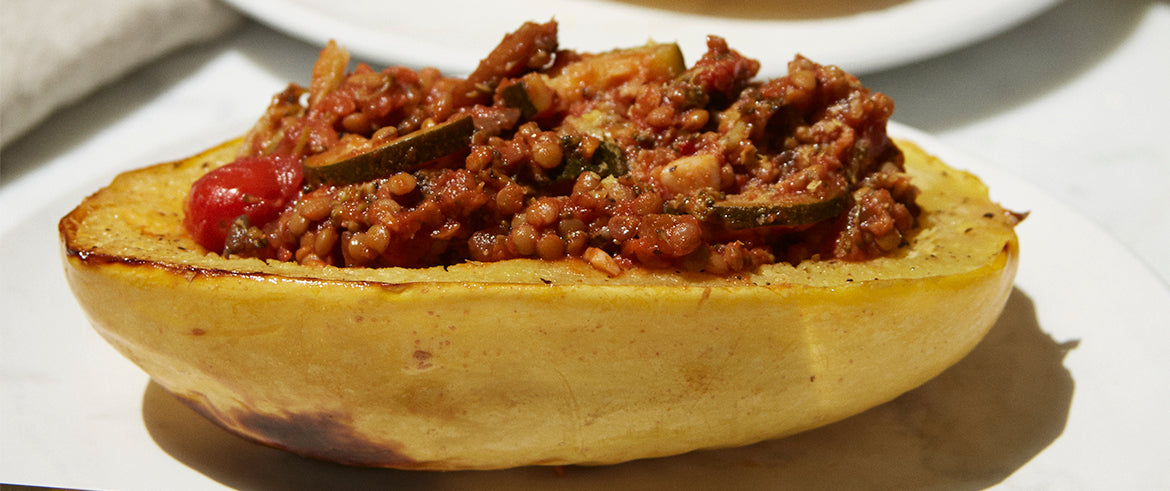 Your New Go-To Dinner ~ Spaghetti Squash Pasta with Lentil Bolognese
By Tone It Up on
What's for dinner tonight, babe? We wanted to share one of our go-to recipes lately. This Spaghetti Squash Pasta with Lentil Bolognese from your 6:40 Meal Plan is so delicious and satisfying! The lentils are an amazing source of plant-based protein, plus it's packed with veggies. This dish is the TIU approved version of spaghetti and meatballs :) 
It's a great recipe to make on Sunday nights and have for the week ahead, so add it to your meal prep list this weekend!
Spaghetti Squash Pasta with Lentil Bolognese Recipe
Makes 3 servings 
INGREDIENTS
1 medium spaghetti squash (about 4 pounds)

2 Tbsp. olive oil + 1 tsp. for coating

1/3 cup lentils

2 tsp. minced garlic

1/3 onion, chopped

1 1/2 cups mushrooms, sliced

1 zucchini, sliced 

1/2 head broccoli, sliced into small florets 

8 cherry tomatoes

2 vine tomatoes, diced 

1 cup tomato sauce (look for one with a short ingredient list!) 

Salt and pepper to taste 

Sprinkle of red pepper flakes

Sprinkle of basil 

Nutritional yeast (optional)
DIRECTIONS 
Preheat the oven to 400 degrees. 

Slice spaghetti squash in half widthwise. Coat with 1 tsp. olive oil, salt, and pepper. Place spaghetti squash on a baking sheet face down and cook for about 40 minutes, or until the face side of the spaghetti squash begins to brown.

In a large pot, bring water to a boil and add lentils. Cover and reduce to a simmer. Cook for about 15 - 20 minutes, or until lentils are soft.

Meanwhile, heat a pan with a bit of water to steam the broccoli. Cook until water dissolves and broccoli begins to soften. Add 1 Tbsp. olive oil over medium-low heat and add garlic; sauté for 30 seconds. Add onions and cook until they begin to turn translucent, about 3 - 5 minutes.

Add mushrooms and zucchini; cook for 3 minutes. Add tomatoes, remaining 1 Tbsp. olive oil, salt, and pepper. Once tomatoes soften, begin to press down with a wooden spoon or spatula to allow juices to spread. Add tomato sauce and lather vegetables. Add cooked lentils, red pepper flakes, and basil. Cook over heat for about 5 - 8 minutes, or until a thick "bolognese" sauce has formed.

Using a fork, scrape out inside of spaghetti squash into a bowl. Top with lentil sauce and nutritional yeast.
---
Find more easy and delicious dinner recipes like this in the nutrition section of your Tone It Up app! 
GET THE APP