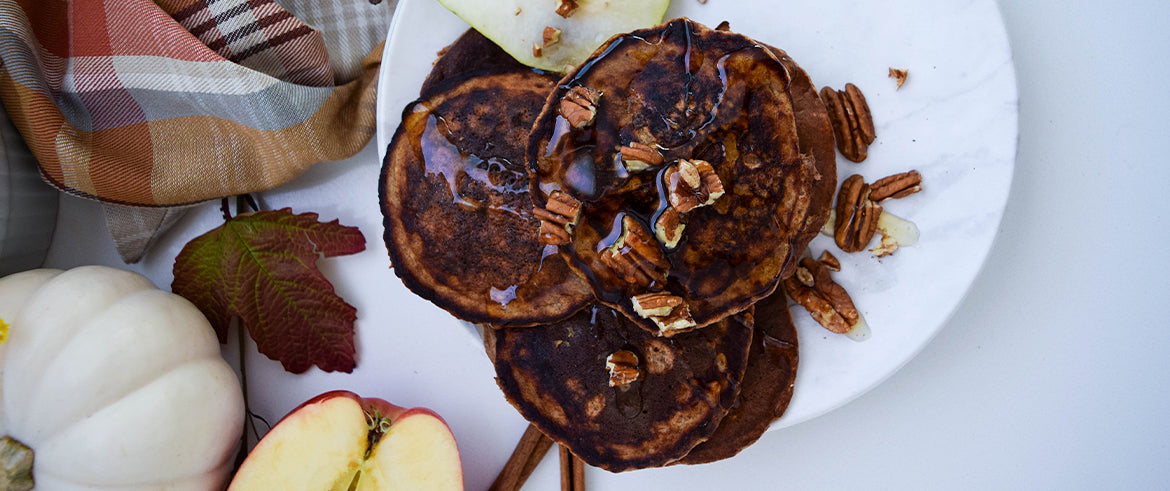 Pumpkin Spice & Everything Nice ~ 5 Delicious Fall Pumpkin Recipes
By Tone It Up on
Hi pumpkin 🎃 It's getting to be that time of year...pumpkin spice season! So of course we have to celebrate with 5 of our all-time favorite pumpkin recipes. 
Pumpkin is so versatile — you can use it in everything from lattes, to baked goods, to soups. Plus, it's packed with immune-boosting vitamins A and C and antioxidants that protect your beautiful body from illness, energize you, and even shield your skin from sun damage and keep it glowing. 
Whip up one of these recipes this weekend...and all season long!
Pumpkin Spice Collagen Latte Recipe
Makes 2 servings
INGREDIENTS
Espresso or brewed coffee

1 tbsp pumpkin puree

1 cup warm almond milk

2 tsp. coconut oil

2 scoops

Tone It Up Marine Collagen

Drop of vanilla extract

Dash of cinnamon

Pumpkin spice to taste
DIRECTIONS
Whisk all ingredients into your coffee or espresso and enjoy!
Pumpkin Tone It Up Pancake Recipe 
Makes 1 serving
INGREDIENTS
1 scoop

vanilla Tone It Up Protein

½ banana, mashed

½ Tbsp. unsweetened almond milk

1 Tbsp. pumpkin puree

¼ cup egg whites

½ tsp. cinnamon

1 tsp. pumpkin pie spice

Coconut oil spray

Real maple syrup or honey (optional)
DIRECTIONS
Completely mash banana with almond milk. Gradually stir in the remaining ingredients.

Spray pan with coconut oil spray and heat over medium-low before pouring in batter. Cook for 3-4 minutes on each side.

Remove from heat and drizzle with real maple syrup or honey and serve!
Pumpkin Pie Parfait Recipe
Makes 2 servings
INGREDIENTS
2 scoops

vanilla Tone It Up Protein

1 frozen banana, sliced

4 ice cubes

2 Tbsp. pumpkin puree

1 cup almond milk (add more if needed while blending)

Pinch of pumpkin pie spice

Cinnamon to taste

1 spoonful unsweetened applesauce (optional)

Almond or Greek yogurt

2 tsp. chia seeds
DIRECTIONS
Combine all ingredients except yogurt in a high-speed blender and blend until smooth.

Split smoothie into two glasses and layer with yogurt. Top with chia seeds. Enjoy! 
Pumpkin Spice Mini Muffins Recipe
Makes 12 mini muffins (serving size is 3 mini muffins)
INGREDIENTS
¾ cup oat flour (or almond flour)

½ cup canned pumpkin

¼ cup maple syrup

1 egg

¼ cup coconut oil

1 Tbsp. vanilla extract

1 tsp. pumpkin spice

½ tsp. baking soda

Coconut oil spray
DIRECTIONS 
Preheat the oven to 350 degrees. Spray a mini muffin tin with coconut oil spray. 

In a large bowl, mix all ingredients until well combined. Pour into a mini muffin tin sprayed with coconut oil.

Bake for 15-20 minutes or until a toothpick comes out clean.

Allow to cool for 5 minutes and enjoy!
Pumpkin Sweet Potato Soup Recipe
Makes 4 servings
INGREDIENTS
1 sweet potato, diced

3 garlic cloves, minced

1 yellow onion, chopped

2 cups pumpkin puree

2 cups vegetable broth

½ cup unsweetened almond milk

1 Tbsp. olive oil

1 tsp. garlic powder

1 tsp. onion salt

Dash of cayenne pepper

Pumpkin seeds, for garnish
DIRECTIONS 
Preheat oven to 350 degrees.

On a small baking sheet, mix sweet potato with olive oil and bake for 20-25 minutes.

In a skillet, sauté onion and garlic in olive oil over medium heat. Add pumpkin puree, vegetable broth, almond milk, and seasonings and bring to a boil.

Reduce heat and let simmer for 20 minutes. Once the sweet potatoes are cooked, add them to a blender with the pumpkin puree and blend until smooth.

Sprinkle with pumpkin seeds!
---
One thing you'll need to whip up these recipes...Tone It Up Protein! Grab yours at Target, H-E-B, Vitamin Shoppe, and Kroger (and Kroger affiliates including King Soopers, Fred Meyer, Mariano's, Dillons, Smith's, and Fry's). You can find a store near you HERE! You can also stock up in the TIU Shop!