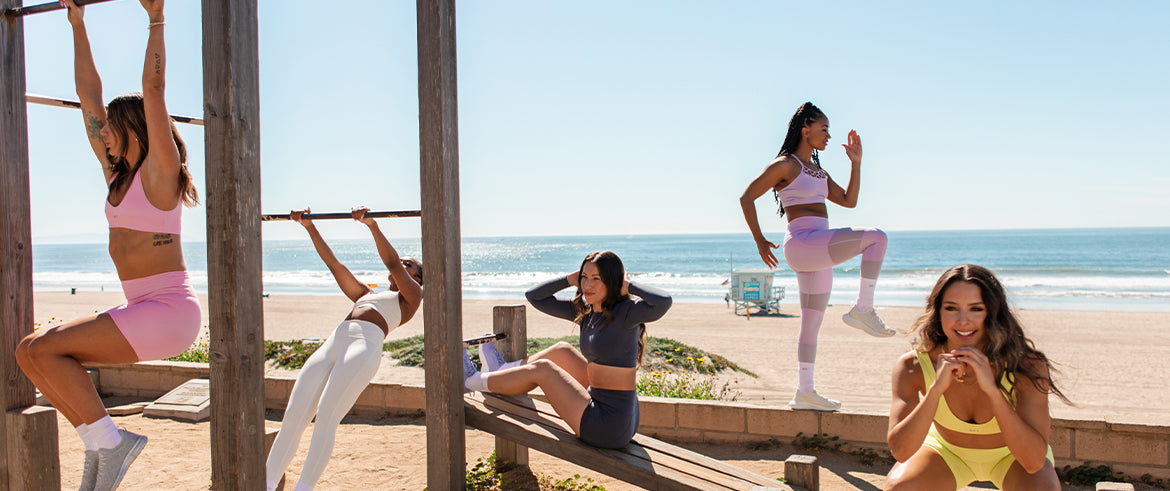 This Summer We Want You to Own Your Strength
By Brian Leckrone on
Ladies! You are in for a TREAT this summer! We have such an awesome program lined up that's all about celebrating you and your strength!
The summer challenge program, Own Your Strength, will span four weeks and offer up an amazing mix of routines, from weight training to HIIT workouts to yoga flows and a blend of Pilates-based classes. It's the BEST program for building a foundation of strength—and then challenging yourself to LEVEL UP!
Better yet: We have some truly amazing, energetic, and inspiring new women joining the TIU team, and they cannot wait to sweat with you! 
---

What to Expect from Own Your Strength
Guess what?! You get 22(!!) new workouts in the summer challenge program, all designed to help you feel like your best self, enhance your confidence, and boost your strength and power! They're also straight up FUN! 
In workouts like Level Up Strength, Booty Band Strength, Full Body Bell, and Level Up Full Body, you'll work on building muscle and getting strong from head to toe! Equipment like kettlebells, dumbbells, and a booty band help add an extra burn to each exercise, while you work through squats, lunges, swings, and many more effective moves. 
To get that heart pumping and metabolism revving, you'll also find a mix of interval workouts, including Boot Camp Burner, Lower Body HIIT, Upper Body HIIT, Power Abs, and Level Up HIIT. Each of these routines challenge you to work hard for a period of time, then rest hard, so you feel ready to repeat. 
While we LOVE lifting heavy and turning up the intensity with cardio intervals, we also love the slow burn of Pilates. That's why we have a mix of workouts that target everything from your abs to your arms to your booty! You'll even find a Pilates-inspired cardio routine to take your practice to the next level!
Finally, with all the hard work you're putting in, you also need some solid rest and recovery for your mind and body. With Own Your Strength, you not only get a mix of challenging yoga routines that will motivate you to tap into your breath, mind, and muscles, but also sequences that help you calm down and stretch out. You'll even get specific stretch routines meant to serve as your active recovery.
To top it off, we also help strengthen the mind with meditations meant to empower you and guide you through this program!

Meet Your New TIU Trainers
You will see familiar faces in the app like the one and only Karena, who leads you through yoga and meditation, and always leaves you feeling inspired and empowered. Your girl Stef still continues to crush it and seriously motivate as she leads a mix of strength and cardio-heavy workouts that challenge you and make you feel so proud of the work! 
Also, if you've tried the Pilates workouts in the On Demand section of the app, then you will also recognize Amber—our certified Pilates expert who's bringing more core-centric, butt-kicking workouts to this program, all based on the practice!
It's also time to introduce you to a few new faces, including:
Dalia
With a fiery energy, upbeat demeanor, and the ability to make you feel connected, this fit pro has a passion for helping women find freedom and joy in movement! You'll adore her words of encouragement and finish every workout feeling accomplished and fearless! Check out her strength, cardio, and ab-focused workouts! 
Bec
An Aussie and founder of Sweat with Bec, who's also known as the Booty Band queen, this certified strength coach will be your BFF in no time—and always leave you smiling! She delivers low-impact, high-intensity routines meant to test your body as you sculpt and tone. Follow her booty band (of course!), arms, and full-body strength routines!
Natasha
Specializing in strength and endurance, Natasha's sweet personality and uplifting energy will make you want to WORK! A certified personal trainer, and founder of Making Fit Count Lifestyle (and former law enforcement officer!), she combines fun with some serious intensity. Try her strength and bootcamp workouts to feel strong and powerful—inside and out. 
Alexandra
Meet your new certified yoga instructor! A former athlete, Alex brings a blend of calming routines, energy-boosting sequences, and strengthening poses to her yoga workouts. She incorporates her knowledge of athletics, alignment, and spirituality in her classes, while infusing an empowering attitude and positive encouragement into each sequence! Follow all of her flows throughout the program. 
Own Your Strength: It's Time to Level Up!
This summer, we want you to find your strongest self and simply feel your BEST! We provide the map for building a solid foundation, mixing in a range of exercise types for a well-rounded, efficient, and effective program—but remember this is all about what feels good for YOU! We do encourage you to always maintain a focus on form, but also challenge you to level up your training by lifting a little heavier, working a little faster, or turning up the intensity on any workout! This is your time to shine, babe! And we know you will!
---
Don't forget to share all your sweaty selfies and show off that strength using #TIUStrength #OwnYourStrength and #TIU2022! See you in your
Tone It Up app
!