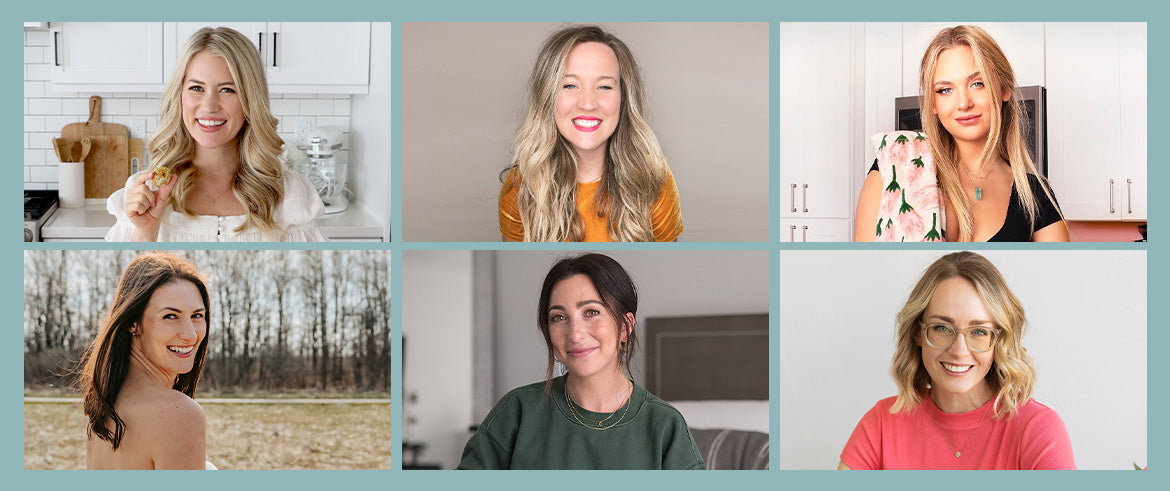 Meet Your Nutritionists!
By Tone It Up on
We're always evolving right along with you! The most important thing is to make your healthy lifestyle work for you — everyone has different nutrition needs and priorities. Our passion is giving you the tools you need to customize YOUR perfect plan.
So for this book, we invited six incredible nutritionists to create new recipes for this community.

Each nutritionist has her own unique approach, focus, and expertise. 
We can't wait for you to meet them!
1. Sara
 About Sara:
I'm Sara, I am a Registered Dietitian Nutritionist (RDN) and a new mom living in sunny Los Angeles! A few things about me personally: 
Although it can definitely be challenging, I'm loving this new journey of motherhood that I am on and can't wait to watch my little one grow. I absolutely love dogs and have a 12 year old rescue named Riley. On weekends you will probably find me walking to new local coffee shops or on the beach in Santa Monica. Professionally, I work with women from all stages of life on improving their relationship to food and their bodies. I also focus heavily on pre and postnatal nutrition. It is so important to nourish yourself during the special time of pregnancy, lactation, and those first few months postpartum. I help women feel better and lessen food anxiety before, during and after their pregnancy.
 Approach to nutrition:
I empower women to improve their overall nutrition knowledge, confidence, and relationship to food and their bodies. My goal is to provide nutrition information in a simple and relatable way without feeling overwhelming. Nutrition can be simple! I pride myself on creating a safe and nonjudgmental space where clients feel invited to share and are open to learning. It is my goal to make nutrition less complicated and provide women with tools to find food freedom and balance in their health for a lifetime.
Fave Nutrition Hack:
My favorite nutrition hack is habit anchoring. For example, if you're trying to drink more water you can anchor that new habit to something you already do- like making coffee. So while you're going through your coffee making steps in the morning, aim to drink at least an 8 oz glass of water to anchor that new habit into your daily routine.
 Fave TIU Product:
My favorite TIU product is the vanilla protein powder.  I love that it's plant-based and organic and is so versatile! It's also the best tasting protein powder I've tried and I've tried many!! I also really like the protein bars - great for throwing in my purse or diaper bag when I'm on the go.
Why did you decide to collaborate with TIU?
 I have been a Tone It Up fan for many years! I would say I am an OG :) In fact, finding Tone It Up was one of the reasons I decided to go back to school to get my masters in nutrition. I love how the brand really focuses on balance. It feels realistic and attainable. 
---
2. Megan
About Megan:
Hi! My name is Megan Roosevelt and I am a Registered Dietitian Nutritionist, author, recipe developer, photographer, videographer, video host and founder of Healthy Grocery Girl®. My passion is sharing simple, healthy recipes that the whole family can enjoy along with natural living and better-for-you product tips, which I do through our website healthygrocerygirl.com, the HGG Youtube channel and Instagram @healthygrocerygirl.I have always been a creative person! Creating content that helps other people live a healthier life, brings me joy! When I'm not coming up with new recipes or wellness content you can find me spending time with my family! I have a wonderful husband named Aaron, who is also my business partner, my daughter Ella is 4.5 years old and my son Leo is almost 3 years old. We love to spend time together at the beach, going on hikes and just being cozy at home reading books!
 Approach to nutrition:
One of my nutrition philosophies is that nutrition is not one-size-fits-all. It's so important to learn about your own body and learn what works well and what doesn't work well for your own health. There are so many ways to label your diet today, yet it's important to make your own food rules and leave margin to make custom dietary adjustments that work best for your own health. Whichever dietary path you find works best for you, one nutrition theme to be backed with scientific evidence for optimal health and longevity is the benefit of consuming mostly real, whole foods with an emphasis on plant-based foods such as lots of fruits and vegetables! 
Nutrition Hack:
When chopping garlic, let it rest for 10 to 15 minutes before cooking. This allows the compound in garlic known as allicin, to fully develop before it comes in contact with heat. Allicin has so many wonderful benefits for our health such as having antioxidant, antibacterial and antimicrobial properties and supporting blood pressure and heart health. I also love to keep my celery (washed then chopped) in a glass jar of filtered water in the fridge. This prevents my celery from wilting! I love to add celery to my morning smoothie for a boost of fiber. 
 Fave TIU Product:
I really love the Vanilla Plant-Based Protein Powder, it's so versatile and delicious!
Why did you decide to collaborate with TIU?
I have loved Tone It Up for years! Their workout APP in particular has been really beneficial for me as a busy work-from-home mom. I love that I can get in an efficient workout without leaving the house! After my son was born I also really enjoyed the postnatal workouts and the meditation videos as well!  My work is all about inspiring people to discover nutrition and wellness habits that help them achieve their best health. I love that Tone It Up is so supportive of women and their health, so this collaboration is a natural fit! As a female business owner myself, I also love that Tone It Up is a company created for women, by women!
---
3. Chloe
About Chloe:
Hi! I'm Chloe – I'm an award winning registered holistic nutritionist who specializes in  women's gut and hormonal health. I'm also a mom of three, cycling fanatic and lover of all  things health and wellness. As the founder of Eunoia Wellness Co INC, I'm dedicated to the  wellness of each and every person who walks through my door (physically & virtually). I started my business 3 years ago to be a communicative, safe haven for women to reclaim  their health, reset their gut microbiome, balance their hormones and get back to thriving  instead of just surviving. If you're interested in following along, you can find me on TikTok  at @eunoiawellness_ or Instagram by the same name!  
Approach to nutrition:
I like to call myself a "realistic holistic". I know that life gets in the way and that it's  impossible to be "perfect" all the time. I believe in the 80/20 rule where 80% of the time  you're eating an anti-inflammatory diet and sticking to your health goals and the other 20%  of the time you're busy living life and eating fun foods. It's important to feed the body good  quality, whole foods but it's also important to feed the soul and sometimes that looks like a  glass of wine or a big piece of cake!  
A common myth about nutrition:
Oh, this one is easy – "eat less, workout more". Please, do not do this! Most of the time the  women I work with aren't eating enough and yet they're spending hours in the gym. This is  contributing to chronic stress and chronic stress leads to nutritional deficiencies, hormonal  imbalances and doesn't get you anywhere near your end goal.  
Fave TIU Product:
This is a hard question (they're all so good!) but I'm going to have to go with the Hot Cocoa  Collagen + Adaptogeninc Mushroom one. As you age, the body starts producing less  collagen so I'm constantly talking to my clients about the importance of getting it through  food. I'm also a big mushroom fan and this product tastes delicious so it's a no-brainer for  me!  
Why did you decide to collaborate with TIU?
I'm incredibly selective about the brands that I choose to work with but Tone It Up is quite  literally the perfect fit for me. We are aligned in our beliefs and in our missions to empower  women, cultivate community and transform the way we view health – not as a number on  the scale or a certain size but as a way of ensuring that women reach their highest potential  with increased energy, inner happiness, complete confidence and a lust for life. I'm  honored and proud to collaborate with Tone it Up!  
---
4. Britt
About Britt:
Hi! My name is Britt! I spent years enduring the dreaded bloat, not knowing how it could be related to the myriad of other symptoms like PMS, anxiety, weight gain and hormone issues. I learned how to get to the root of my own symptoms and support digestive health.  Now I help other women beat the bloat and feel UNSTOPPABLE! I am a Registered Holistic Nutritionist and  Certified Personal Trainer, dedicated to helping burnt-out women get to the root of their digestive issues without diets or restriction! Improve your energy, stress less & feel UNSTOPPABLE!
Her Approach to Nutrition:
I want to simplify nutrition. I want to make healthy eating fun, and enjoyable, without restriction, or fad diets. I focus on listening to the signals our body is sending us for how well we're feeling (and the number on the scale does not define our health status).
Fave Nutrition Hack:
My MOST FAVORITE hack is to store your natural peanut butter in the fridge UPSIDE DOWN! Sounds crazy right? One of the most common complaints that I get about swapping out conventional peanut butter for the natural stuff is that it is so annoying that the oil separates.
My solution? Store it in the fridge upside down! It's life changing, try it. (and if you haven't made the switch to natural peanut butter, do it now!)
 Fave TIU product: Protein + Greens
 Why did you decide to collaborate with Tone It Up?
I love that they have a similar mission as myself! To make food and exercise fun, so that it's not something that we dread, or "have" to do, but something that we can find joy in instead. 
---
5. Madison
About Madison:
Hi! I'm Madison. I'm extremely passionate about health and wellness of the mind, body and soul. I've been plant based for about six years now and my first plant based and allergy friendly cookbook just launched!
 Her Approach to nutrition:
My approach to nutrition is all about moderation and listening to the body. If I'm craving something sweet I'll indulge a bit, because I don't believe in depriving myself. If I'm feeling extra tired one day, I'm okay with missing a workout. I've found that being super strict makes it harder for me to maintain a healthy routine. Give yourself some grace, you deserve it!
 A common myth about nutrition:
Health is one size fits all. As humans, our bodies are all unique, so there's not one perfect diet or one perfect workout routine that works for everyone. Listen to your body and do what feels right for you.
 Fave TIU Product:
Hands down my favorite tone it up product is the Chocolate Protein Powder! It's delicious.
 Why did you decide to collaborate with TIU?
I chose to collaborate with Tone it Up because I love to be part of a community that is led by strong women, and I am in full support of their message of self empowerment! 
6. Mallory
About Mallory:  
Hello! I'm Mallory Choate, I'm a Registered Dietitian and Nutrition  Coach. After spending the majority of my 20's in total burnout, always working two jobs, or in  school full time on top of working, I have learned the importance that balance plays in our lives,  and how different that actually looks versus what the wellness industry or media tells us. My  mission is to help other women build balanced eating habits to support their busy lives to enable  them to thrive through what life brings, rather than just hoping to survive. When I'm not working  with my clients and nerding out on nutrition, I am incredibly active in the Denver dance scene as  well as the Colorado trails. I am a 10 time marathon finisher, 4 time Pikes Peak Marathon finisher,  and have been a finalist for the Denver Broncos Cheerleaders 3 times as well. I believe in making  "being busy" work for you, not against you and embracing a multi-passionate life
Her approach to nutrition:  
My approach to nutrition is all about  empowerment. So many people are looking for a list of foods to eat and foods to avoid, and I  believe having a little nutrition know-how helps make food choices easier. This is why I share so  much about choosing foods that you enjoy, as well as foods that energize your body, power your  workouts, and make you feel your absolute best. Another big pillar of my approach to nutrition is  that *how* you think about what's on your plate, is often more important that *what* is on your  plate. A healthy relationship with food is key!  
Fave nutrition hack:
My absolute favorite hack to build healthier  meals is to think about what you can ADD to your plate, instead of trying to take foods, or entire  food groups, away! This helps so much with mindset around feeling the freedom to have the  foods you love, and level them up with some extra nutrition! I also love a good balanced plate  framework to make sure you're getting everything you need!
Fave TIU Product: 
My fave product from TIU is definitely the Plant Based  Vanilla and Greens Protein Powder. My smoothies are my saving grace for fitting in quality  nutrition on the go and I love adding this into my blend! Sneaking greens into the day can be  tough, but smoothies are hands down my favorite way to make it happen, and this protein powder  makes it so easy!
Why did you decide to collaborate with TIU?  
I wanted to collaborate with Tone It Up  because the mission and values this company holds aligns perfectly with my own when it comes  to health and wellness. I love that TIU supports their community to care for their bodies in a way  that works uniquely for them, to thrive and live vibrantly, not to shrink themselves or change who  they are. There are a million different wellness goals the women in this community have, and  there are a million different ways yo reach those goals — TIU provides tools and support to help  each woman find her individual way and feel confident in her own skin. That's a mission I am  happy to get behind!