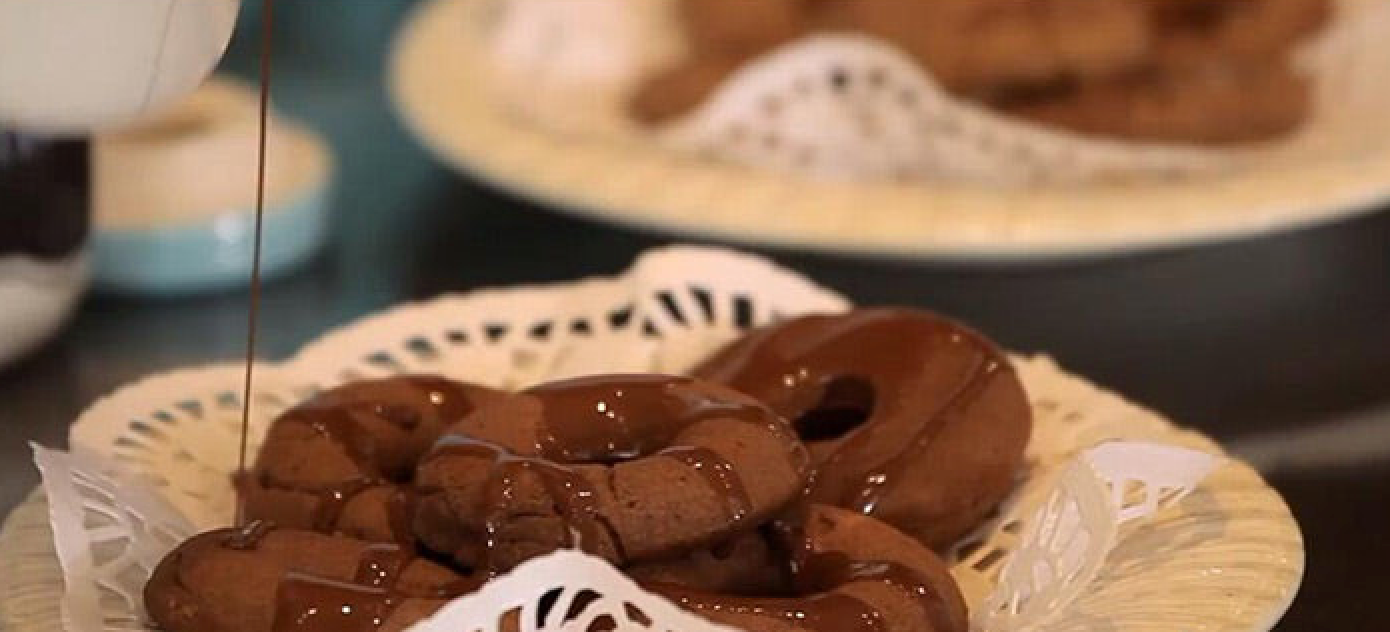 Healthy Donuts!!! OH MY :)
By Tone It Up on
Katrina and I love our coffee and breakfast - it's the best part of our day - and the most important meal on The Plan.
We perfected your Donuts & Lattes to make them delicious AND healthy! YES! That's right! Not only are these treats completely guilt free, but they'll actually help you look gorgeous in that bikini! Read more about the benefits HERE!
Honey Glaze Donuts, Crazy for Chocolate Donuts & Cinnamon Sugar ~ our favorite!
Make any variations of Perfect Fit donuts or lattes and share them with us and the community!!
Yup, we made TIU Donuts :) you heard right!
Donuts... THAT ARE HEALTHY AND GOOD FOR YOU!! They're a perfect post workout treat and help your muscles recover, and they're packed with vitamins and protein! Your Perfect Fit Donuts are Sugar-free, don't have starches AND they're Gluten-Free :) Your Perfect Fit Donuts are 100% organic and best of all, SO good!
Tone It Up Protein is the clean, natural, delicious and completely raw protein powder we created specifically for this amazing community! 
Oh, and good news for everyone on the TIU Meal Plan~ these treats work at ANY MEAL! Enjoy these at meal 4 and for dessert! Especially the chocolate ones ;) It's so important to be aware of what we put in our bodies. You're going to love these... and you'll want to share them with your entire family!
The Tone It Up Donut Recipe
1 cup Tone It Up Protein

 

1 tsp baking powder

3 tbsp Coconut oil

1 tsp vanilla extract

1 cup unsweetened vanilla almond milk (chocolate almond milk for chocolate donuts)

1/3 cups egg whites

(Vegan, make 3 flax eggs, 

2 tbs flaxseed meal, 1/4 cup water)

1 tsp stevia (or organic sugar, it's up to you)

Dash of cinnamon

 

2 tbs cocoa powder if you want to make chocolate donuts!
Place into your donut machine - we picked ours up at Target ~ $30! ;) You can also go to Walmart or Target and get a donut pan and bake in the oven at 350 for 30-40 minutes or until a clean toothpick shows your donuts are cooked!
To make

Hon

ey Glaze Donuts ~ Drizzle with organic honey
To Make Cinnamon Sugar Donuts ~ Sprinkle donuts with a pinch of cinnamon and crystallized stevia or organic sugar

To make one of our favorites... The

C

razy for Chocolate Donuts: put 2 tbs cocoa powder in your recipe mix! Drizzle with melted organic dark chocolate.
***You can also shake a little TIU Protein over your donuts to make them "Powdered Sugar Donuts" :)
Signature Perfect Fit Vanilla Latte
Make sure you ask your local coffee shop and baristas to mix in your Perfect Fit!
Double Shot Espresso (or 4 oz. strong coffee)
6 oz. Unsweetened Vanilla Almond Milk
1 Tbs. TIU Protein Powder
Shake Perfect Fit with Almond milk.  Steam & froth!
Pour mixture into a coffee cup with espresso
Perfectly Pumpkin Spiced Latte
Double Shot Espresso (or 4 oz. strong coffee)
1 Tbs. Pumpkin Puree
1/2 tsp. cloves or you can also add nutmeg
1/2 tsp. pumpkin pie spice (any pumpkin spice from the grocery store)
Mix all ingredients together
Top with 6 oz. steamed Almond Milk! You may steam Perfect Fit here too
Mocha Latte ~ oh yes a HEALTHY Mocha!
Double Shot Espresso (or 4 oz. strong coffee)
Add 1 tsp cocoa powder to espresso and mix thoroughly
Top with 6 oz. Unsweetened Steamed Chocolate Almond Milk with 1 tbs Perfect Fit
Mix & make a design!! Tweet us your Mocha Latte Pics :) @ToneItUp
Share your recipes with us!! Did you make your Perfect Fit donuts & Lattes? Share them on Instagram !!