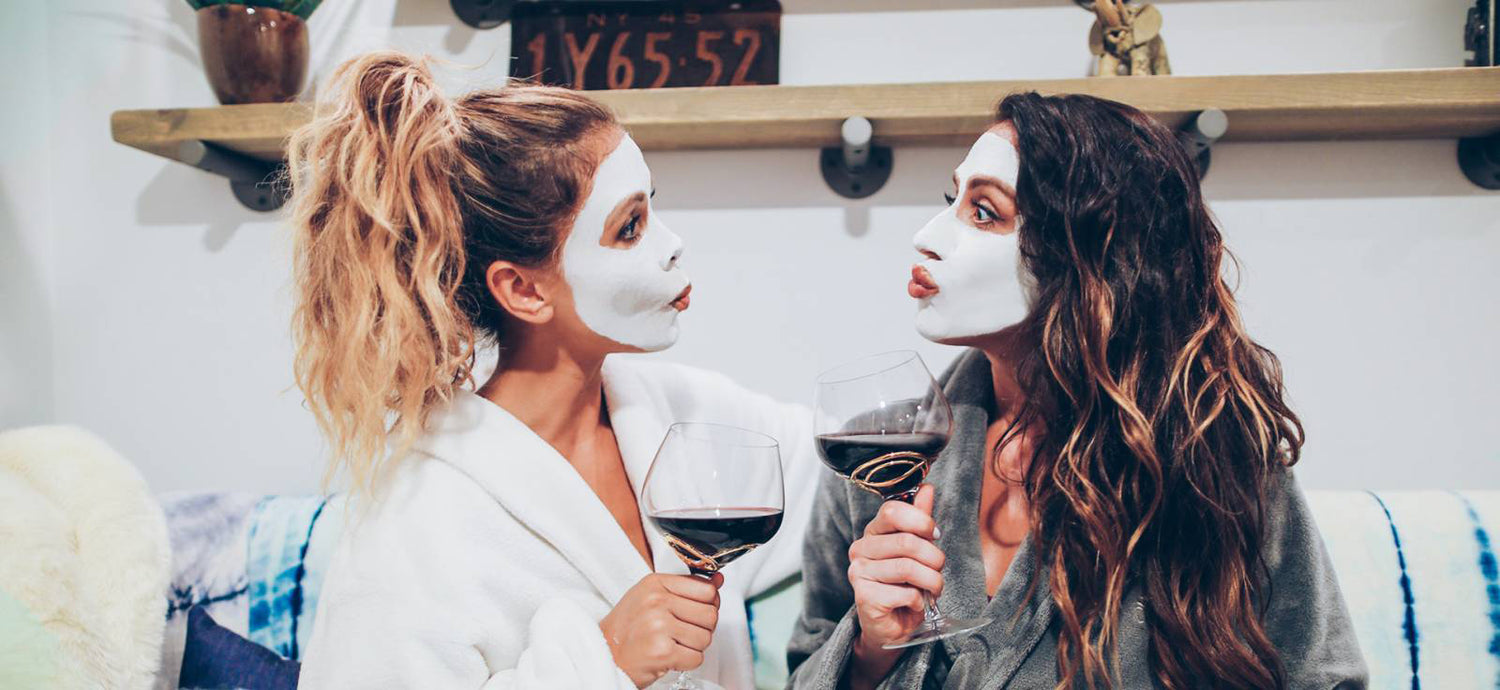 How to Plan the Ultimate Girls Night!
By Katrina Scott on

WHO'S READY FOR A SLUMBER PARTY!?
Along with beach days and pool parties, summertime is synonymous with slumber parties and girls nights. Karena and I love planning get togethers with our girlfriends, because as life gets busy with more and more commitments and we want to make sure we don't go too long without much needed girl time. 
Today we're sharing our top 10 ideas to plan the ultimate girls night in... call your girls and invite them over! Throw a #TIUmeetup!
1.  Choose your C H I C K  F L I C K
From Grease, Romeo + Juliet, Bridesmaids to Pretty Woman, a good rom-com turns up the feel good factor to any evening :)
I just want your extra time...
Move the coffee table aside and do the Movie Night moves :) We want to see your pics! #TIUmovienight
We have a HUGE surprise for YOU!!! Karena and I created a K+K Beach Clay Face Masque, just for the Tone It Up Community!!!
There's nothing like pampering your skin while catching up with your girls, making this the ideal time to recreate the feel of a luxurious SPA day. We made this masque with amazing ingredients that your skin will LOVE! We included green algae, which contains omega 6 and vitamin E, spirulina with B5, safflower oil for moisture and much MORE! We're OBSESSED!!!! See your new Beach Clay Masques HERE!
Give your skin a brightening boost and show us your selfies on Instagram using the hashtag #MermaidMasque :)

3...
Whether it's wine, champagne or some kombucha, choose something you enjoy :) We love sipping on wine spritzers and melon frescas! These #TIUapproved cocktails are not only delicious and light, but filling with hydrating benefits to boot!
See some of our favorite recipes HERE! 
4. SHAKE N' BAKE!
What's a girls night without some sweet treats!? Bake up your favorite #TIUapproved desserts! Find inspiration HERE! We love making the...
Hot summer night? Make the Ombré Sorbet or Mint Chip Ice-cream!
 5. DANCE PARTY
Speaking of shakin' it while you bake, why not do a little bit more... turn this night in into an all out dance party! Listen to our favorite party jams HERE!
Winenot make a music video...
Our TIU Seattle Girls! #TIUmeetup
From our favorite chick flick "The Sweetest Thing"
6. M A K E  A  M A S T E R P I E C E!
We love getting together to paint, because it's so much fun to get creative, put our inspiration on canvas and to take something home that makes us remember that night. The best part? No one touches their phone for HOURS!
Want to mix up what you're painting!? We love taking old jeans, hats or converse sneakers and splatter painting them with fabric paint! While the paint dries... do your favorite TIU moves! (see below!!)
You can turn the night into a creative collaboration to make all kinds of arts and crafts. We've made decor for our houses, painted beach signs, created jewelry... just about everything!
7. I DIP, YOU DIP :)
How about a midnight swim in the pool!? Or jump in the tub!
8.  M Y  N E T F L I X  &  M Y   S N A C K S
Watching your favorite Netflix!? Do the Tone It Up Netflix routine and make some cinnamon popcorn! See the whole workout HERE...
 9. G A M I F Y!
When's the last time you played some board games!?  Or have you played the 'Heads Up' app?  It's SO much fun!  We love playing that, charades, dominos and Jenga.
The other weekend we did karaoke and twister! 
Plan some fun beautifying! Between hair masks, body scrubs, (your new Beach Clay face masque of course!), manis/pedis, flash tattoos... there's so much you can do. Have everyone bring their favorite nail polish and beauty tricks... how about the Beach Waves hair tutorial? :)
We love looking up beauty tutorials and DIY scrubs on YouTube!
~Summertime, wine & girl time with your partners in crime~