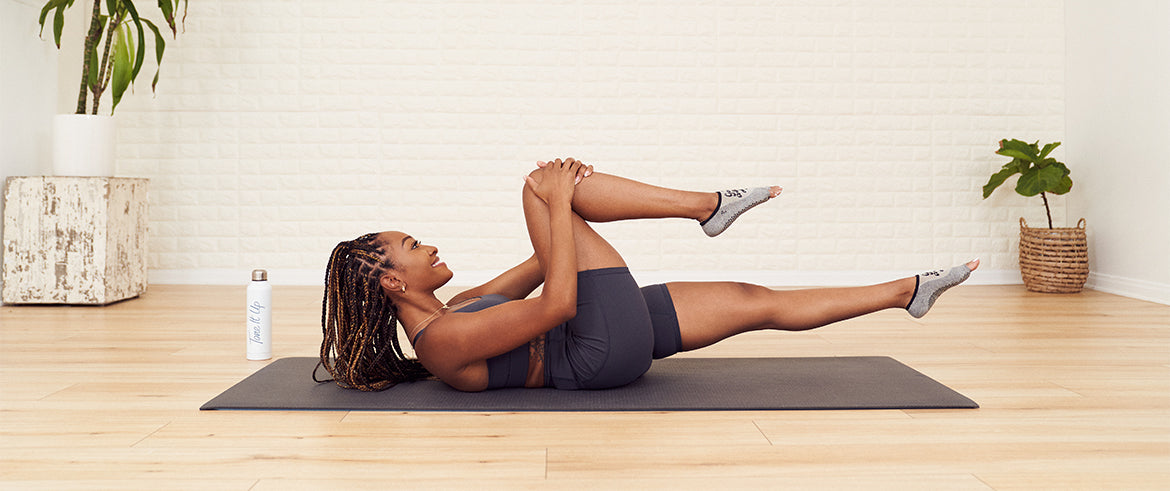 Get Toned All Over with Our New Workout Category: Pilates!
By Tone It Up on
Hey girls! We are SO excited to announce the launch of a new workout category, in your Tone It Up app: Pilates!!
Check out the new workouts in the app! 
Pilates is a powerful practice, all about helping you build a strong core, better your posture, and sculpt from head to toe! While each routine zeros in on your midsection and brings focus to your breath, you'll also get a mix of total-body toning and low-impact cardio, too. The small movements you'll perform in each workout, and extended time under tension, helps to increase your muscular endurance, as well as lead to toned, lean muscles. The practice will also help you stay present and bring a mind-body connection to your workouts. In other words, it's the best, babe, and we can't wait for you to try it out!
Meet Your New TIU Trainer: Amber Flowers
Certified Pilates instructor and founder of Spiced Pilates, Amber Flowers leads you through each of the four new Pilates workouts. Her infectious energy, sweet, uplifting attitude, and knowledgeable fitness background make the workouts even more motivating and fun to do! She'll challenge you, but also help you find the moves that work best for your body. So there's something for everyone when you try out her Pilates workouts!
What to Expect from Your New PIlates Workouts
With the launch of the Pilates category, you get four new AMAZING workouts! Amber shows you the foundation of Pilates and introduces you to key moves of the practice in Pilates Basics, a total-body routine with an emphasis on (you guessed it!) your core! You'll perform slow, controlled movements with just your bodyweight for this workout. 
You'll take that Pilates foundational workout up a notch with Pilates Full Out. Ankle weights add more resistance to your full-body routine, while you target those abs and glutes to the max. 
Watch this quick video as Amber breaks down the benefits of Pilates: 
Don't worry, it's not just your abs and booty that you'll get to work in Pilates. By doing Pilates Arms, you'll target the shoulders, biceps, triceps, back, and chest—all with the help of a set of dumbbells.
And finally, if you're looking to rev your heart rate with a low-impact cardio routine, Amber takes you through the best Pilates moves in Cardio-Lates. You'll move fast and strong to boost that metabolism and get a great sweat!
Each workout in the Pilates category lasts 30 minutes or less and only requires the space of a yoga mat, so you can squeeze in the work whenever and wherever suits you. You can also easily scale these workouts to your level—so do what feels good to you, babe! Just make sure you follow Amber's form cues and pay attention to those inhales and exhales with each movement!
 Watch as Amber breaks down some of her favorite Pilates Moves!
Ready to get long and lean? We're so excited to share these new Pilates workouts with you! Stay tuned for the launch of the NEW Pilates category next week!
Let the TIU community know you're excited for the new Pilates routines using #TIUPilates! And be sure to follow @toneitup and @thelifeofaflowers for all the Pilates inspo you need to take your fitness to the next level!
Can't wait to see you on the mat! Find all your new workouts here!

For even more info on Pilates go here!