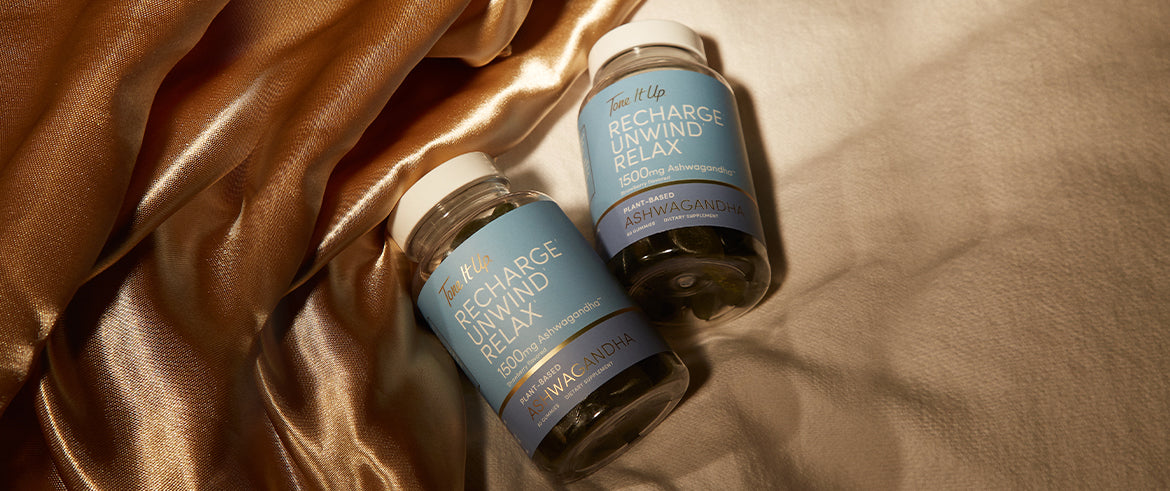 Everything You Need To Know About Adaptogens
By Tone It Up on
Did you see the news?! We just launched your brand new line of TIU supplements and gummies! One of our new gummies is Ashwagandha, an ancient medicinal herb that's been used for thousands of years to support relaxation.
Ashwagandha is an adaptogen. If that word sounds familiar, it's because adaptogens have become a major buzzword in the health and wellness world lately. So what exactly are they and what do they do for you? We're breaking it all down!

What are adaptogens?
First a little history: Adptogenic herbs and mushrooms have been used for thousands of years in Ayurvedic and Chinese medicine, but the term "adaptogen" didn't make its debut until the 1940s. It was coined by a Soviet Union scientist who was studying the body's resistance to stress. 
What do adaptogens do?
Adaptogens' superpower is that they are a natural hack for stress and anxiety. They help your body adapt to and manage stress, and bring the body back to homeostasis (aka a balanced state). Adaptogens support your adrenals, the glands that produce hormones that regulate stress, metabolism, and more. With adaptogens, when your body is faced with a stressful situation, you're more naturally able to resist and cope. 
Research shows that adaptogens help soothe the central nervous system (switching you from "fight or flight" to "rest and digest" mode), and they can reduce stress and fatigue. Another study shows that ashwagandha specifically helps lower levels of the stress hormone cortisol. 
Some examples of adaptogens include: 
Ashwagandha

Reishi

Holy basil

Astragalus 

Cordyceps

Ginseng

Rhodiola rosea 
Adding an adaptogen to your everyday routine is a simple way to bring more calm into your everyday life!
Check out your new Ashwagandha Gummy here! In addition to to soothing stress, it has even more perks like: 
It supports sleep and memory functions.

It promotes optimal muscle function.

Plant based

Gluten free

Non-GMO

It's delicious and easy to add to your lifestyle — just enjoy 2 daily! 
---
Check out all your brand new TIU supplements and gummies
here
to unwind, de-bloat, and get a beauty boost! 
SHOP SUPPLEMENTS