Delicious & nutritious, our vitamin and supplement line was designed to make you feel your best in the easiest way possible. We know you're busy, so we were busy creating supplements that provide you incredible benefits in great-tasting form.
Your Tone It Up products are plant-based, non-GMO, gluten-free, and dairy-free. Always. It's our promise to you.
SHOP THE COLLECTION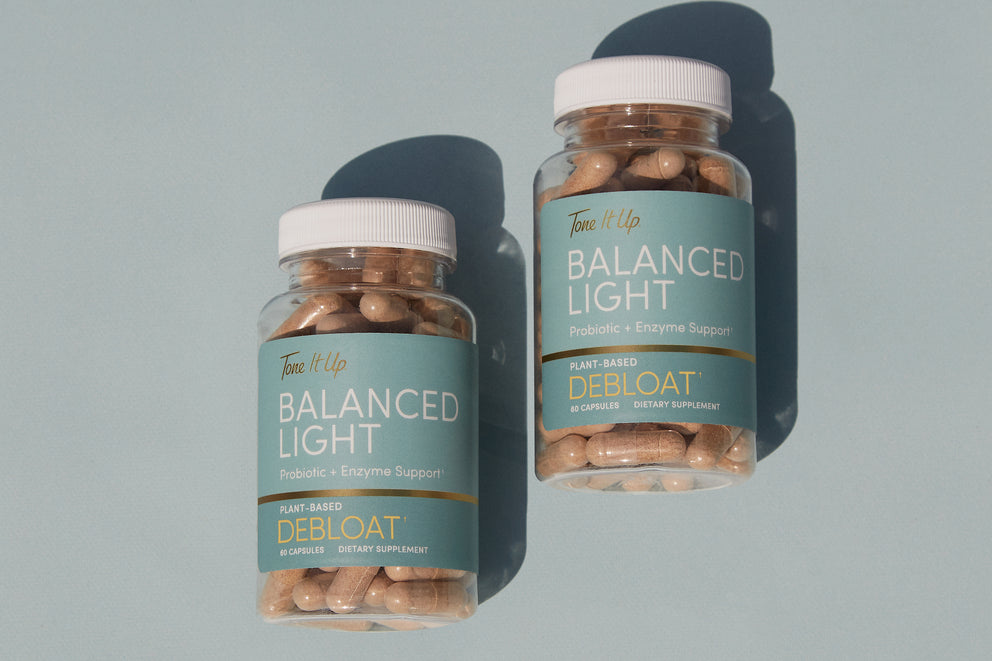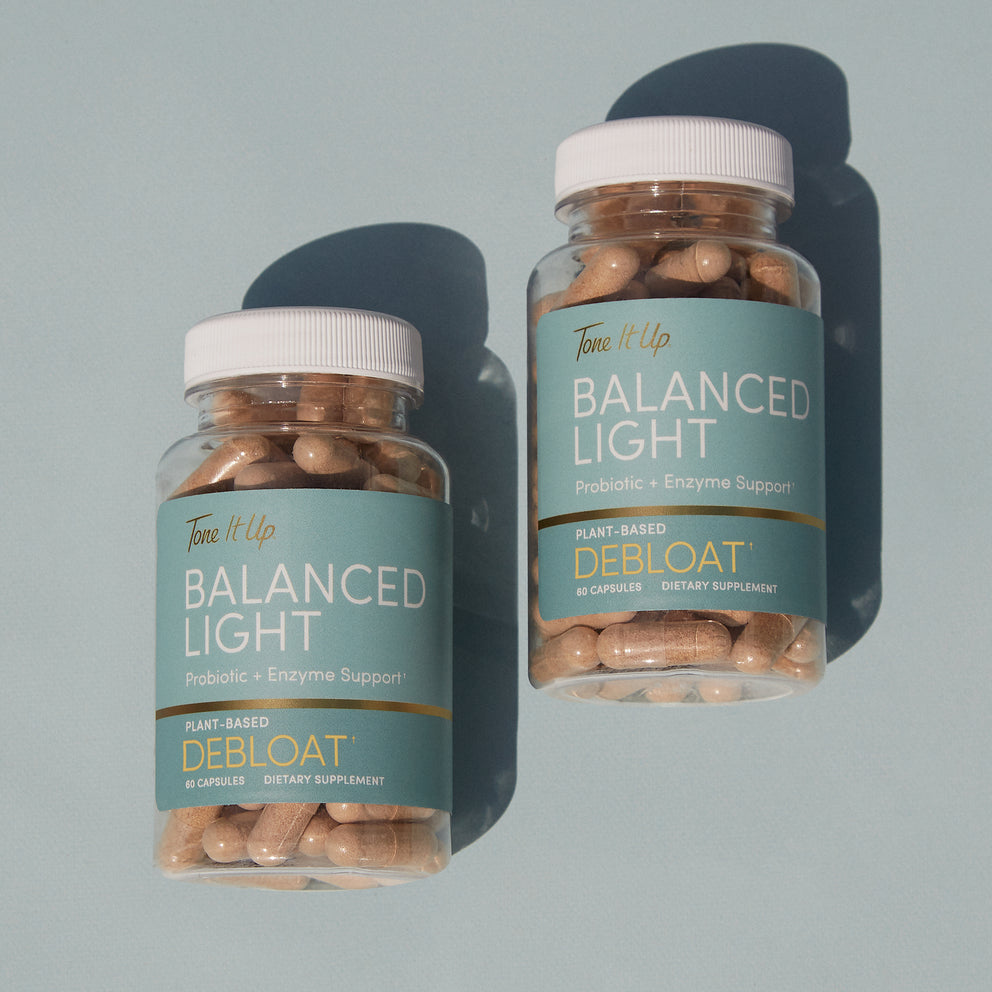 Balanced Light
Debloat
Say bye-bye to bloat and manage your natural fluid balance with this specially formulated blend of probiotics, enzymes and minerals.
Nutritive support with potent probiotic + enzyme blend
Naturally balance fluid levels to feel lighter and tighter†
Supports digestive health†
SHOP NOW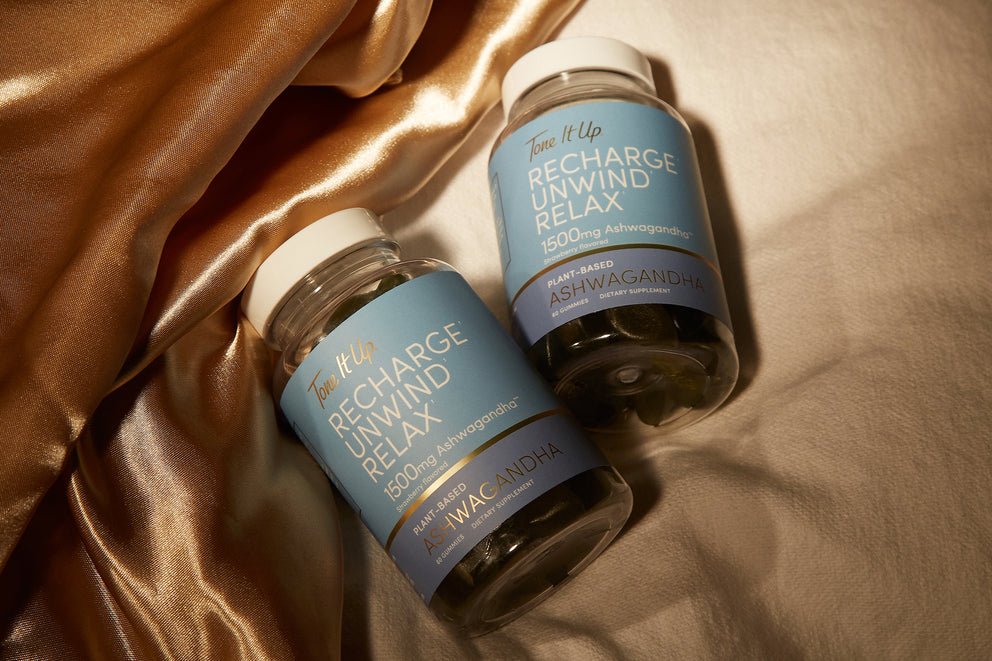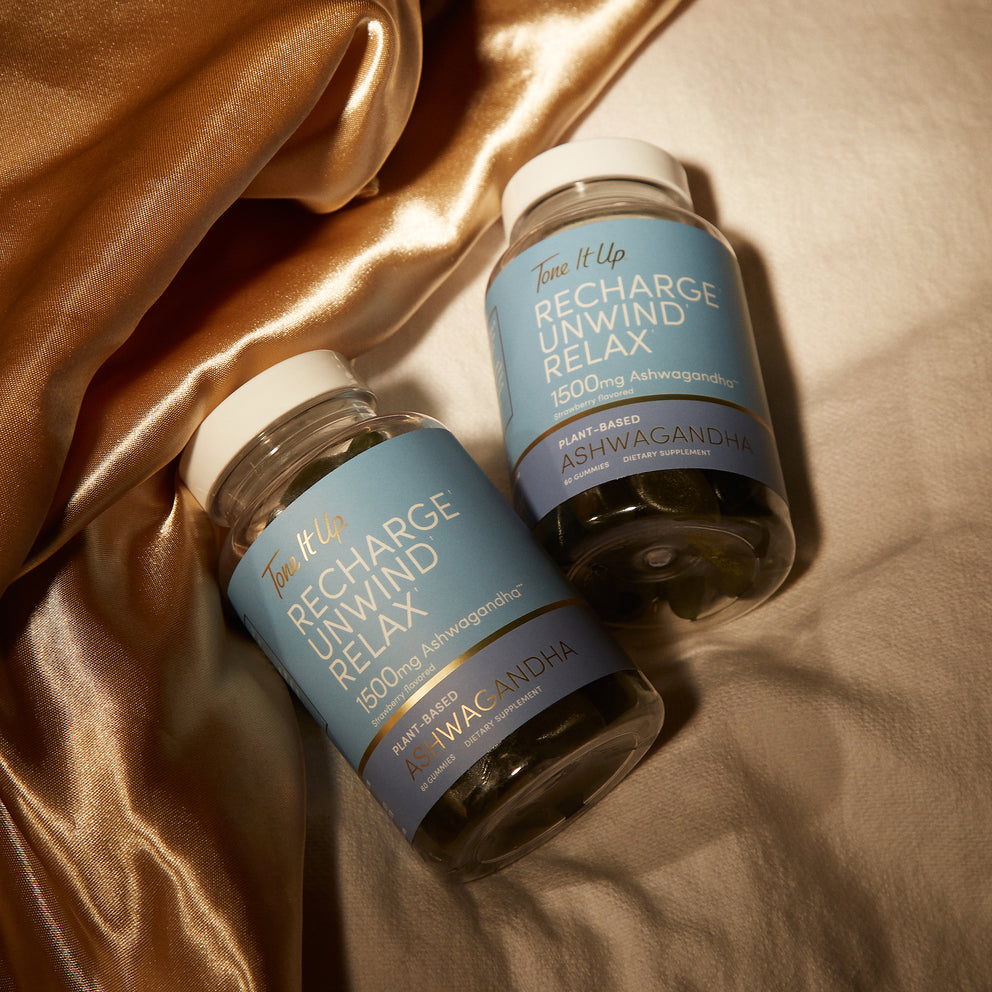 Recharge, Unwind, Relax
Ashwagandha
Recharge for the day ahead with 1,500mg of Tone It Up Ashwagandha. This amazing adaptogen has been used for thousands of years to support well-being, relaxation and immunity.†
Supports well-being and immune system
Promotes calm and stress management
Supports sleep and memory function
Promotes optimal muscle function
SHOP NOW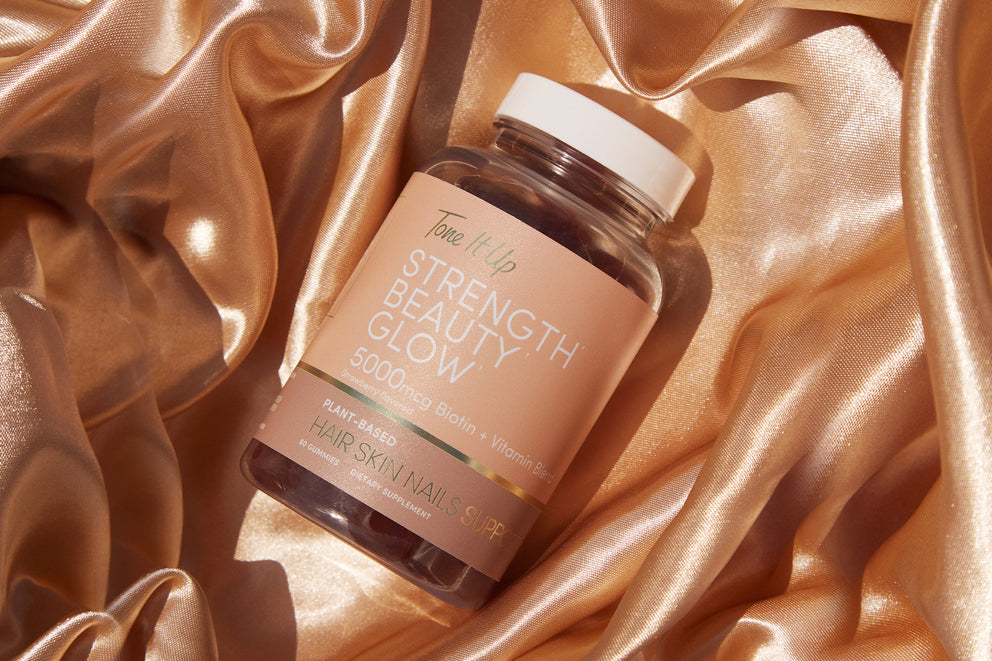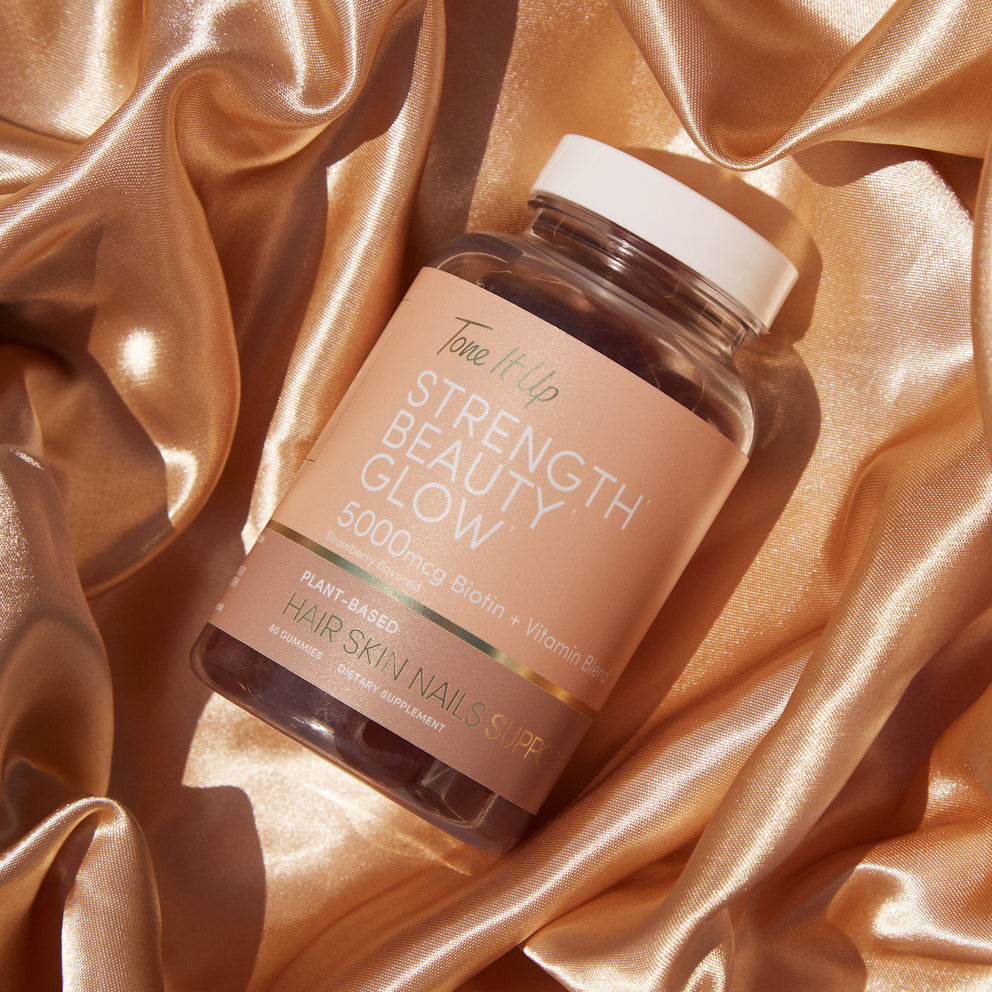 Strength, Beauty, Glow
Hair Skin Nails Support
Get your beauty routine glowing and say hello to stronger hair, skin and nails†. Powered by 5,000mcg of Biotin, 665mcg Folate and a potent blend of vitamins and minerals… Tone It Up's soft & delicious, strawberry-flavored gummies are an ideal choice for women who want to support their hair, skin and nail health†
Naturally supports vibrant hair, glowing skin & stronger nails†
Contains 5,000mcg Biotin, 665mcg Folate + vitamin blend
See and feel the results
SHOP NOW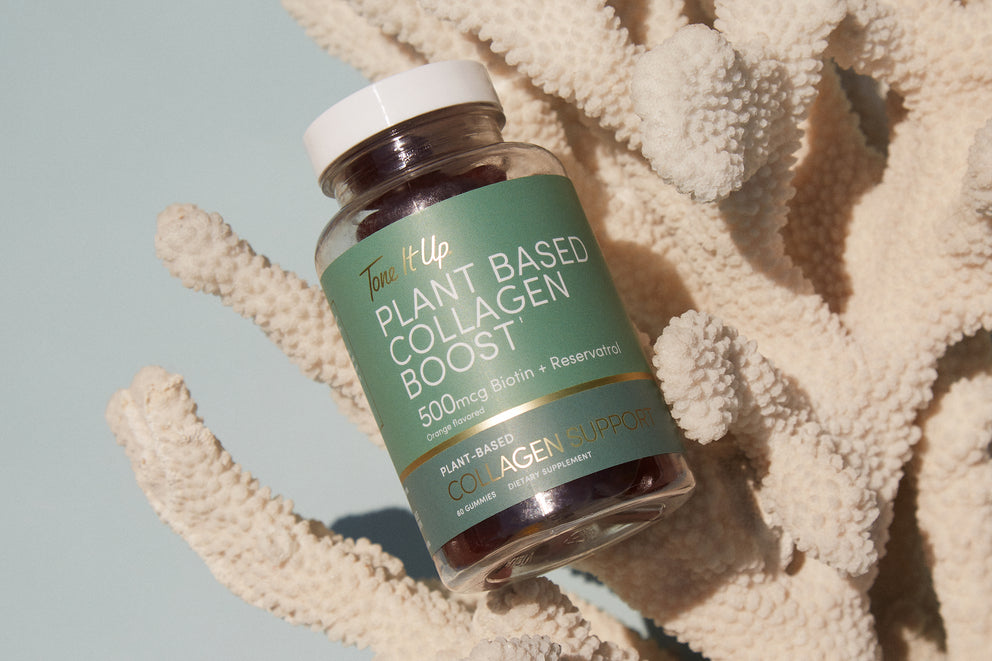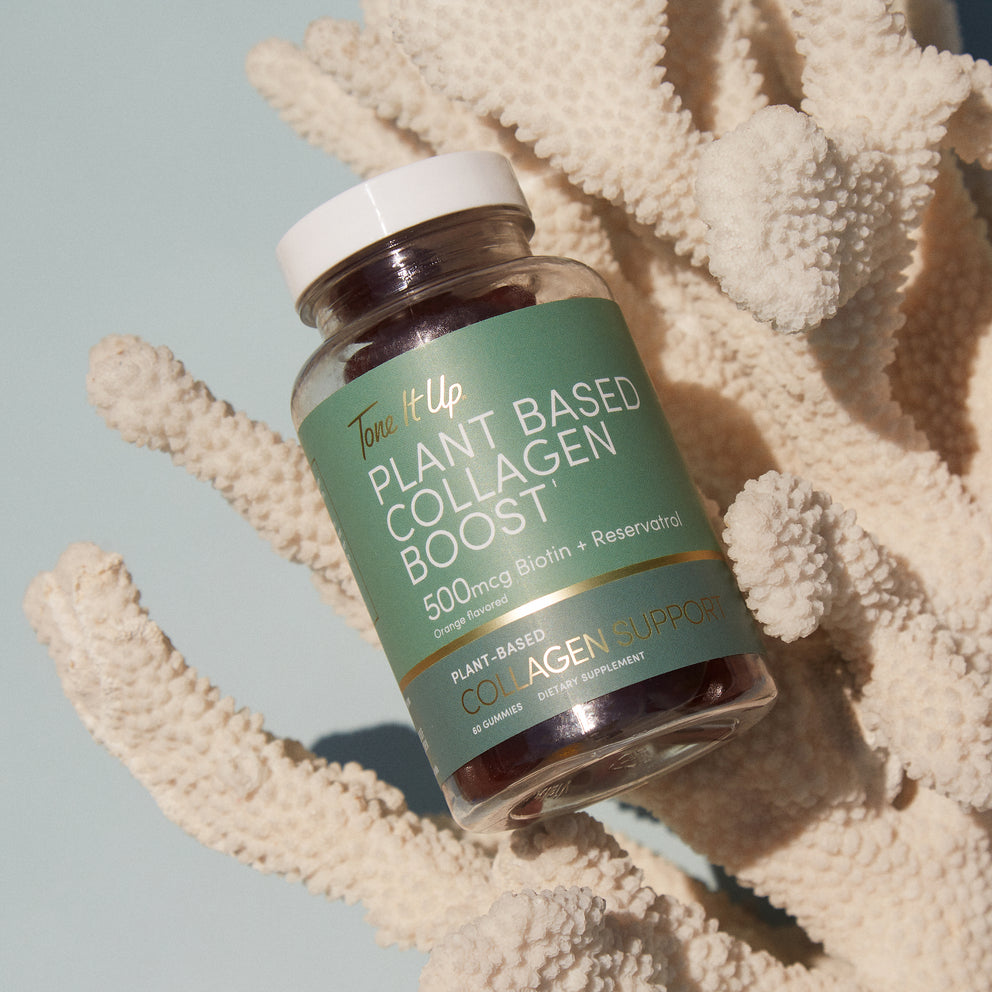 Collagen Support
Collagen Boost
Finally… a vegan, plant-based collagen booster! These orange-flavored gummies include the co-nutrients required to help your body naturally support collagen synthesis. Completely plant-based with a potent blend of Biotin, Bamboo Extract, and Reservatrol
Naturally boost your body's collagen production without consuming animal-based collagen†
Supports hair, skin, nails, joint and bone health†
Contains proven co-nutrient blend of 500mcg Biotin + Bamboo Extract + Resveratrol
SHOP NOW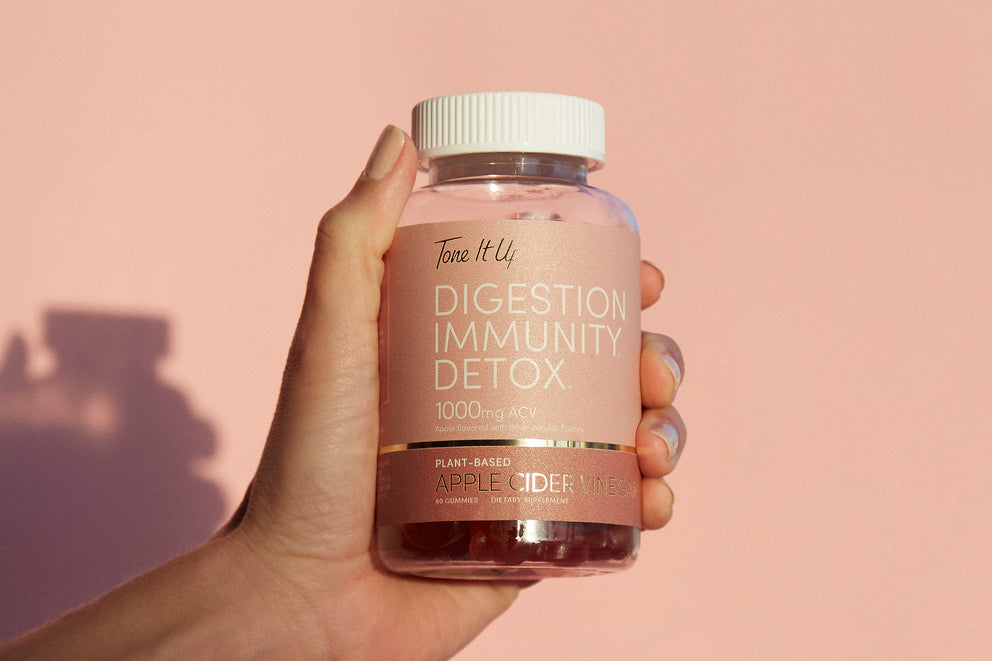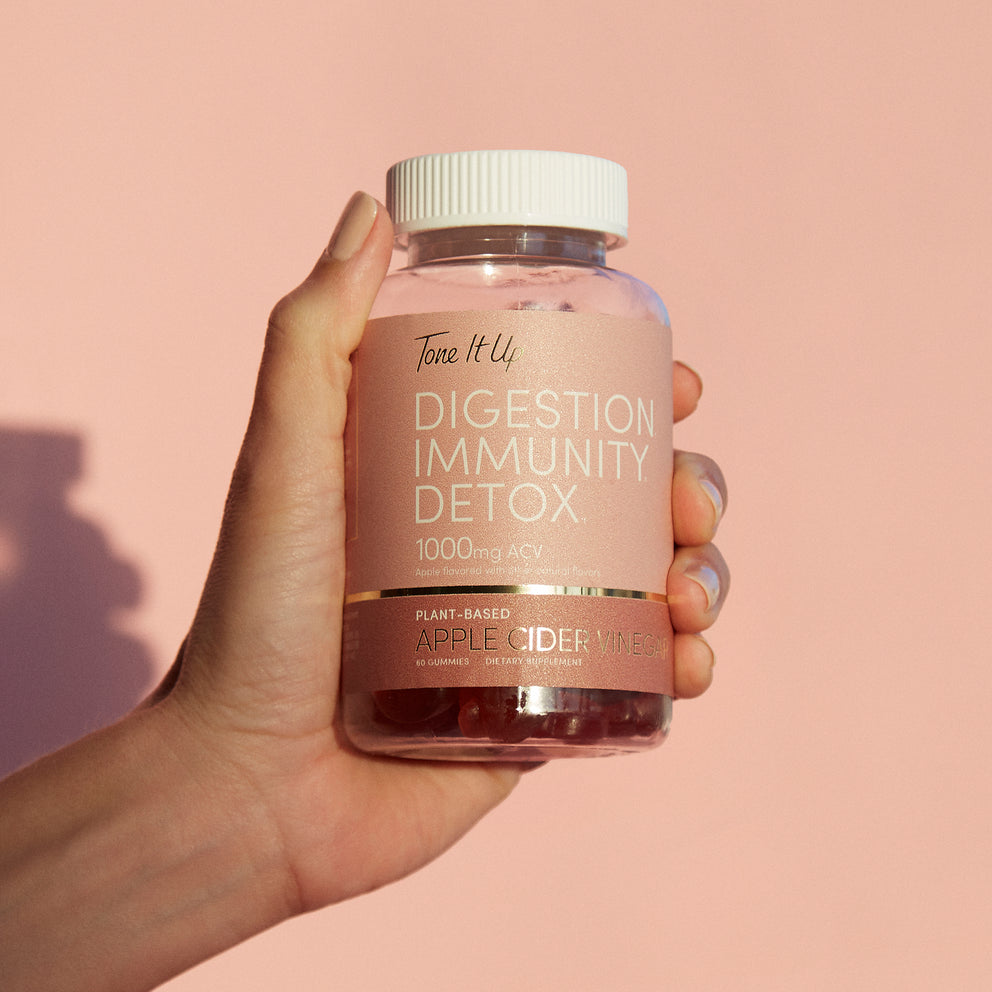 Digestion Immunity Detox
Apple Cider Vinegar
Apple Cider Vinegar has always been part of the Tone It Up nutrition guidelines because of its amazing health benefits. This is an easier and tastier way to take it!
Improves digestion†
Boosts immunity†
Protects heart health†
Increase energy levels†
Balance blood sugar levels†
Shop now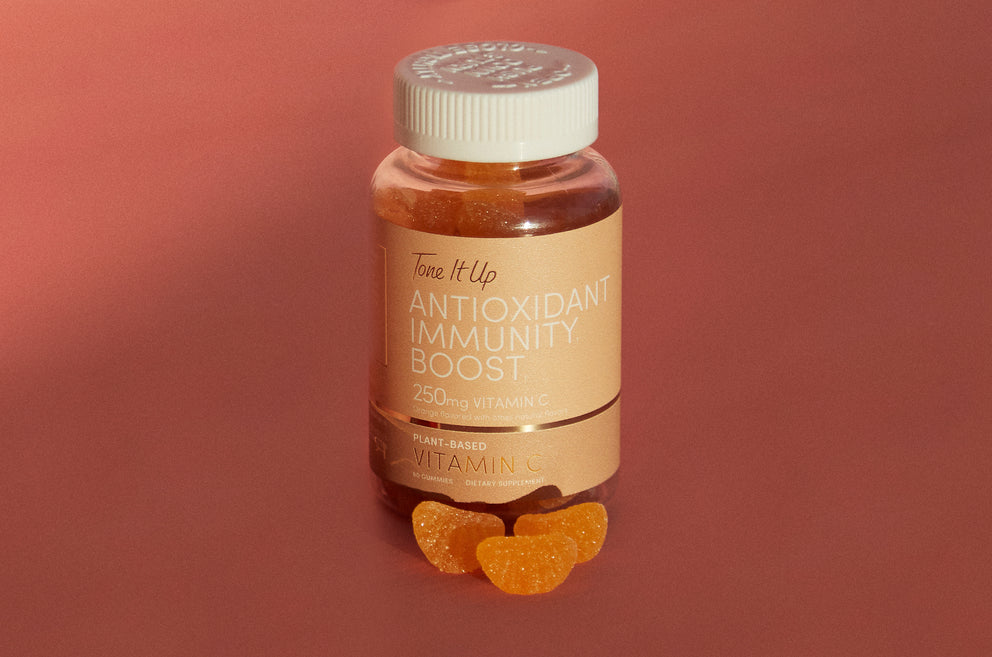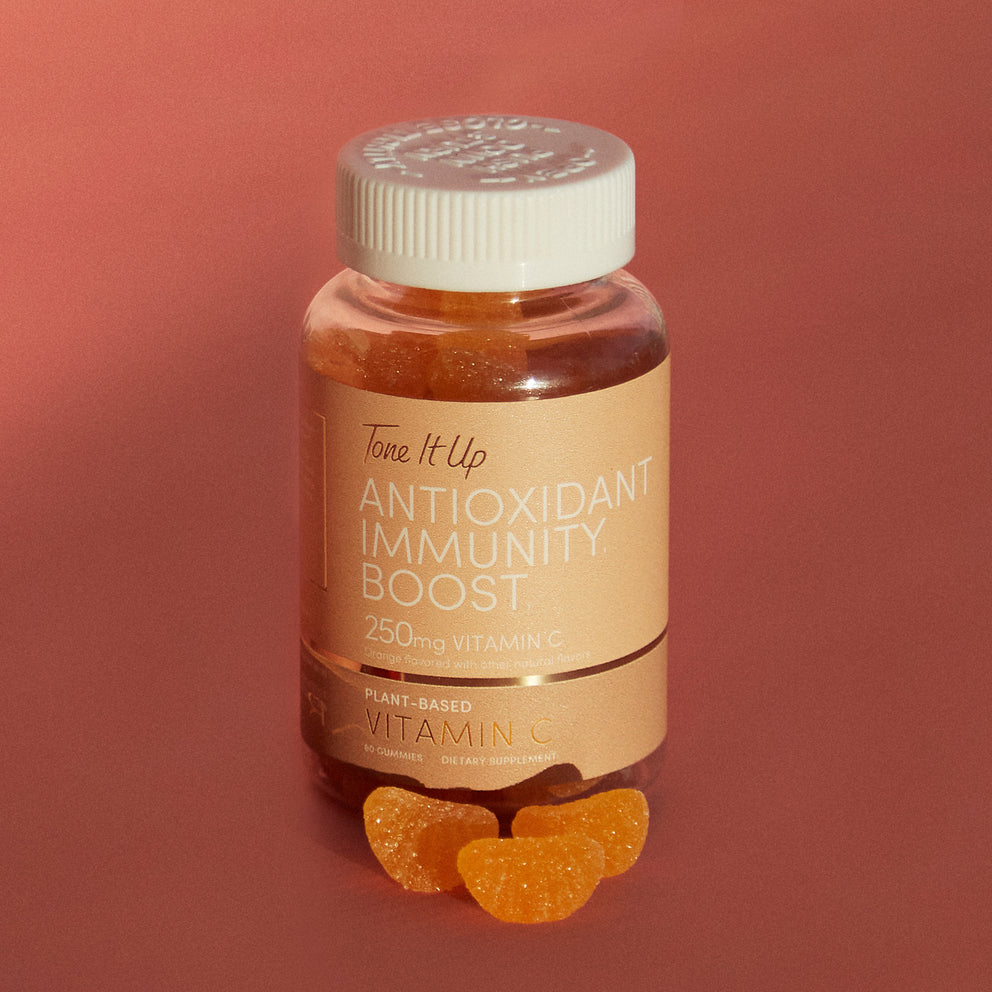 Antioxidant Immunity Boost
Vitamin C
In need of extra immune support? Your Tone It Up gummies boost your immunity and protect your beautiful body with rich antioxidants.
278% of your daily vitamin C per serving to help boost immunity!
Increases the production of white blood cells, which protect the body from infection†
Promotes collagen synthesis for radiant hair, skin, and nails†
Helps to decrease inflammation in the body†
Supports heart health†
SHOP NOW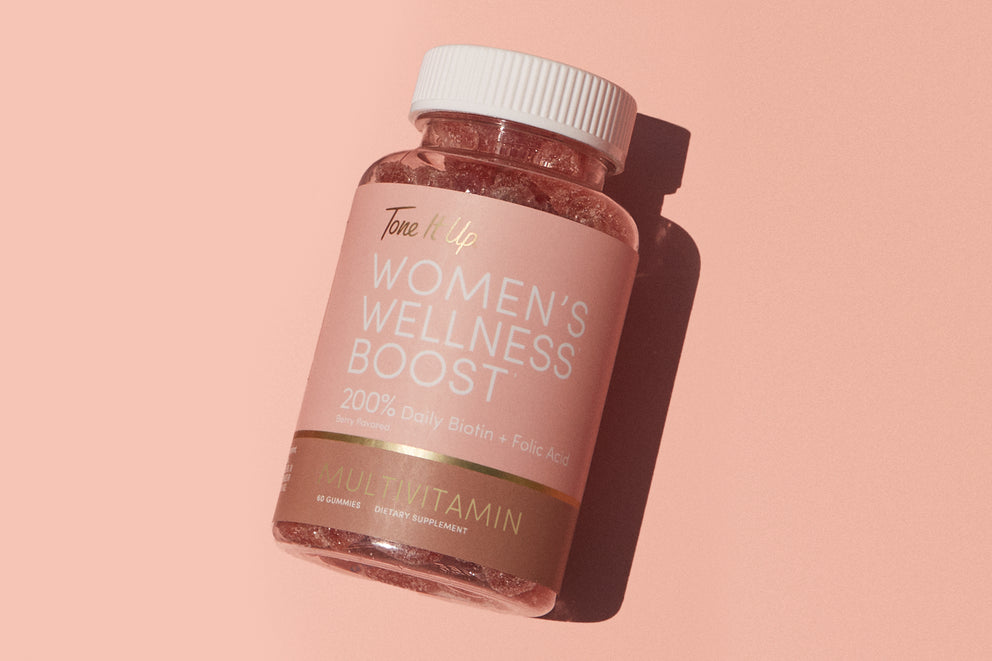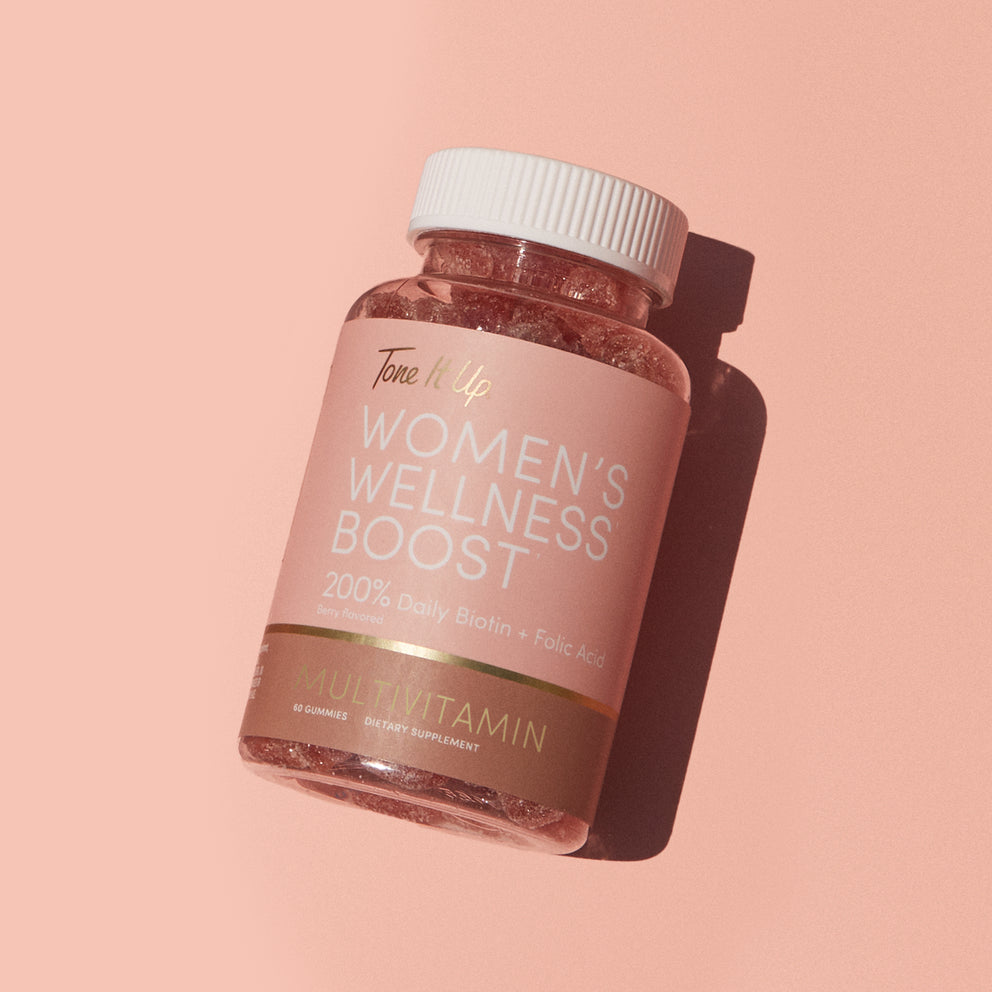 Women's Wellness Boost
Mulivitamin
A multivitamin for all our multitasking busy babes! We know it can be a challenge to get all your essential vitamins and nutrients. Your Multivitamin gummies contain:
Vitamin A: This powerhouse vitamin supports a healthy immune system, fights cell damage and inflammation, and protects eye and bone health.
Vitamin C: You know all about this major immunity booster!
Vitamin D: It strengthens your bones and muscles, fights inflammation, and promotes heart health.
Vitamin E: A powerful antioxidant that helps fight damaging free radicals in the body, helping lower inflammation and prevent disease
Vitamins B12: B12 has been known to deliver a major energy boost! Plus, it's linked to improved mood, brain health, and bone health.
Biotin: This beauty booster supports healthy and gorgeous hair, skin, and nails.
Zinc: Along with vitamin C, zinc also keeps your immune system strong and healthy.
SHOP NOW

Kerry F.

Amy L.

Jennifer T.

Ally H.
†These statements have not been evaluated by the Food and Drug Administration. This product is not intended to diagnose, treat, cure, or prevent any disease.