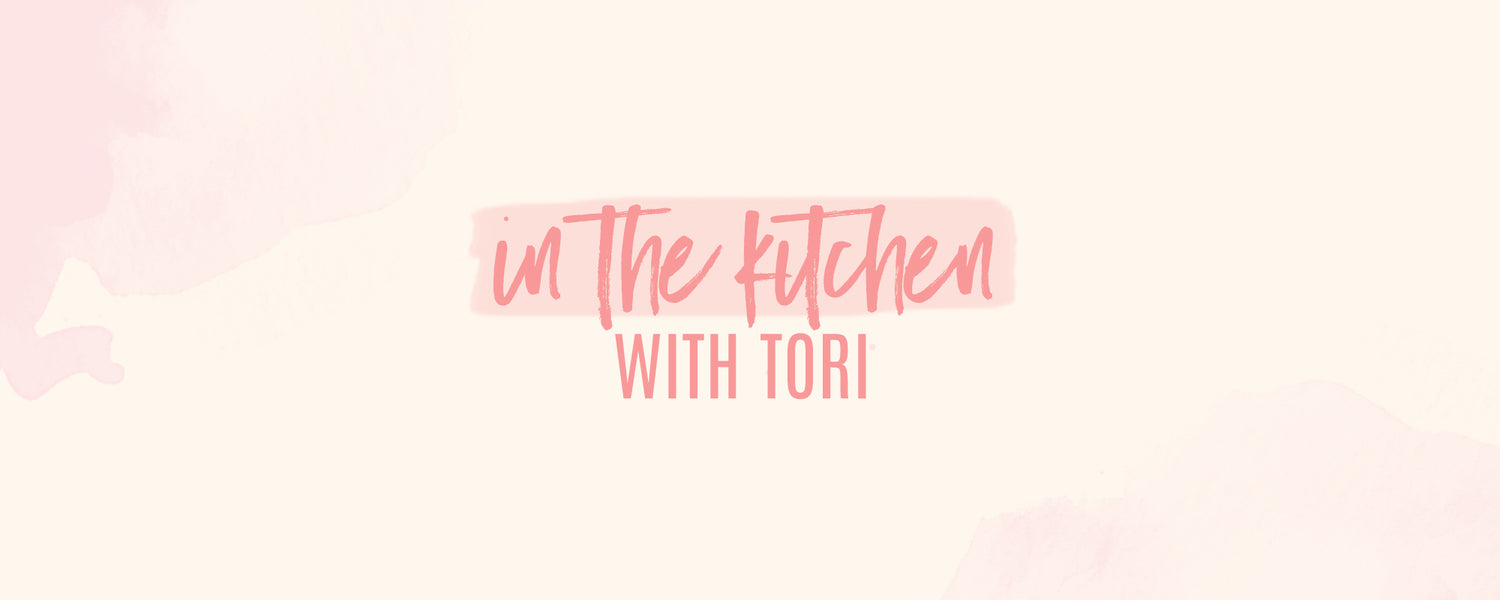 Easy Lean Turkey & Lentil Chili Recipe ~ In The Kitchen With Tori
By Katrina Scott on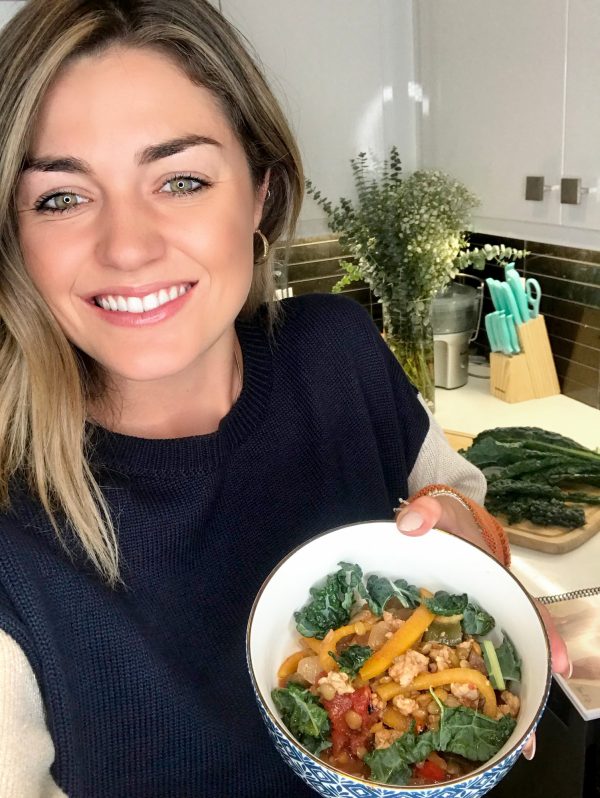 It's Tori here, your Studio Tone It Up trainer! Thanks for joining me in the kitchen again for my new cooking vlog! You know I love sharing all of my healthy recipes and cooking tips with you! Last time we made delish Lemon Poppyseed Muffins ~ check them out HERE! Today we're whippin' up something so savory and delicious, one of my fave go-to dinners....chili!
This TIU approved chili is the best! It's made with ground turkey, lentils, and butternut squash. I like to make this at the beginning of the week to have on hand for a healthy lunch or dinner option, especially in this cozy fall weather! And it's super easy to prep. In the 31 Day Meal Plan, this recipe is made with a slow cooker. If you're like me and don't have a slow cooker, I'm showing you how to make it on the stovetop. It's great to whip up on a Sunday when you're home doing your meal prep ~ just make sure you keep an eye on it.
Your house will smell amazing too! The best thing about this chili is you can customize it to your liking ~ add a little more spice if you like things spicy 🔥 or add more cinnamon for a sweeter kick! You can also make it vegetarian by swapping in tofu or just keeping it totally veggie.
You can find this chili recipe in your 31 Day Meal Plan! Share a pic on Insta once you make it! We'll have more cooking vlogs coming on Toneitup.com! Comment below what you want to see next!
xxo,
Tori

You can also watch on YouTube & Apple TV HERE!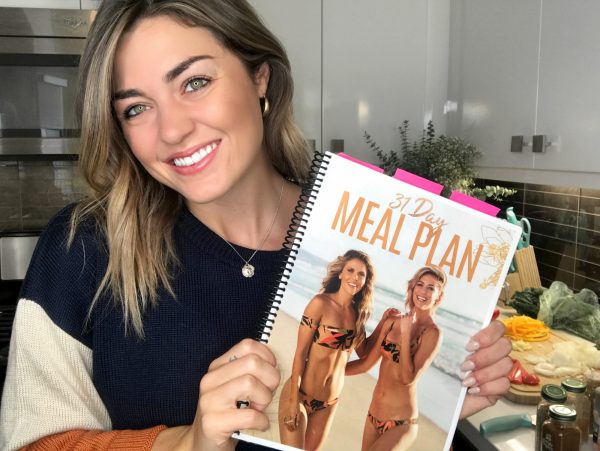 Butternut Squash, Turkey +
 Lentil Chili
Makes 4-6 servings
INGREDIENTS:
Spice Mix: 
1 1/2 tsp. ground cumin
1 tsp. ground cinnamon
1 1/2 tsp. chili powder
1 tsp. dried oregano
1/4 tsp. chipotle powder
1 tsp. sea salt + more as needed
Chili: 
1 Tbsp. coconut oil
1 large onion, finely chopped
4-5 garlic cloves, minced
1 jalapeño pepper, seeded and minced (optional, to taste)
1 lb. lean ground turkey
1 red bell pepper, diced
3 cups diced butternut squash (about 1/2 large butternut squash)
1 cup dry beluga lentils (or lentils of choice)
1 28 oz. can diced tomatoes (try fire roasted for smoky flavor!)
1 Tbsp. tomato paste
2 cups vegetable stock
2 Tbsp. pure maple syrup
4-5 leaves lacinato kale, stems removed and finely chopped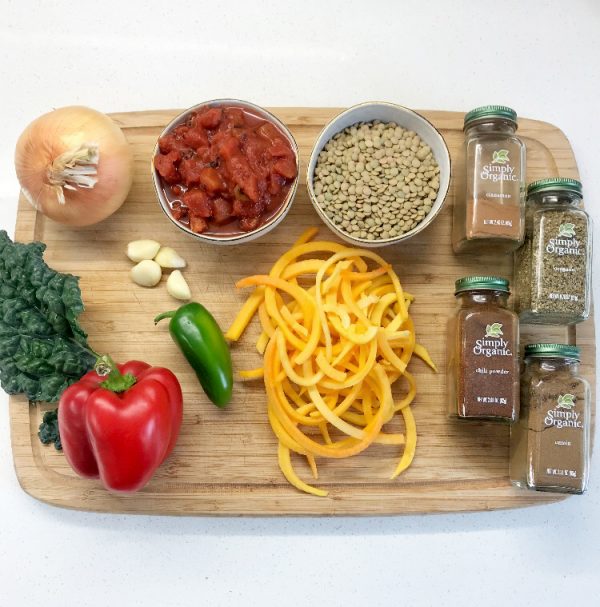 DIRECTIONS:
1. Mix all the spices together in a small bowl and set aside.
2. Heat coconut oil in a large pot over medium heat. Add the onions and cook until soft and translucent, about 3 minutes. Add the garlic, jalapeño pepper, and spice mix. Mix to coat and then add the ground turkey. Cook turkey until no longer pink. Add turkey mixture to slow cooker.
3. Add the bell pepper, butternut squash, lentils, diced tomatoes, tomato paste, vegetable stock, and maple syrup and stir well.
4. In a crockpot, cook on low for approximately 7 hours or on high for 4 hours. If you don't have a crockpot like Tori, you can cook on low heat on the stovetop for about 7 hours.
5. Once chili is done, add finely chopped lacinato kale. Stir to combine and enjoy!

What should we make next?! Comment below with your ideas! Can't wait to see you in the kitchen next time!
In The Kitchen With Tori VLog ~ Healthy Chili Recipe! - - , ; - Your go-to for meal prep! - Dinner - Lunch - Dinner - Lunch - Recipes - 31 day meal plan - chili - chili recipe - cozy meals - cozy soups - crockpot - crockpot recipe - easy crockpot recipe - easy dinner - easy dinner recipe - easy recipe - fall recipes - healthy chili - healthy dinner - healthy dinner recipe - in the kitchen with tori - it - lean chili - lentil chili - lunch recipe - new recipe blog - studio tone it up trainer tori - tiu approved chili - tone - Tone It Up - Tone It Up Nutrition Plan - turkey chili - up