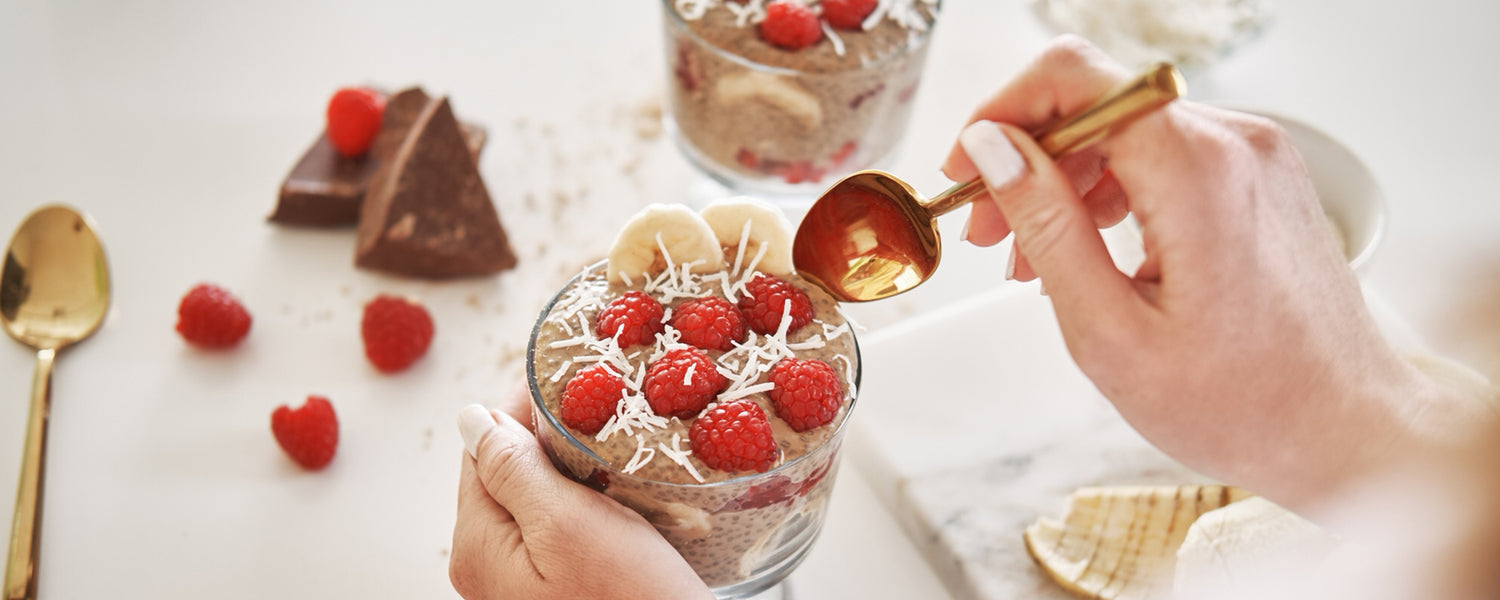 Dreamy & Delicious Chocolate Peanut Butter Chia Seed Pudding Recipe
By Katrina Scott on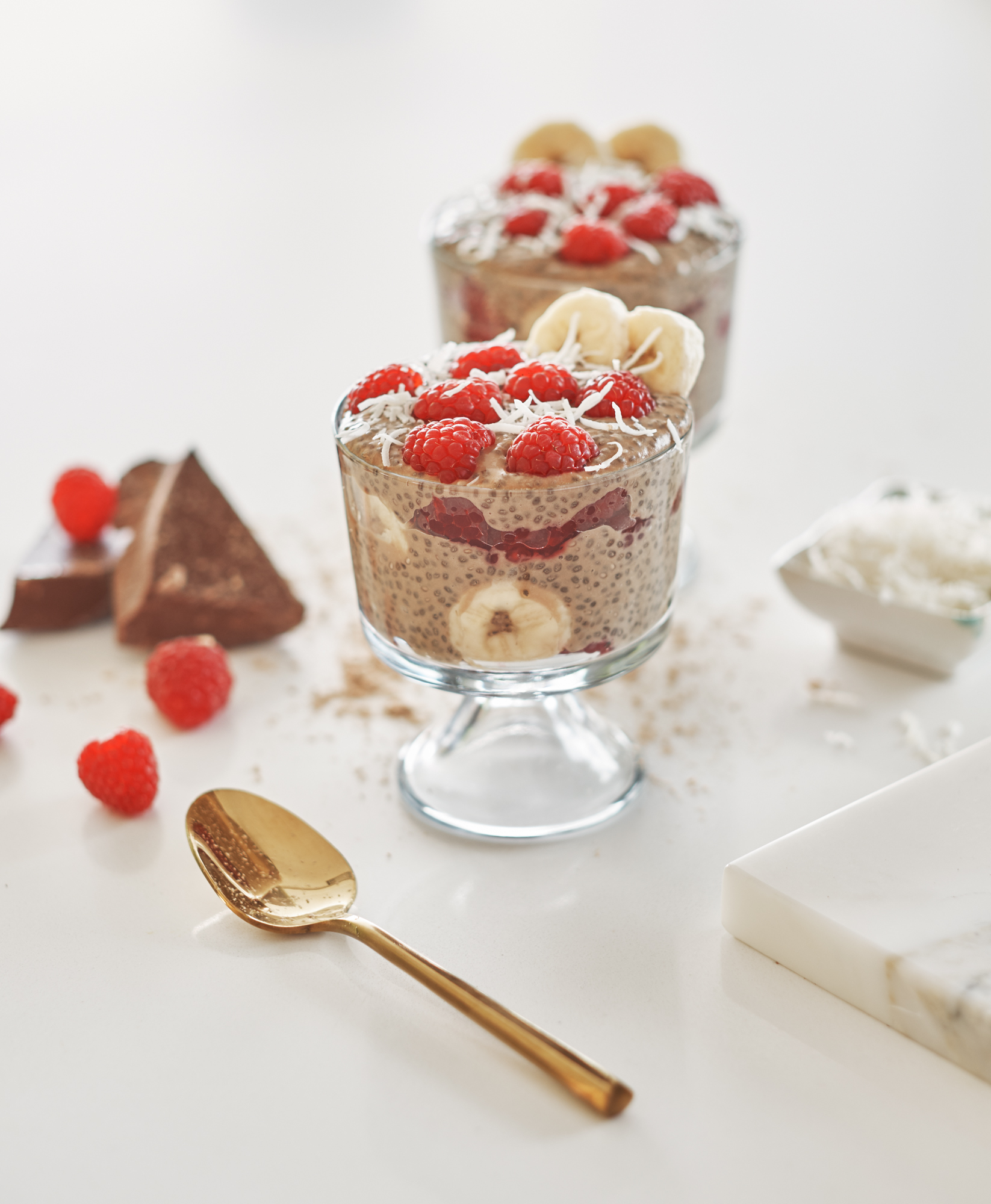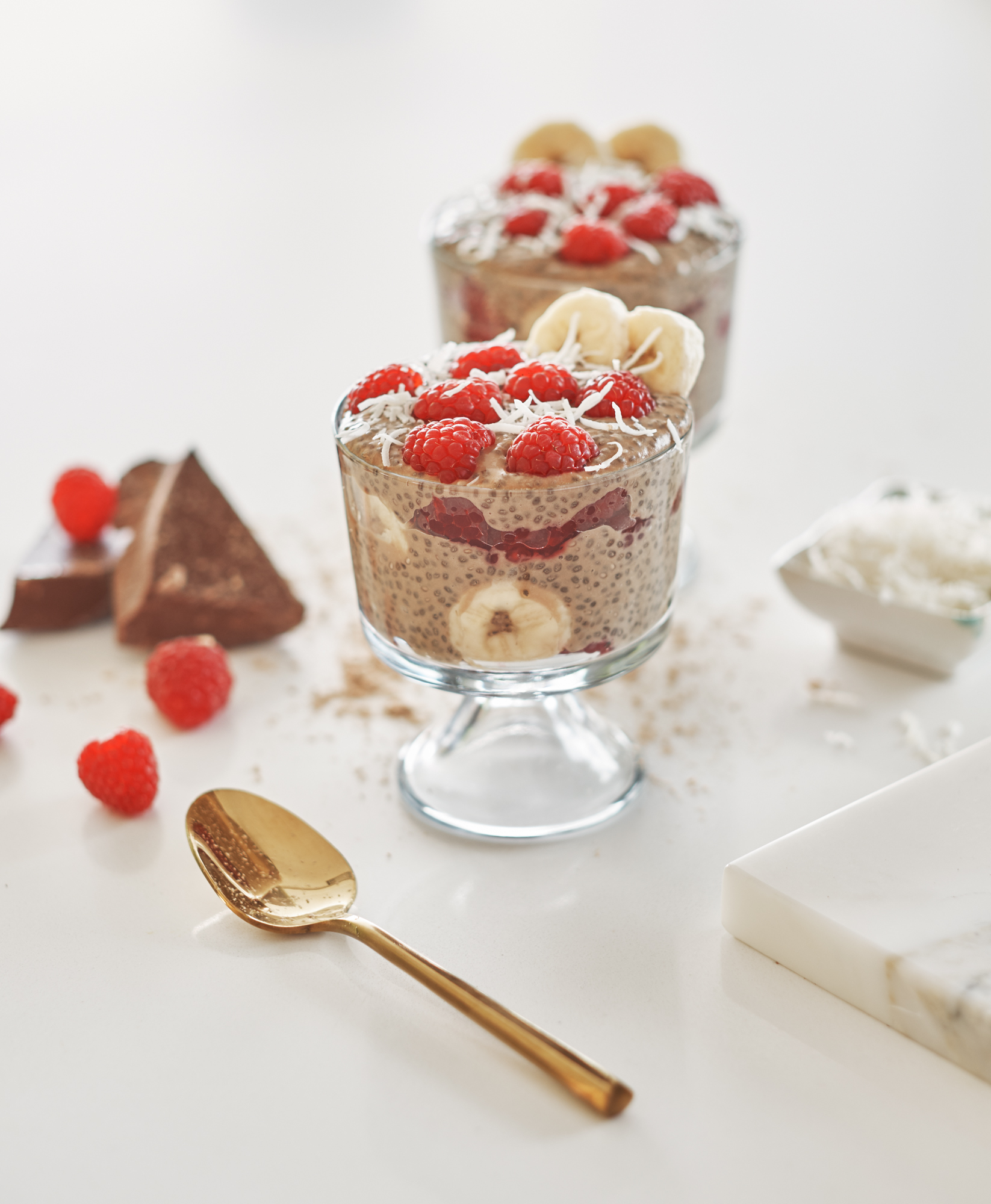 Chocolate + peanut butter = yessss please! 🙌🏻😋🍫It's the best combo of sweet/salty goodness! That's why we created your new
Chocolate Peanut Butter protein powder
. Each scoop packs 15 grams of clean plant-based protein to nourish your beautiful body. And the sweetest thing: it tastes like dessert with ZERO grams of sugar. We've been using this protein powder in cookies and smoothies, and we just tested this new Peanut Butter Chocolate Chia Seed Pudding recipe...we're obsessed! It's easy to meal prep on Sunday and pack for a healthy breakfast or snack. Enjoy babe! xxo, K&K

Chocolate Peanut Butter Chia Seed Pudding
Makes 2 servings
INGREDIENTS:
1 scoop Chocolate Peanut Butter Tone It Up Protein
1 cup almond milk
1 tsp. pure maple syrup
2 Tbsp. chia seeds
1⁄4 cup fresh raspberries
1⁄4 fresh banana, sliced
1 tsp. peanut or almond butter
Sprinkle of chia seeds
DIRECTIONS:
1. Add protein powder, almond milk, and maple syrup to a high-speed blender and blend until smooth.
2. In a small container with a tight-fitting lid, add the almond milk mixture and chia seeds. Stir well to combine and store in the fridge with a lid overnight.
3. When the pudding is thick, add 1⁄4 cup of it to a small glass or bowl. Add a layer of fresh raspberries and banana, then pour another 1⁄4 cup pudding on top. Garnish with the remaining raspberries and banana, nut butter, and a sprinkle of chia seeds.

Grab your Chocolate Peanut Butter Protein & whip up this healthy recipe today!
Chocolate Peanut Butter Chia Seed Pudding Recipe - - , ; - Featuring your new Chocolate Peanut Butter Protein! - Breakfast - Recipes - Snacks - breakfast - chia - chia seed pudding - chia seed pudding recipe - Chocolate - chocolate peanut butter chia seed pudding - chocolate peanut butter protein - chocolate protein - clean - clean protein - cocoa - easy recipe - gluten free - gluten-free protein - healthy - healthy protein - healthy recipe - it - karena - karena dawn - katrina - katrina scott - natural peanut - non GMO - peanut butter - plant based - plant based protein - protein - protein recipe - proteins shake - recipe - snack - TIU - tone - Tone It Up - tone it up nutrition - tone it up protein - up - vegan - vegan protein