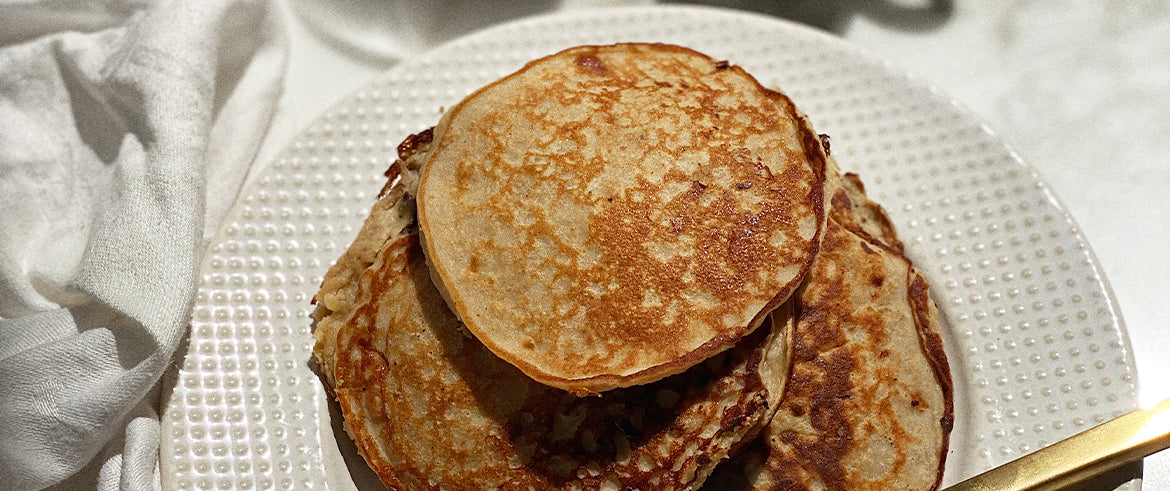 3 Breakfast Recipes to Keep You Energized All Day Long
By Tone It Up on
Does this sound familiar...you're feeling great all day and then 3 or 4 p.m. rolls around and you just hit a wall?! You're exhausted, foggy, and craving a sugary snack. Yea, it happens to us too! 
If you're not fueling your body with enough nutrients (or too much of something like sugar), your blood sugar will crash around this time of day — and you'll feel it. That's why having the right combination of nutrients at breakfast is essential for not only your mornings but your entire day. 
We're sharing 3 of our favorite breakfasts to give you sustained energy all day long, plus the science-backed reasons behind why they work for your body. You'll feel the difference at 4 p.m.! 
---
Overnight Oats
Overnight Oats contain the dream team of complex carbs from rolled oats and Tone It Up Protein. This combination helps stabilize your blood sugar and deliver quality energy that won't spike your glucose levels. Translation: No afternoon crashes and slumps.
Here's one of our favorite ONO recipes featured from your TIU app: 
Figgy Overnight Oats Recipe
Makes 2 servings
INGREDIENTS
1 cup unsweetened plant-based milk

⅔ cup gluten-free rolled oats

1 scoop

Chocolate Protein Powder 

2 fresh figs, sliced

1 Tbsp. chia seeds

1 tsp. honey or maple syrup
TOPPINGS (per 1 serving)
2 Tbsp. nonfat Greek or coconut yogurt

1 fig, quartered
1 tsp. chopped pistachios
1 tsp. cocoa nibs 
DIRECTIONS 
Combine milk, oats, protein powder, figs, chia seeds, and honey in a bowl; mix well. 

Divide the mixture into two mason jars, cover, and refrigerate overnight. 

To serve, top with yogurt, figs, pistachios, and cocoa nibs. 
Protein Pancakes 
Protein takes longer to digest than other nutrients, so it releases slowly in your body and will give you sustained energy. Bonus: because protein requires more energy to digest, that also means you're revving your metabolism just by eating it!
You can never go wrong with a classic ;)
Tone It Up Protein Pancakes Recipe
Makes 1 serving
INGREDIENTS
1 scoop

Tone It Up Protein

(your fave flavor!) 

½ banana, mashed 

½ Tbsp. almond milk 

¼ cup egg whites 

1 tsp. cinnamon 

Coconut oil spray
DIRECTIONS
Mash banana with almond milk before stirring in remaining ingredients. 

Spray pan with cooking spray and heat over medium-low before pouring in batter. Cook on each side for 3-4 minutes. The key to the perfect protein pancake is to cook them slow and low!
Avocado or Almond Butter Toast + Hard Boiled Eggs
For days you need a quickie breakfast, this is a great way to get a combo of energizing carbs, healthy fats, and protein. Use a base of whole grain or Ezekiel toast for complex carbs, ½ an avocado or almond butter for healthy fats (they'll boost your brainpower and curb hunger!), and a side of hard boiled or scrambled eggs for protein. 
With all three nutrients together, you will stabilize your blood sugar for sustained energy. Plus, healthy fats and carbs provide calories to keep you energized, which allows protein to be used to form lean muscle and support post-workout recovery. 
---
Grab your Tone It Up Protein at
Target
,
H-E-B
,
Vitamin Shoppe
, and
Kroger
(and Kroger affiliates including King Soopers, Fred Meyer, Mariano's, Dillons, Smith's, and Fry's). You can find a store near you
HERE
! You can also stock up in the
TIU Shop
!