Best of Beach Babe 5 MASHUP Workout!
By Katrina Scott on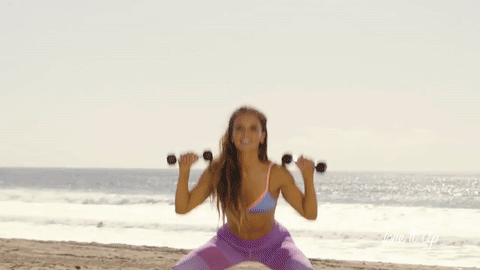 Can you believe it's week 8 of the BIKINI SERIES?! Kat and I are so proud of you! AND we have so many exciting things coming for you including a summer challenge!
Today we have a special workout for you...a complete mashup of our favorite moments from Beach Babe 5!  This year, we took it back to where it all started...in our beautiful Cali hometown of Manhattan Beach! When we released Beach Babe 5 to this community, we were so proud to give you the absolute best set of workouts to get you into the best shape of your life! We've already seen STUNNING transformations from this #TIUteam from the past 7 weeks of your Bikini Series, on-point nutrition, and following the Weekly Schedule with Beach Babe 5. We're so, so proud!!
Get ready for a fun and intense new 20 minute workout! Every angle of your gorgeous bod is going to get some major toning. Share your sweaty selfie afterwards with the hashtag #TIUBikiniSeries!!

You can also watch on YouTube or AppleTV HERE!!

Have you seen the behind the scenes video of making Beach Babe & the Bikini Series?! Watch here to see how everything comes together!

Move Guide

Want even MORE Beach Babe 5?! Check it out HERE! We're talking 8 toning workouts plus a BONUS stretching routine!! We're obsessed with this program and how it transformed our bodies and mind. We KNOW you're going to love it, too!