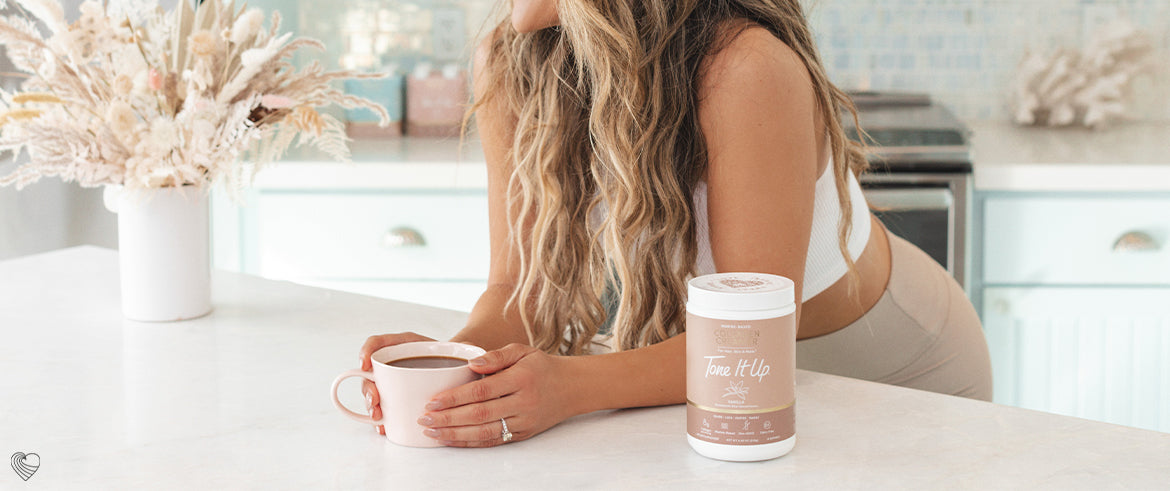 7 Easy Ways To Upgrade Your Morning Coffee
By Tone It Up on
You know us, so you know we love our coffee...every day starts with an espresso shot (or two!). While coffee sometimes gets a bad rap, it actually delivers a lot of amazing health perks — besides perking you up. ;) 
Coffee in moderation has been shown to help rev metabolism, improve athletic performance, boost mood, and protect against disease. 
If you're looking to switch up your cup and try something new, we're sharing seven simple and healthy ways to uplevel your morning staple. 
---

Shake it up
Brew an espresso shot (or make it a double!) over lots of ice, pour the Vanilla Protein Shake over your coffee, mix, and enjoy. This is the best of both coffee and protein, and it makes an amazing afternoon or post-workout pick-me-up!
Give it a beauty boost 
Add a scoop of Collagen Creamer to your hot or iced java for 8 g of sustainably sourced marine collagen to support radiant skin, hair, and nails. 
Iced Vanilla Latte
Ingredients:
1-2 shots of espresso or 1 cup of cold brew

2 Tbs. unsweetened almond milk

1/2 cup of ice

1 scoop Collagen Creamer
Directions: 
Combine coffee, almond milk and collagen creamer
Pour over ice and enjoy! 
Ice, ice baby
We love making almond milk ice cubes on Sundays and using them all week to add a lil' something extra to our iced coffee. 
Switch up your milk 
Almond milk is usually our go-to, but sometimes it's fun to change it up with other plant-based milks like flax, coconut, or oat milk. Whatever your favorite, choose an unsweetened variety and look for a minimally processed brand with as few ingredients as possible. 
Add spice & everything nice 
Sprinkle in ½ tsp. ground turmeric, ginger, or cinnamon. These spices are packed with anti-inflammatory antioxidants and they'll make your coffee extra delicious. 
Make it a date 
We love sweetening our lattes naturally with a date. Just blend 1 cup cold brew coffee, 1 medjool date, and 2 Tbsp. unsweetened almond milk, pour over ice, and enjoy. 
Meet your matcha for a change ;) 
If you're really looking to switch it up, we also love matcha — it's packed with antioxidants that keep your immune system strong, metabolism-boosting EGCG, and it gives you the perfect amount of caffeine for sustained energy throughout the day.
---
Grab your Tone It Up Protein Shakes, Collagen, and Collagen Creamer at
Target
and
H-E-B
in stores, online, or for curbside pickup. You can find a store near you
HERE
! You can also stock up in the
TIU Shop
!