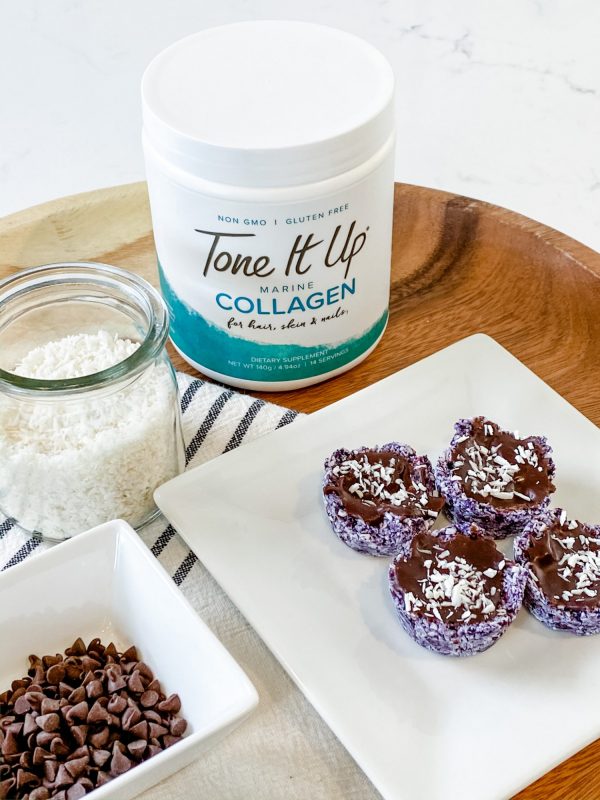 3 No-Bake Healthy Treats To Satisfy Your Sweet Tooth
By Katrina Scott on

Hey there beautiful! Is it just us...or are you having major sweet cravings while at home in quarantine?! Give us all the ice cream please🍦😂 Our #1 piece of advice for this is SELF FORGIVENESS ~ we wrote all about it in this post here. Give yourself grace and don't be hard on yourself if you're having more sweets than usual. 
Our other MAJOR tip is that when those cravings hit, be prepared with some healthier TIU approved treats to swap in. Today we're sharing 3 of our favorite easy no-bake desserts to make at home. These will satisfy your sweet tooth without all the processed sugar and additives you find in a lot of store-bought treats. And they're all super easy ~ no oven required! And of course they're approved for the Summer Tone Up :) How sweet is that?!
Enjoy babe!
xxo,
K&K

3 Healthy No-Bake Dessert Recipes

Coconut Collagen Bites Recipe
Featured From The New Summer Tone Up Meal Plan!
Makes 24 servings
INGREDIENTS
1 cup blueberries or raspberries (fresh or frozen)
1 Tbsp. water 
4 scoops Tone It Up Collagen Creamer
1 ½ cups unsweetened dried shredded coconut
¼ cup coconut butter, softened
1 cup dark chocolate chips (or coconut butter)
Freeze-dried fruit for garnish, crushed (optional)
DIRECTIONS
1. Combine berries, water, and collagen creamer in a blender; puree until smooth.
2. Pour puree into a mixing bowl. Add coconut and coconut butter; mix to combine.
3. Scoop a tablespoon of the mixture and either roll it into a ball and place on a large plate or press it into a silicone mini muffin liner. Repeat with the remaining mixture and freeze for 30 minutes, until hardened.
4. Meanwhile, melt the chocolate in the microwave in 30-second increments, stirring each time, until smooth.
5. Dip each ball in chocolate to coat and return to the plate. Or scoop 1 tsp. of chocolate into each muffin liner, spreading it to cover the top. Quickly sprinkle the freeze-dried berries on top before the chocolate hardens.
6. Place the bites in the refrigerator until chocolate completely sets. Store in the fridge but let sit at room temperature for a few minutes before enjoying.

Cherry Chia Pudding Recipe
Featured From The New Summer Tone Up Meal Plan!
Makes 2 servings
INGREDIENTS
1 cup unsweetened plant-based milk
½ cup frozen or fresh bing cherries, pitted and halved
1 scoop vanilla Tone It Up Protein
⅓ cup chia seeds
1 tsp. maple syrup
½ tsp. ground cardamom
TOPPINGS (per 1 serving)
2 Tbsp. nonfat Greek yogurt or coconut milk yogurt 
2 bing cherries, pitted and halved
1 tsp. hemp seeds
DIRECTIONS
1. Blend all smoothie ingredients until smooth. 
2. Divide the mixture into two mason jars, cover, and refrigerate overnight.
3. To serve, top with yogurt, cherries, and hemp seeds.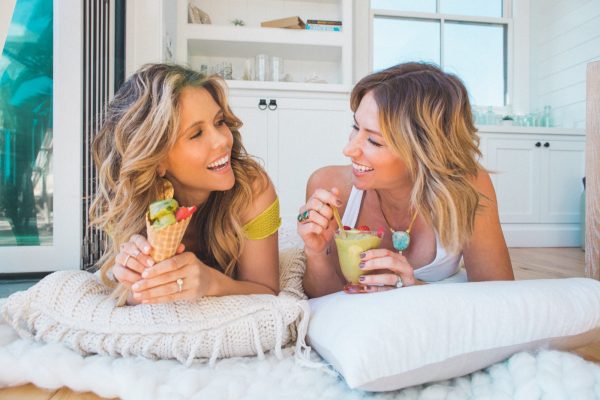 Matcha Nice Cream Recipe
Makes 3 servings
INGREDIENTS 
1 tsp. matcha powder
1 1/2 frozen bananas, sliced
¼ cup milk
Pinch of Himalayan salt
DIRECTIONS 
1. In a food processor, blend until smooth. Serve immediately. Enjoy!
Find these recipes and so many more simple & delicious treats in your Tone It Up app! When you join the app, you now get access to all the amazing workouts PLUS recipes & nutrition advice ~ it's all there for you in one place! 

Love HIIT, strength training, and yoga? Join us in the Tone It Up app for hundreds of fun and effective workouts you can do right at home!

[wpurp-searchable-recipe]3 No-Bake Healthy Treats To Satisfy Your Sweet Tooth - - , ; - - Dessert - Desserts - Recipes - dessert - karena and katrina - karena dawn - katrina scott - nutrition plan - protein - recipe - studio tone it up - Tone It Up - tone it up app - Tone It Up Nutrition Plan - toneitup[/wpurp-searchable-recipe]