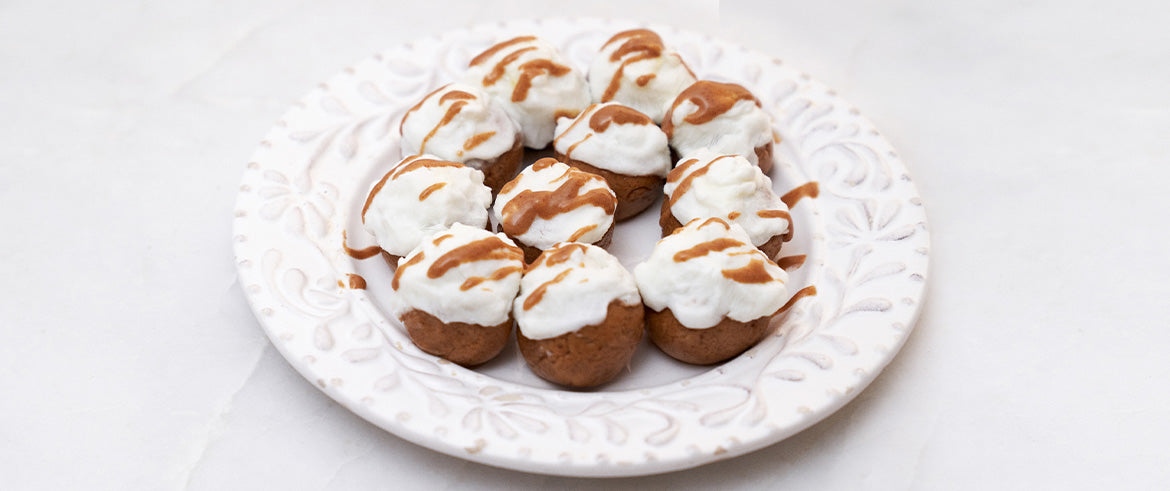 3 Decadent, Delicious, and Healthy Desserts
By Tone It Up on
You know dessert is a major part of the TIU lifestyle — it's all about balance and treating yourself the healthy way! 
We created 3 brand new dessert recipes for the Total Tone Challenge that are all TIU approved, protein-packed, and made with natural sugars. Because they have protein and healthy fats, they won't spike your blood sugar like other desserts. These are perfect to enjoy after dinner as a sweet treat! Enjoy, beautiful!
Coffee Nice Cream Recipe
Makes 2 servings 
INGREDIENTS
DIRECTIONS 
In a blender or food processor, combine ingredients.

Optional to top with cocoa nibs. 
Frozen Banana Sandwiches
Makes 2 servings (each serving is 2 sandwiches) 
INGREDIENTS
1 banana

4 tsp. natural nut butter

½ oz dark chocolate

Cinnamon to sprinkle on top 
DIRECTIONS 
Slice the banana into 1-inch chunks. 

Add 1 tsp. of nut butter on top of a slice of banana. Place another slice on top of that to make a sandwich bite.

In a microwave-safe bowl, heat dark chocolate until smooth.

Drizzle dark chocolate on top of the banana bites or place a few cocoa nibs on top. 

Sprinkle cinnamon on top to taste.

Place bites on a parchment lined plate and freeze for 20 minutes or until firm. 
Protein Pops
Makes 1 serving
INGREDIENTS
Cake mix: 
¼ cup almond butter

¼ cup shredded unsweetened coconut flakes

2 dates, pitted

½ cup gluten-free oat flour

¼ cup pure maple syrup

¼ tsp. vanilla

Pinch of salt
Glaze: 
1 cup Greek yogurt

½ tsp. vanilla extract 
DIRECTIONS 
Combine glaze ingredients together and set aside.

Combine all cake ingredients in a food processor and blend until well combined. Roll dough into 1 Tbsp. balls. 

Place balls in the freezer for at least 30 minutes to set.

Evenly coat balls in yogurt glaze. 

Place in the freezer for at least 1 hour or until frosting is set. Store in the fridge for up to 5 days. Enjoy!
---
Looking for more decadent and delicious desserts — that are all healthy?! You can find tons more options in the nutrition section of your Tone It Up app!