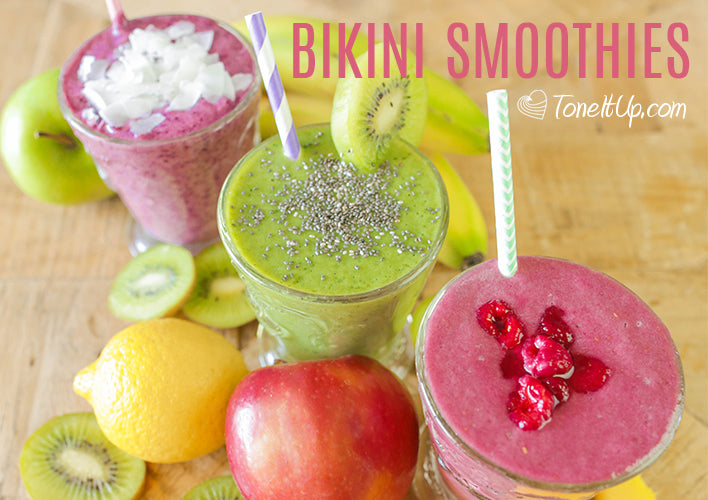 3 Slimming BIKINI Smoothies!
By Katrina Scott on
Today we're sharing 3 slimming post-workout smoothies. Packed with lean organic protein powder, hydrating fruits, and antioxidant-filled superfoods, these tropical delights pair perfectly with daily sweat sessions. They'll give your body just what it needs to repair and recover from a tough workout
ITTY BITTY BIKINI SMOOTHIE
Why we love it: Say buh-bye to snack attacks! Not only are raspberries bursting with vitamins and antioxidants, but they also happen to contain more fiber than other fruits. This winning high fiber and protein combo will keep you super satisfied until your next meal.
1/2 cup of frozen raspberries
1/2 of a fresh mango, sliced
1/2 cup water
5 ice cubes made with pineapple juice
COCONUT CORE SMOOTHIE
Why we love it: With both banana and coconut water, this sweet blend packs a potassium punch! This much-needed mineral is great to include into your post-workout regime because it helps your muscles contract and it really replenishes your body after an intense sweat sesh.
2 Tbs coconut shavings, unsweetened
1 frozen banana, pre-sliced
1 cup of mixed berries (fresh or frozen)
1 scoop of vanilla Tone It Up Protein
Juice from 1/2 a lime
1 cup coconut water
LEAN & GREEN SMOOTHIE
Why we love it: Thanks to one of our favorite tropical delights, kiwifruit, this smoothie delivers 100% of your daily Vitamin C needs! This antioxidant is ultra helpful for dewy, summer skin. It also helps boost your immune system and it even contributes to better iron absorption ~ a plus for expecting #TIUMamas!
1/2 cucumber, sliced
1 frozen kiwi (pre-sliced)
1 green apple, diced
1 cup coconut water
Handful of fresh kale
1 Tbs pure maple syrup or honey
Directions: Add all ingredients to the blender, liquids first. Then power it up, babe. Blend until smooth and ready for sipping.

Looking for more delicious, detoxifying, and nutrient-packed recipes like these smoothies?! The Tone It Up Nutrition Plan has thousands of amazing recipes and has helped so many beautiful babes feel healthy, fit, and confident!