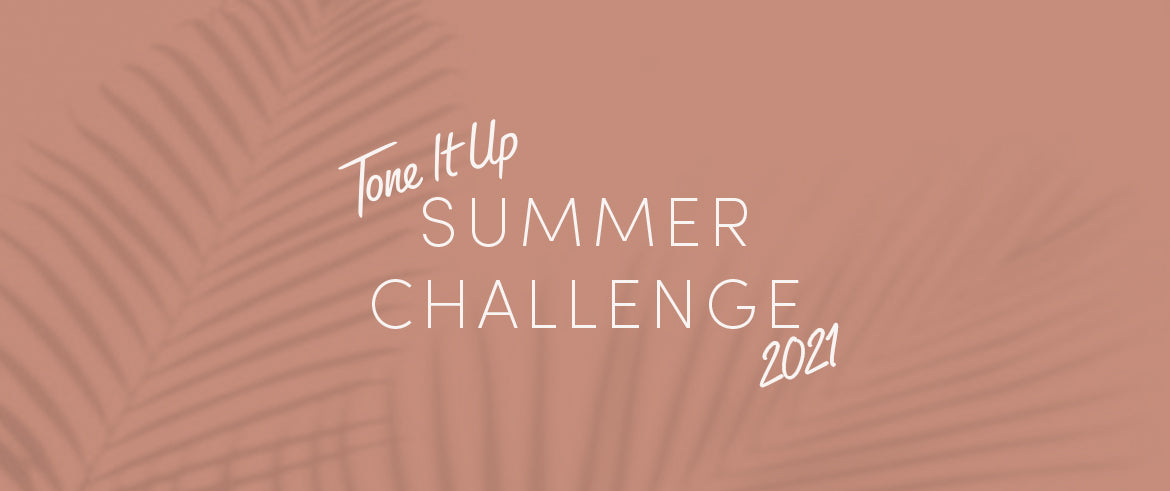 Your Tone It Up Summer Challenge Is Here!
By Tone It Up on
Girls, it's HERE! Welcome to the Tone It Up Summer Challenge 2021. The Summer Challenge is ALL about coming together as a community & crushing our goals — whatever those may be. Whether you're an expecting mama, newly postpartum, focusing on mindfulness, looking to build strength, or getting started with fitness — we can all do this TOGETHER!
Join us for 8 powerful weeks of community and connection. The main goal? Crush 50 workouts in 8 weeks!
Get ready to commit to yourself, nourish your body, practice mindfulness, and feel your best this summer.  We're here to cheer you on, keep you accountable, and help you feel more confident than ever! You'll have access to everything you need for the challenge right in your TIU App. 
We have so much in store for you — two BRAND NEW programs including next-level strength with co-founder Katrina (coming soon!) and Tori's new Bridal Sculpt program, live workouts, Wine Not Wednesdays with K&K, prizes for weekly checkins, tons of tips, and more!
WHEN DO I START?
We start together on May 17th! Sign up now and receive your FREE starter pack with everything you need to get started.
PRINT YOUR CALENDAR
 Print your calendar HERE! (Black & white option HERE.)
WHERE DO I GET MY WORKOUTS? 
In the Tone It Up app! Download the app to access your On Demand workouts, programs, and connect with your community! It's also easy to filter and find the workout that's right for you. Choose from different levels, goals, and intensities. 
WHY THE SUMMER CHALLENGE
It's the best time of year! We're coming together as a community to cheer each other on and crush our goals for summer. This challenge is all about inspiring each other, holding each other accountable, and having fun. When you join, you'll immediately have support from millions of women in the #TIUteam.. From LIVE workouts, wine chats, & meal preps to prizes and giveaways...we have so many exciting things planned for you. We can't wait to do this challenge with you!
YOUR STARTER PACK
Everything you need to get started! The hardest part is always getting started, but we got you! When you sign up for the Summer Challenge, we'll immediately send you a FREE starter pack. It includes...
Special note from K&K to get you inspired & ready

Delicious & slimming recipes

Challenge checklist

Calendar to keep you on track

Suggested workout programs based on your personal goals!

First look into the challenge
HOW DO I STAY CONNECTED? 
There are a few ways to connect! We recommend going through the hashtag #TIU2021 and following other women in the community to support them. Once you know someone's name, you can also connect with them in the app. Make sure to use #TIUcheckin when sharing your workouts or meals!
And asking a friend to join you is now easier than ever. Make sure you have the latest version of the app (check the app store for an update!), go to "Community" at the bottom navigation, and you'll see "invite a friend" at the top right hand corner!
Also make sure to follow @ToneItUp on Instagram and use the hashtags #TIUteam, #TIU2021, and if you're in a program, use the program hashtag too!
---
Ready to crush it? We're here to cheer you on! Join us for these next 8 weeks — where we're committing to 50 workouts. Two new programs will await you alongside their meal plans, as well as love and support from the #TIUteam. We can't wait to see you there!