THIS Trendy Tea Boosts Your Metabolism, Burns Fat, and Busts Stress!
By Katrina Scott on

Matcha is a super buzzy health trend that totally lives up to the hype. Not only does it make some pretty amazing smoothie bowls (amiright?!), it also has tons of health perks, ranging from stress reduction to boosted fat burning. Smoothie, baked goods, or latte: no matter how you take it, you're going to love this superfood.

What exactly is matcha?
Matcha is really closely related to regular green tea. The main difference is how it's produced. Matcha is grown in the shade for the last month or so before it's harvested. This causes it to become a darker shade of green. Once it is ready to be harvested, the leaves are ground into a fine, bright green powder. This powder is stirred into smoothies, almond milk, and even baked goods. Normal green tea products are steeped in water and the leaves are thrown out afterwards. Matcha is consumed whole (in the powder form), so you get a higher concentration of caffeine and antioxidants. Here are some of the other perks:
Boosts heart health
Since matcha is a relative of green tea, you get all of the same benefits. Both matcha and green tea are high in antioxidants called catechins. In matcha, the most powerful of these catechins is called EGCG. Studies show that EGCG improves heart health.¹ Bonus: Matcha has been found to have at least three times the amount of antioxidants as regular green tea!²
Increases fat burning
Caffeine naturally boosts fat-burning mechanisms, but research shows that the antioxidant component may also play a role. One study found that catechins increase fat burning and energy expenditure.³ Hello, beautiful waistline!
Keeps your mind calm
Green tea and matcha both contain an amino acid called L-theanine. However, matcha contains higher levels. L-theanine naturally helps decrease feelings of anxiety without making you feel sleepy. Pour us up a cup!
How do you use it?
Many coffee shops offer matcha lattes. And making your own matcha latte is really simple. Just heat up 1 cup of unsweetened almond milk and whisk in 1 tsp. of matcha. The longer you whisk, the more foam you'll create. We also love creating bright green smoothie bowls with matcha. Check out our recipe below!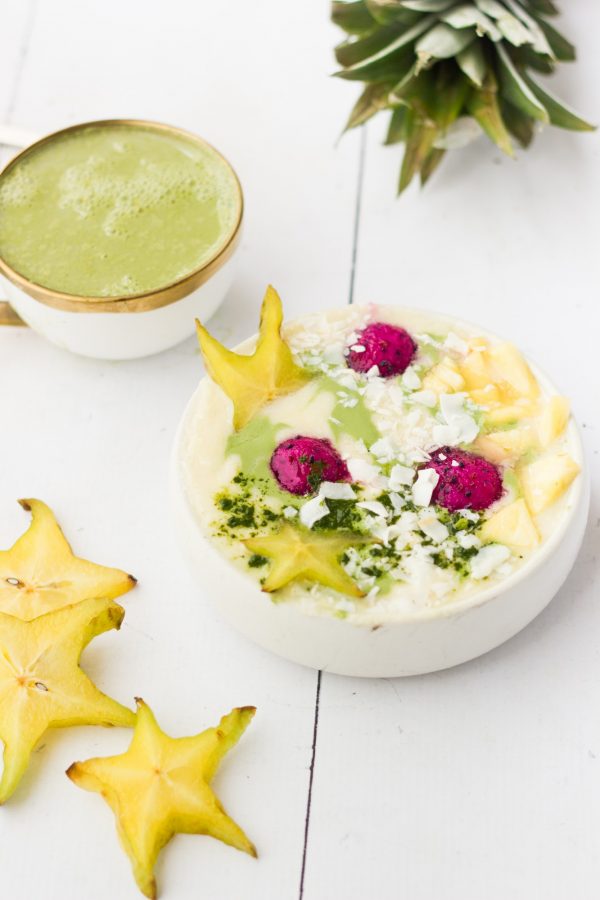 Tropical Matcha Smoothie Bowl
Serves 1
Ingredients:
1 cup unsweetened almond milk
1 scoop vanilla Perfect Fit Protein
1/2 cup frozen pineapple
1/2 frozen banana, sliced
1 tsp. matcha powder
1/4 cup unsweetened greek yogurt
Directions:
1. Blend all of the ingredients, except for the matcha and greek yogurt, until smooth. Pour into a bowl.
2. In a separate bowl, stir together the matcha and greek yogurt until combined. Drizzle over your smoothie bowl.
3. Optional to add toppings. We love 1 Tbsp. coconut flakes, 1 kiwi fruit, 1 Tbsp. cacao nibs, or 1 Tbsp. goji berries!
Nutrition Facts:
23g protein / 33g carbs / 5g fat / 9g fiber / 267 calories
Sources:
1. EFFECTS OF GREEN TEA AND EGCG ON CARDIOVASCULAR AND METABOLIC HEALTH.  Journal of the American College of Nutrition.
2. DETERMINATION OF CATECHINS IN MATCHA GREEN TEA. Journal of Chromatography.
3. EFFICACY OF A GREEN TEA EXTRACT RICH IN CATECHIN POLYPHENOLS AND CAFFEINE IN INCREASING 24-H ENERGY EXPENDITURE AND FAT OXIDATION IN HUMANS. The American Journal of Clinical Nutrition.

Want even more science-backed info to help you reach your fitness goals?! Sign up for our Tone It Up newsletter!