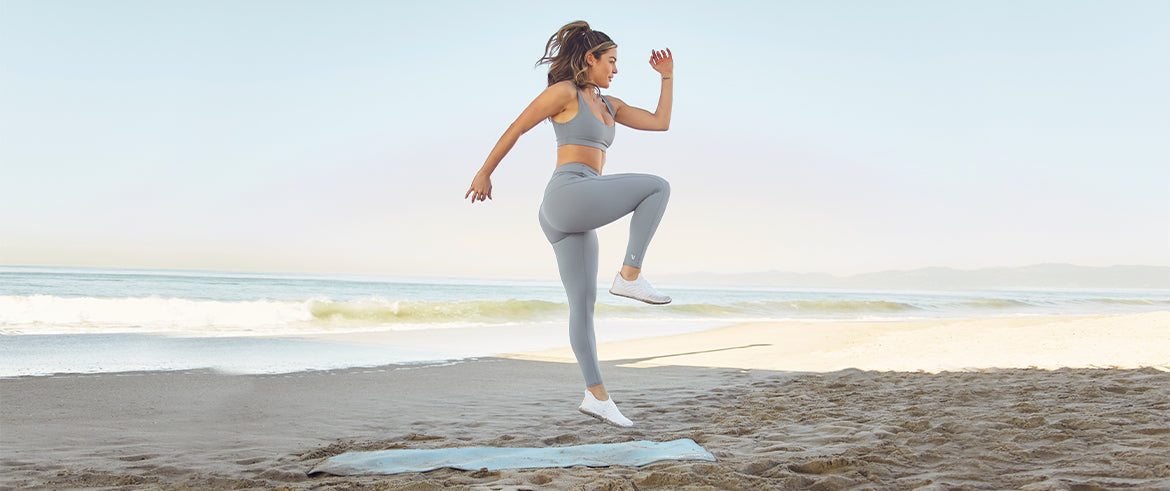 The Greatest HIITs Program is Here and We've Got All the Info You Need to Crush It!
By Tone It Up on
Babes, we have the best program for you. It's just two weeks and gets the heart pumping, metabolism ignited, and your confidence soaring! Welcome to Greatest HIITs — a high-intensity interval training program that makes you work hard and feel AMAZING!
The best thing about this program is you can do it anywhere and anytime. You know why? Because all you need is your bodyweight to work through every. single. exercise! While you'll do lots of cardio heavy moves and explosive exercises in your HIIT sessions, you'll also get a mix of upper and lower body sculpting routines. Plus, plenty of active recovery days so you can see all that hard work pay off! 
Each workout is about 25 minutes and includes a move-based routine, meaning you can follow along at your own pace, stopping and starting again when you want. Of course, we'll always give you suggestions on timing but this program is meant to be YOURS, so customize it the way you want. Do what works for you! 
We want to hear about your progress and cheer you on, so don't forget to check-in with us using #TIUGreatestHIITs and #TIUteam. We'll be on the lookout. Here's to sweating it out and feeling stronger than ever!
Xxo, 
K+K
---
How do I join the program? 
You can find the Greatest HIITs program in your Tone It Up app. Simply go to the "Workouts" screen and you'll see Greatest HIITs in the top carousel, listed under "Fitness Programs." Click on it, then tap "Join This Program," and you're in! Already doing another program? Just go ahead and join Greatest HIITs and it'll be waiting in your queue when you're ready! Or you always have the option to switch over. Do what's best for you right now!
Who is leading this program? 
A mix of your Tone It Up trainers! You'll see Kat, Karena, Stef, and Chevy leading the workouts, as they each specialize in different training techniques. From HIIT and strength to yoga and recovery, we have an expert to lead you through each exercise and show you strong form. 
When should I start the program? 
We recommend kicking it off with Your 2021 Fall Challenge, but you can start it WHENEVER! The program lasts two weeks, so choose the best time for you and get moving. 
How do I follow along with the program? 
As soon as you hit that "Join this Program" button, Greatest HIITs gets added to the "My Program" section of the app. In that section, you'll see a list of the workouts for the week. Choose the top workout for day 1, follow the sequence, and finish with the last one on day 7. Rinse and repeat for week 2 or days 8 through 14. 
What types of workouts can I expect? 
HIIT, of course! HIIT involves interval training, which means you'll work through a certain amount of time and rest for a certain amount of time and then repeat for a couple rounds! HIIT routines are often more advanced and focus on getting your heart rate up — but take them at a pace and effort that works for you! In addition to HIIT, you'll also get upper and lower body strength workouts, plus stretching and foam rolling for your recovery days. Here, a few other workouts you'll see on the line-up:  
Abs + Arms in Action

Strong to the Core

Tabata & Tone
How many days a week should I work out? 
We have a workout for every day of the week! But this program is meant to work for YOU, so if that doesn't fit your schedule, take a day off when you need it and come back when you're ready. We want you to feel empowered to complete this program and confident by the time that final day hits!
What equipment do I need? 
None! That's the beauty of Greatest HIITs! All you need is your body to crush every exercise in the program. Of course, an exercise mat and some water (and a solid pair of sneakers) will also go a long way in keeping you comfortable and ready to work!
Is the program HIIT only? 
Nope! While that's the focus of the program — and you gain major benefits from it like improved cardio, sports conditioning, and sculpting — it's best not to do HIIT every day. So we mixed in strength-focused upper and lower body workouts, a core routine, plus yoga sculpt, stretching, and foam rolling. It's one well-rounded program, so you finish feeling your absolute best!
How can I cast the workouts on a larger screen? 
It's easy! For a larger screen you can:
-Tap the full screen icon that appears on the bottom right of your video to switch to full screen mode!
- Use the "cast" button to cast your workouts to Google Chromecast devices
-Mirror your phone with an AppleTV
How do I check in with the team? 
Great Q, babe! All you have to do is post your pics or reach out to other girls doing the program by using #TIUGreatestHIITs! Also, make sure you're following @toneitup on Instagram! We ALWAYS want to hear from you. 
Is there a meal plan? 
While nutrition is always key to your wellness plan, we don't have a full nutrition plan for this program. But we do have an awesome list of delicious (and easy!) recipes that you can mix and match throughout the program. You'll find those in the "Nutrition" section of your Tone It Up app.
What should I have on hand at home? 
We suggest stocking up on: 
Fruits and veggies and other things you love to snack on!
Find everything on ToneItUp.com or grab it in store or online from Target or HEB. 
What results will I get from this program? 
You'll gain a lot of advantages from the Greatest HIITs program, including:
Improved cardio 

Revved metabolism

Better sports performance and improved athleticism

Full-body strength

Enhanced muscle tone

Kicked up confidence and a feeling of accomplishment and pride

A sense of community thanks to the AMAZING TIU team!
What will this program cost me? 
You can access the Greatest HIITs program through your Tone It Up app subscription, which is just $14.99/month. We also offer a yearly subscription option — it comes to only 27 cents per day! Your app subscription offers everything you need to feel fit, get healthy, radiate confidence, and cross off your goals. To help, you get 550+ on-demand workout videos, mindfulness sessions, and a library of healthy recipes and nutrition guidelines.
---
 Ready to turn up the burn with Greatest HIITs? YES! Sign up in your TIU app and let's work it, babe!