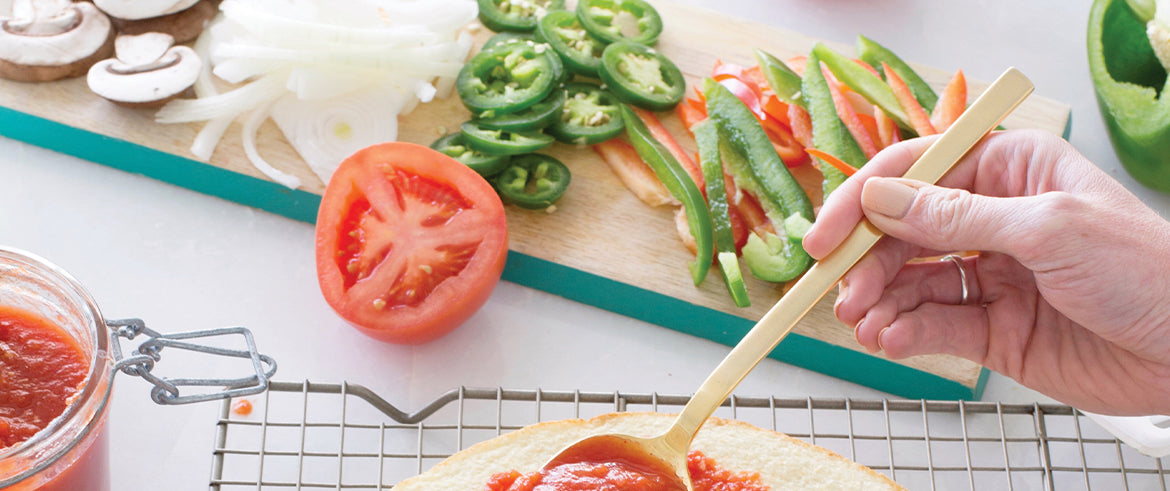 Own Your Strength in the Kitchen with our NEW, Customizable Meal Plan
By Tone It Up on
Your 4-week Own Your Strength summer challenge starts May 2, 2022! The intention of Own Your Strength is to support you to honor and celebrate your individual strengths — in your workouts, nutrition habits, mindfulness practices, and every area of your life. 
That's why your OYS Meal Plan is more customizable than ever.
Do you love getting creative in the kitchen? 
Are you the queen of quick meals on-the-go? 
Are you the master of meal prep? 
Are you into easy air fryer recipes? 
No matter your strengths, we've got you covered.
The focus for the plan is Lean, Clean, 'N Green. Together, we'll:
Opt for nourishing protein to fuel our workouts

Eat fruits and veggies as much as possible
As long as you're sticking to these principles, you're "on the plan." It's really that simple.
The entire meal plan will be available in the app so you can access it wherever you are. Here are some of the #TIUteam's fave recipes from the meal plan to get you started:

Beach Breakfast Parfait
Ingredients: 
¼ cup diced pineapple

¼ cup diced mango

½ cup plain low fat greek yogurt

⅓ cup granola

1 tbsp toasted walnuts
Directions:
In a small bowl, combine the fruits. Set aside.

Place half of the granola (about 2 tbsp) in your serving dish.

Then, top the granola with ¼ cup yogurt 

Add two spoonfuls of fruit on top of the yogurt.

Repeat steps 2-4 in layers until you've used all the ingredients. 

Top with 1tbsp toasted walnuts
Peanut Butter & Jelly Bowl
Ingredients: 
¼ cup unsweetened almond milk (or any milk alternative!)

½ cup frozen blueberries

½ cup sliced frozen strawberries

1 scoop

vanilla Tone It Up protein powder

1 tbsp natural peanut butter

Toppings: your favorite fruits, chia seeds, granola, melted peanut butter drizzle
Directions:
Place all ingredients into a blender.

Seal and blend until smooth.

Pour into a bowl.

Add desired toppings and eat right away!
Air Fried Crispy BBQ Chickpeas
Ingredients: 
1 15.5 oz can chickpeas, rinsed and drained 

1 Tbsp avocado oil

2 tsp maple syrup

1 ½ tsp smoked paprika

1 tsp chipotle powder

¾ tsp garlic powder

¼ tsp sea salt

¼ tsp ground black pepper
Directions:
In a small bowl, mix together the chickpeas, avocado oil, maple syrup and other seasonings so all of the chickpeas are covered.

Set the air fryer timer for 6 minutes, at 375 degrees F. After 6 minutes, shake the basket to

ensure all sides are crispy

, then add another 6 minutes.

Transfer to a bowl to cool fully so the seasoning can dry.
You can season the chickpeas in many different fun ways. Our go faves are 
Everything Bagel Seasoning

Taco Seasoning

Korean BBQ Seasoning
Avocado Tahini Dip
Ingredients
2 ripe avocados

¼ cup tahini

2 garlic cloves

¼ cup Fresh Lemon or Lime Juice

1 tsp ground cumin

½ cup fresh cilantro leaves

Dash of sea salt to taste, optional
Directions
Place all ingredients into the food processor

Start the blender at its lowest speed, then quickly increase to its highest speed. Process until completely smooth. Ad water as needed

Serve with sliced raw seasonal vegetables.
Sweet Potato Black Bean Burgers
Ingredients: 
2 cups grated sweet potato

1 can black beans, drained and rinsed

½ cup cooked and cooled quinoa

½ cup chopped scallions

¼ cup chopped cilantro

¼ cup vegan mayonnaise

1 tsp chili powder

2 tbsp avocado or olive oil

1 tsp onion powder 

2 tbsp chopped fresh dill

1 tsp freshly ground black pepper
Directions:
Place all ingredients in a bowl and mix well with a potato masher or fork

Form the sweet potato mixture into 4 patties.

Heat avocado oil in a large skillet. When the skillet is hot enough to sizzle, add patties.

Cook on one side until a crispy exterior is formed, about 5-7 minutes each side.

Enjoy with your favorite toppings.
---