Motivation Monday With These Babes Is A Trip Down Memory Lane
By Katrina Scott on
Today we are sharing a very special story of two women in the Community that have been working out together for almost a decade! Talk about accountability ~ these beach babes are remarkable. The best part… they're a mother-daughter duo! Maybe Bella will join for a workout video one day?! 😜
Breanna and her mama Tania are so encouraging, and we've so enjoyed getting to know them over the years. From the most amazing #TIUmeetups to their post-workout selfies, their photos are such a great trip down memory lane. We love u babes! xxo

Tell us a bit about yourselves
Tania @tania_tiu: I'm a native of the "South Bay" beach cities area of Southern California and love it so much, I've never really left! I'm a proud Mom of 2 adults and a 10-year old doggie with heart disease. I'm a Director of Special Education, specializing in Dyslexia and Irlen Syndrome and love working with children who have learning challenges. Outside of Tone[ing] It Up with my daughter, I enjoy the outdoors, good movies, cooking, and Sunday night dinners with my family.
Bre @bre_tiu: My name is Breanna, most people call me Bre. I'm a happy newlywed with a 1- year-old pup with epilepsy. Born and raised in the South Bay, my husband and I are blessed to live just a short walk from the beach. I am a Registered Behavior Technician for children with Autism and other special needs. I love the beach, cooking, baking, and Tone It Up with my mom!
How did you find Tone It Up?
Bre came across Tone It Up scrolling for "Beachy Wave" hair tutorials on YouTube! She ended up binging all of their videos, and soon after convinced her mom to share in a new adventure of health and fitness as members of the TIU community in the spring of 2012. We were especially drawn by the positivity, inspiration, and uplifting community of women that Karena and Katrina created and clearly role modeled... and the fact that they were in our hometown! As former dancers, both Bre and Tania always had a love of fitness. Letting life's ups and downs get to her, Tania developed bad habits, struggling to stay consistent with any workout program. She had begun to let herself go & felt down about the way she looked and felt. Bre never struggled with her weight, but didn't really know what to do at the gym and was interested in looking more toned. We had no idea of all the benefits we would gain with Tone It Up. Basically, our concept of being "healthy" was eating foods that were bland and giving up everything we enjoyed so we steered clear. We loved food too much to sacrifice taste. We had no idea that our unhealthy habits of busily skipping meals, go-to snacks of cherry cola, chips, and candy bars were contributing to our lack of energy and motivation. The TIU nutrition plan encouraged us to try new foods we had never heard of before that are now staples in our kitchen! It taught us how to eat more often in moderation but never going hungry, while enjoying healthy, flavorful meals and even occasional treats without feeling guilty. We've even learned how to make #tiuhubbyapproved meals and how to order out following the plan.

How do you stay motivated to get your workouts in?
We stay motivated to get our workouts in by having our own workout space, consistently planning workouts into our day (including our outfits), getting them done early (or scheduling around our workouts), and not thinking too much… just pressing play on the Tone It Up app or showing up for that IG live!
How has your relationship evolved since doing TIU together?
Having always been pretty close, since doing Tone It Up together, our relationship has evolved unexpectedly into something deeper. We've both grown as we've developed not only our physical strength, but our mental strength, leaving old bad habits behind, learning to take things in stride, appreciate where we are on our journeys, and always strive for new individual goals with each challenge. When we first started we were blessed to be able to do nearly everything TIU together: grocery shop, meal plan & prep, cook new TIU nutrition plan recipes, walk, and even learn to run together. Once Bre moved to Kansas to go to a University, we inspired, encouraged, and sometimes even challenged each other to work out and get our miles in, even sharing nutrition ideas via FaceTime and text messaging. Now that Bre's married, working out together has become precious time, but we often meet up to grocery shop and still encourage each other to fit in our workouts. We'd still never miss a TIU meetup or event together! Ultimately, Tone It Up gifted us this special bond over shared interests in mind and body health and fitness following the TIU lifestyle.

What are some of your best TIU memories together?
Some of our best TIU memories together include the first time we met and spoke to Karena & Katrina at their first meetup at Belmont Shore Beach in Long Beach after our first "Bikini Series" challenge! Then getting to meet Chevy, Chyna, Tori, & Stef for the first time at the Studio TIU Tour Live at Barker Hangar. Catching nearly every local TIU event, meeting TIU girls through IG and meetups and making like-minded friends – some local, some an hour away, and even some around the world that we are blessed to still meet up with every time they're in town.
What changes have you seen, both mentally, physically, and spiritually since starting TIU?
Changes we've seen since starting TIU are endless! We started by making our own vision boards with words of inspiration from K&K. We live by Kat's reminders of "shoulders back, heart forward", which have given us a sense of radiating confidence and love. Karena's meditations have been teaching us to make time for ourselves, slow our nonstop minds, and de-stress. Tania lost 15 pounds with the first TIU challenge! Aside from toning up, we feel physically stronger and have more energy. Despite life's changes, we know TIU is always there to re-center us.

What does your wellness journey together mean to you?
Our wellness journey together is special to us because it means a lifelong bond of mind and body health and fitness. We've enjoyed watching how Karena & Karena have blossomed Tone It Up from YouTube videos to sharing their trainers with us through Studio Tone It Up. TIU has become a huge part of our everyday lives and truly is our lifestyle!
Anything else you'd like to share with the #TIUteam?
Our advice for newbies to Tone It Up: Start with small changes both in nutrition and fitness. It's ok to use what you have, swap things out, and do what works for you and your family. Modify! Listen to your body. You'll be surprised how quickly your body (and mind) gets stronger and you become able to do more and improve no matter where you're at in your journey.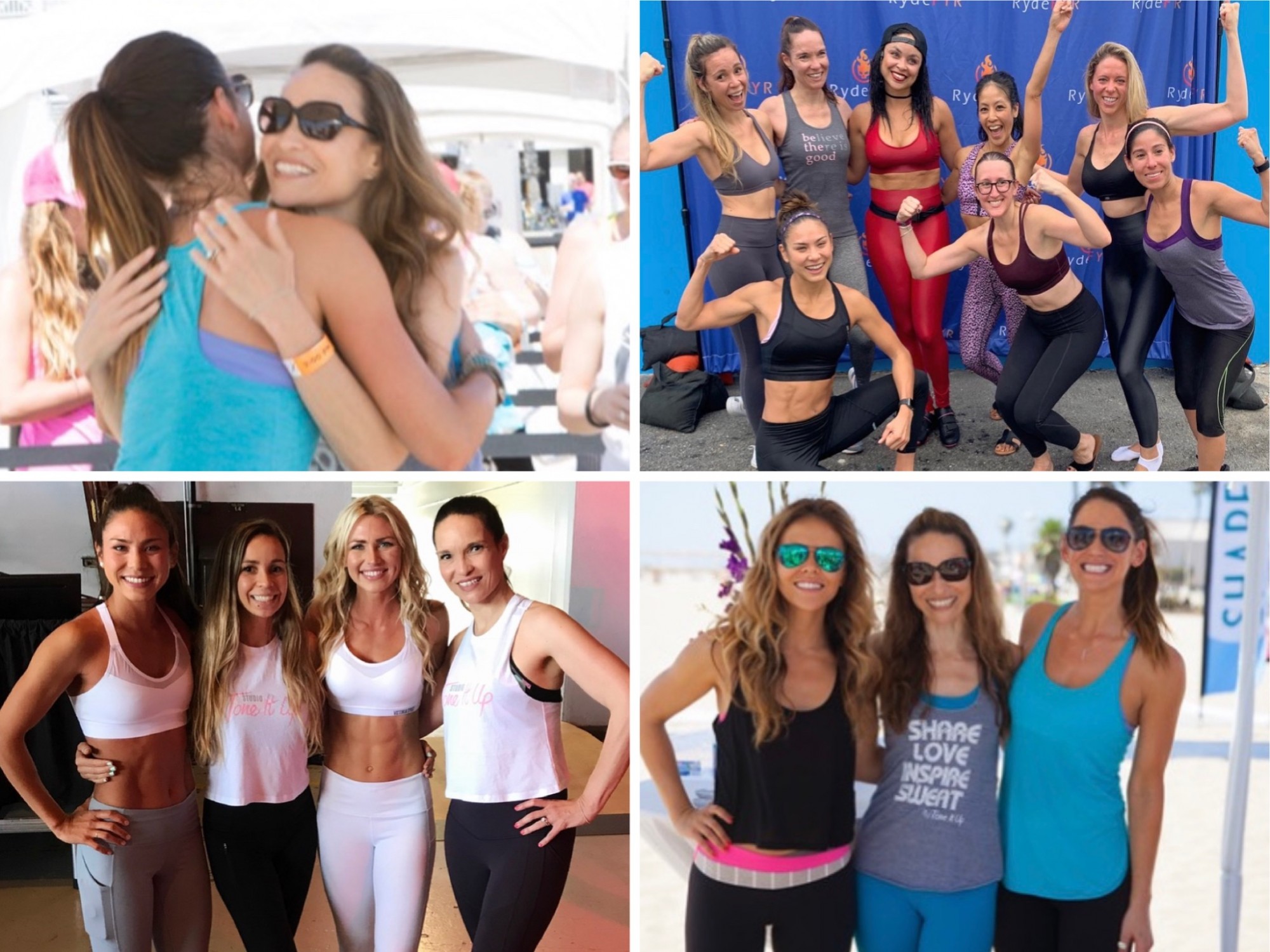 Love HIIT, strength training, and yoga? Join us in the Tone It Up app for hundreds of fun and effective workouts you can do right at home!