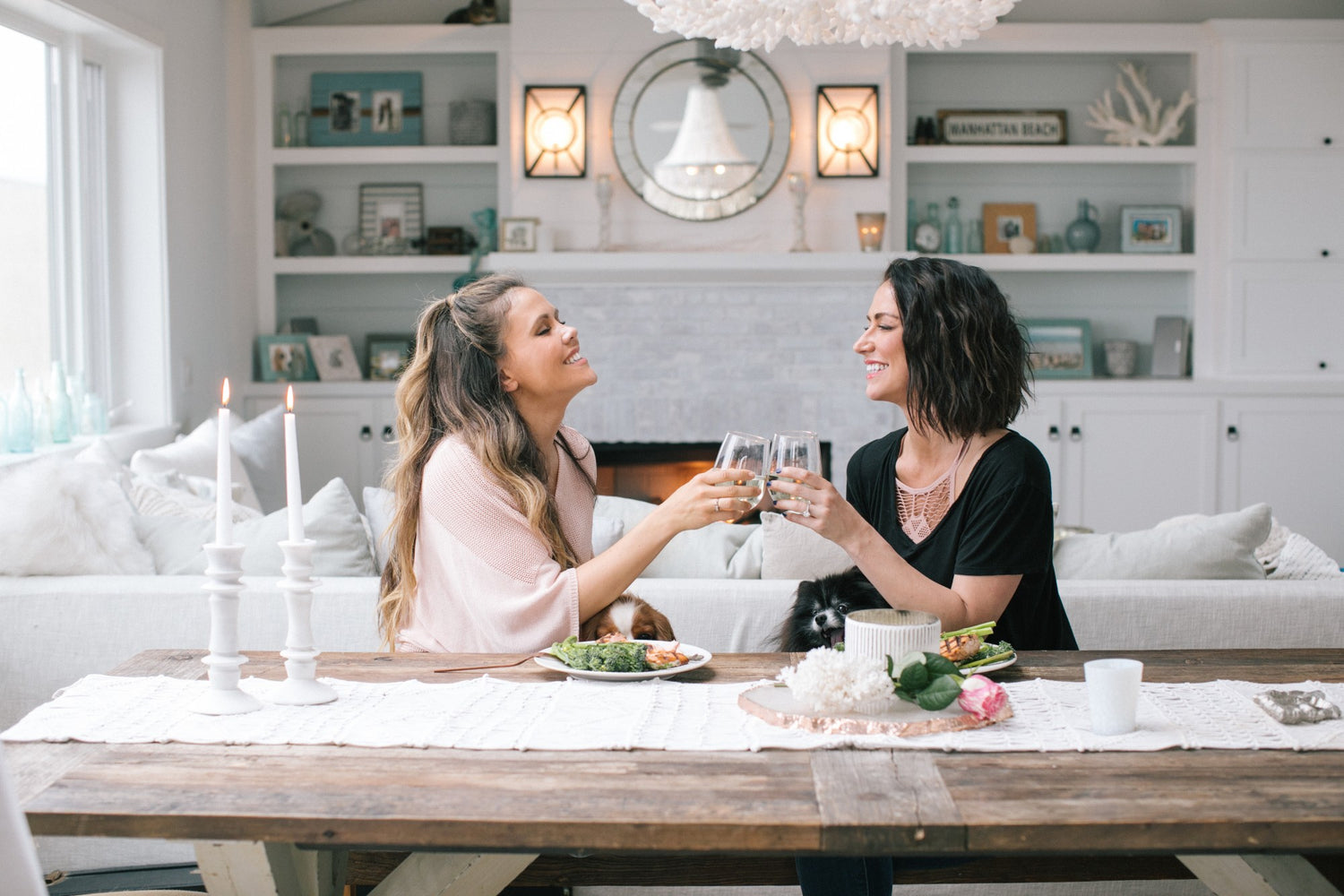 How to Host the Perfect Girls Dinner Date
By Katrina Scott on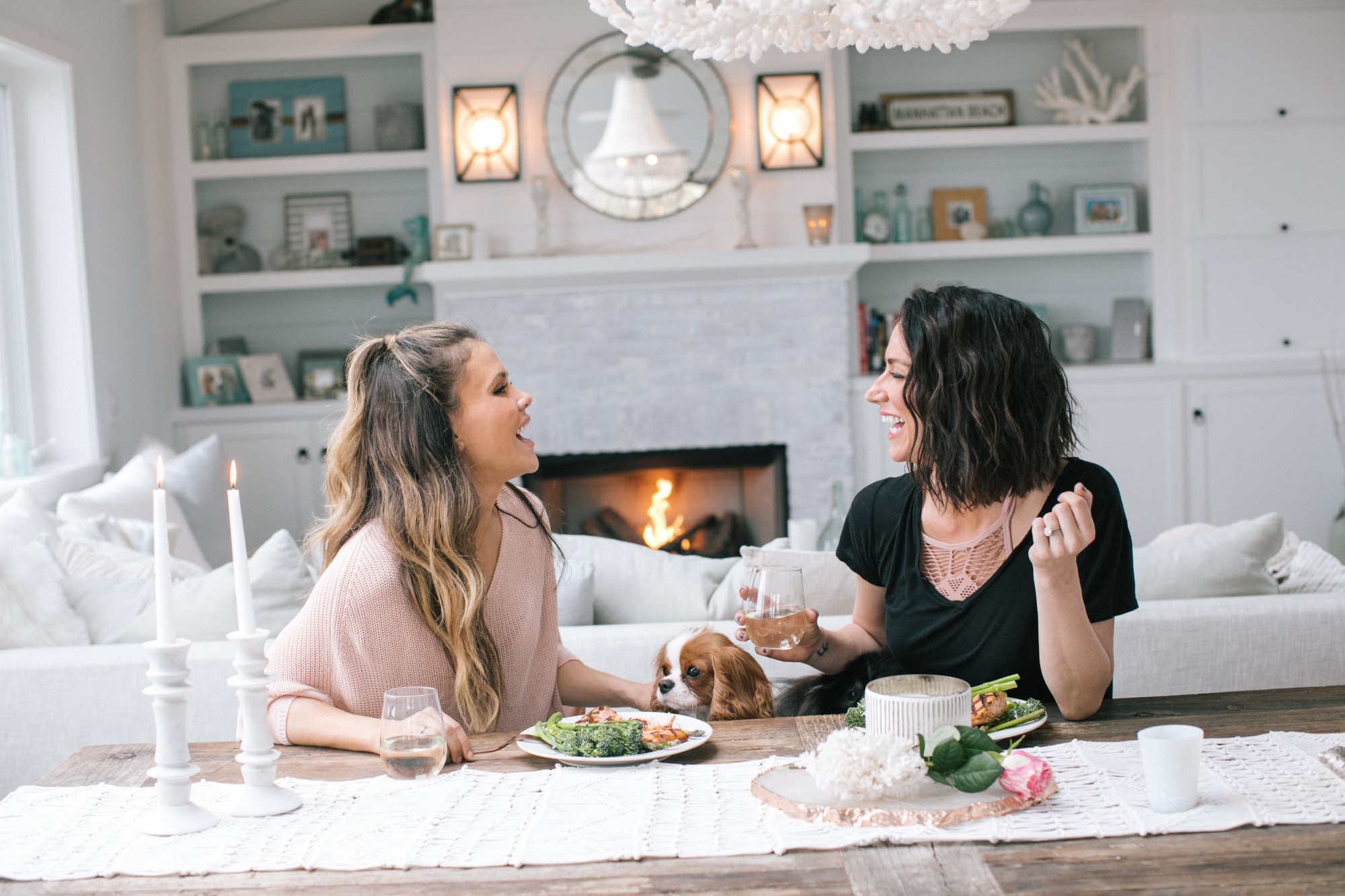 We love hitting the town with our girls or going out to brunch, but sometimes ya just need a good night in for some R&R ~ relaxation and rosé 😉 Since Katrina and I always have a million things going on, we schedule girl dates in our calendars to make sure we get time to ourselves. As women, we're all so busy with work, family, workouts, and other plans, which makes it even more essential to prioritize our friendships.
Kat and I like to have "dinner dates" at one of our places. When we cook at home, it's easy to keep it Lean, Clean, 'N Green and we always choose a delicious recipe from the Tone It Up Nutrition Plan. We can also really talk without the distractions of a restaurant. Plus at Kat's house, yoga pants are a totally acceptable dinner outfit and Skunk & Winni can chill with us at the table ;)
Today we're sharing our advice for how to host a simple girls' night in ~ text your girls an invite!!
Cheers babe! xxo K&K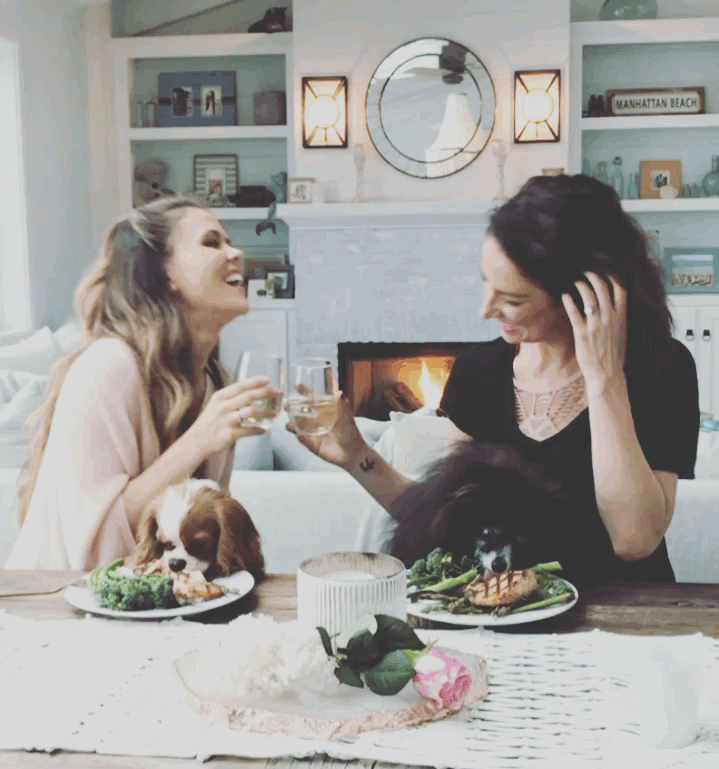 Keep the menu simple
You want to keep the night focused on girl time so we like to choose an easy, quick recipe that doesn't require much cleanup. One of our all-time favorites is the Salmon Bake! Or whip up a chili that you can prep in advance like our Black Bean Quinoa Chili.
To switch things up, we sometimes do a DIY dinner like THIS make-your-own fajita bar! Perf for a Taco Tuesday or Friday Fiesta 💃
If you're feeling adventurous, make a recipe you haven't tried before from the Nutrition Plan. There are thousands to choose from!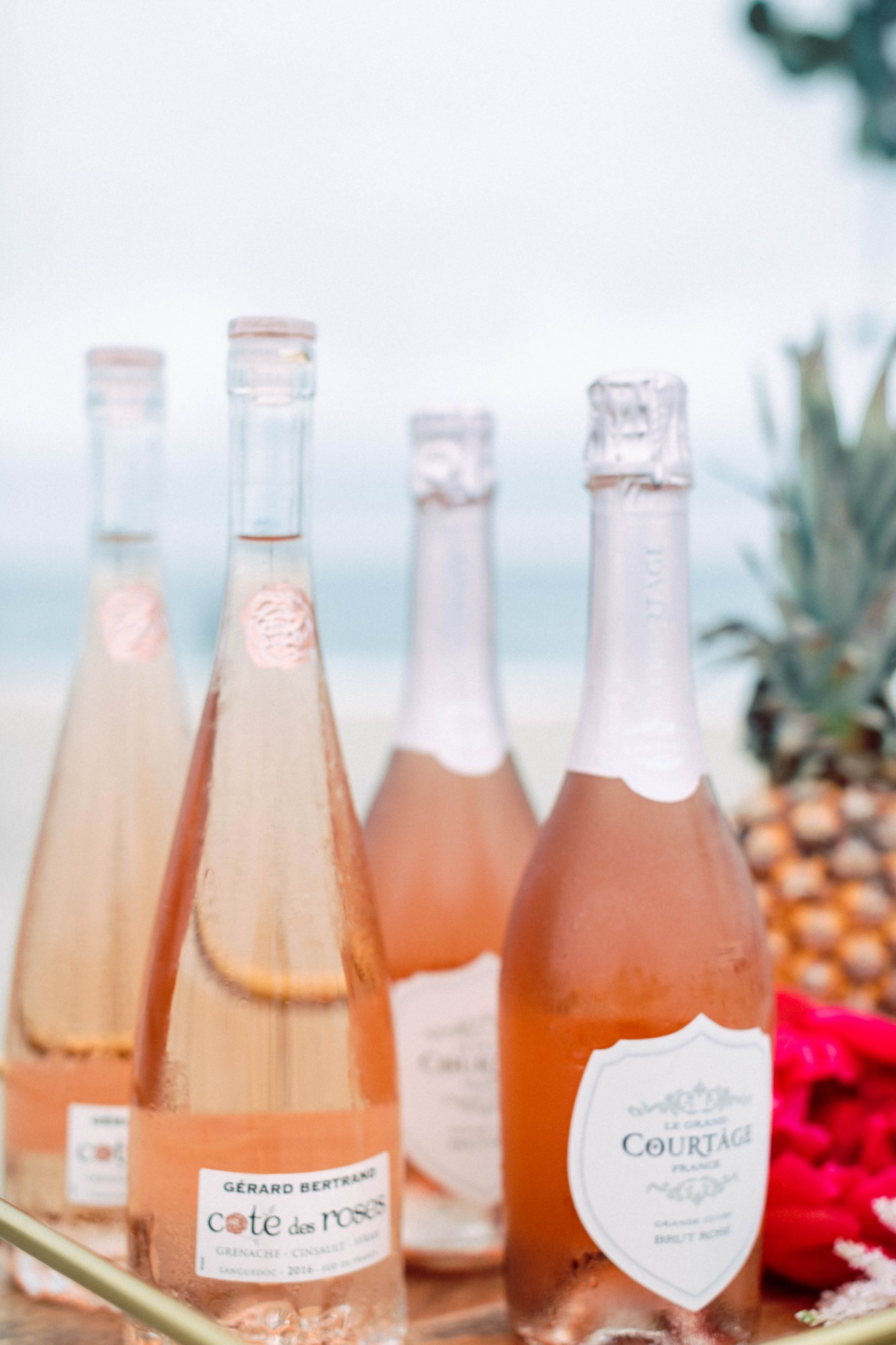 Pour her fave vino
Surprise your gal pal with a bottle of her favorite wine! If you're hosting a new girlfriend, ask her beforehand her favorite type. It's a good ice breaker too ;)
End on a sweet note
Dessert is even sweeter when it's shared with a best girlfriend! Keep it light and simple with coconut yogurt with some fresh fruit and a drizzle of honey. Or if you're feelin' something chocolate, these Chocolate Peanut Butter Brownies are delish. Pssst....the base is avocado so they taste extra decadent and deliver healthy fats.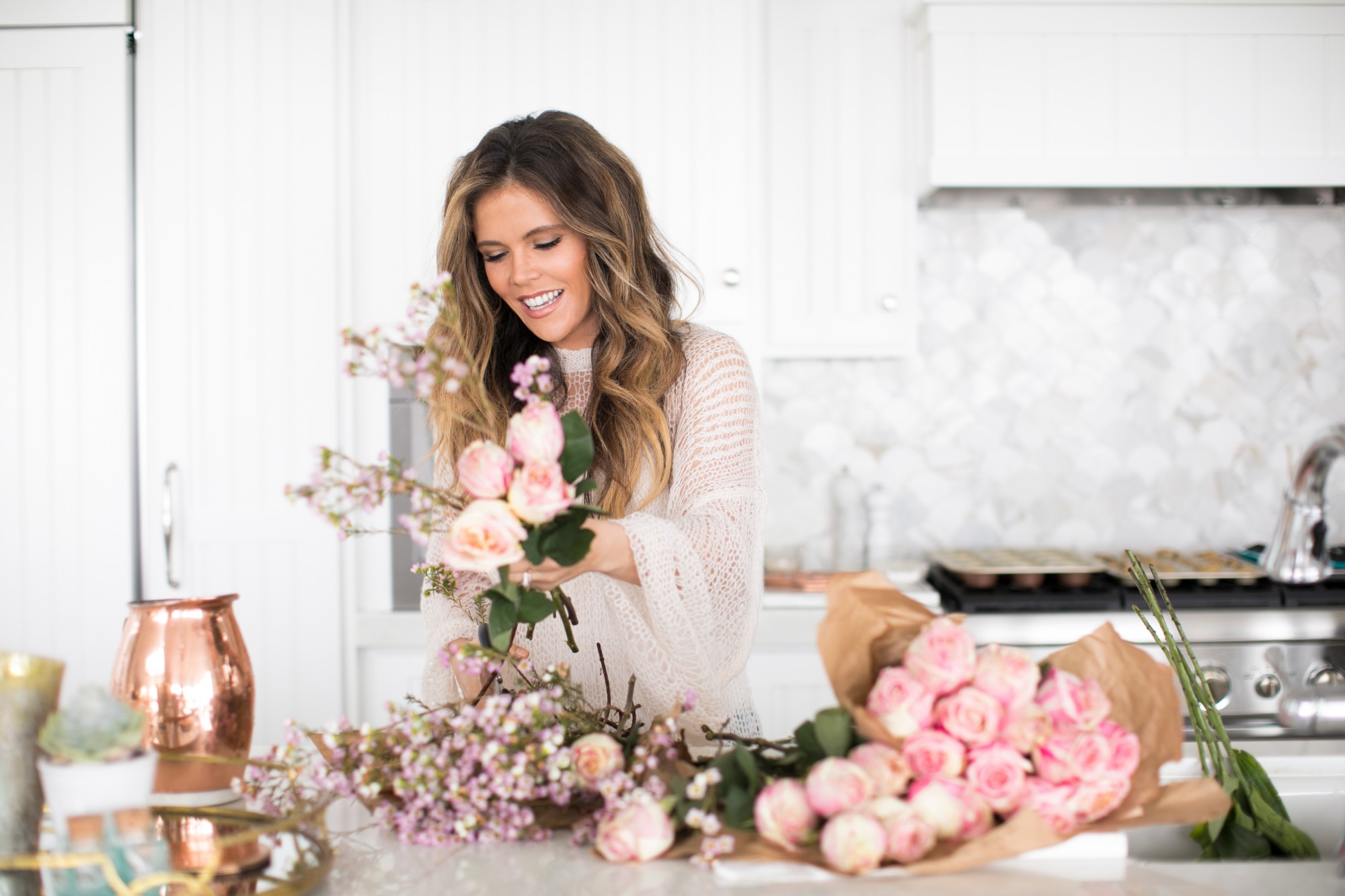 Send her home with blooms...and leftovers
Kat always makes some small flower arrangements in mason jars to brighten up the dinner table and then she sends guests home with their own arrangement. It's such a special touch! Choose your friend's favorite blooms to make it even more personal! You can also spray paint the bottom of the mason jar to match your decor.
Kat and I also always keep disposable leftover containers handy so you can send your girl home with any extras from dinner!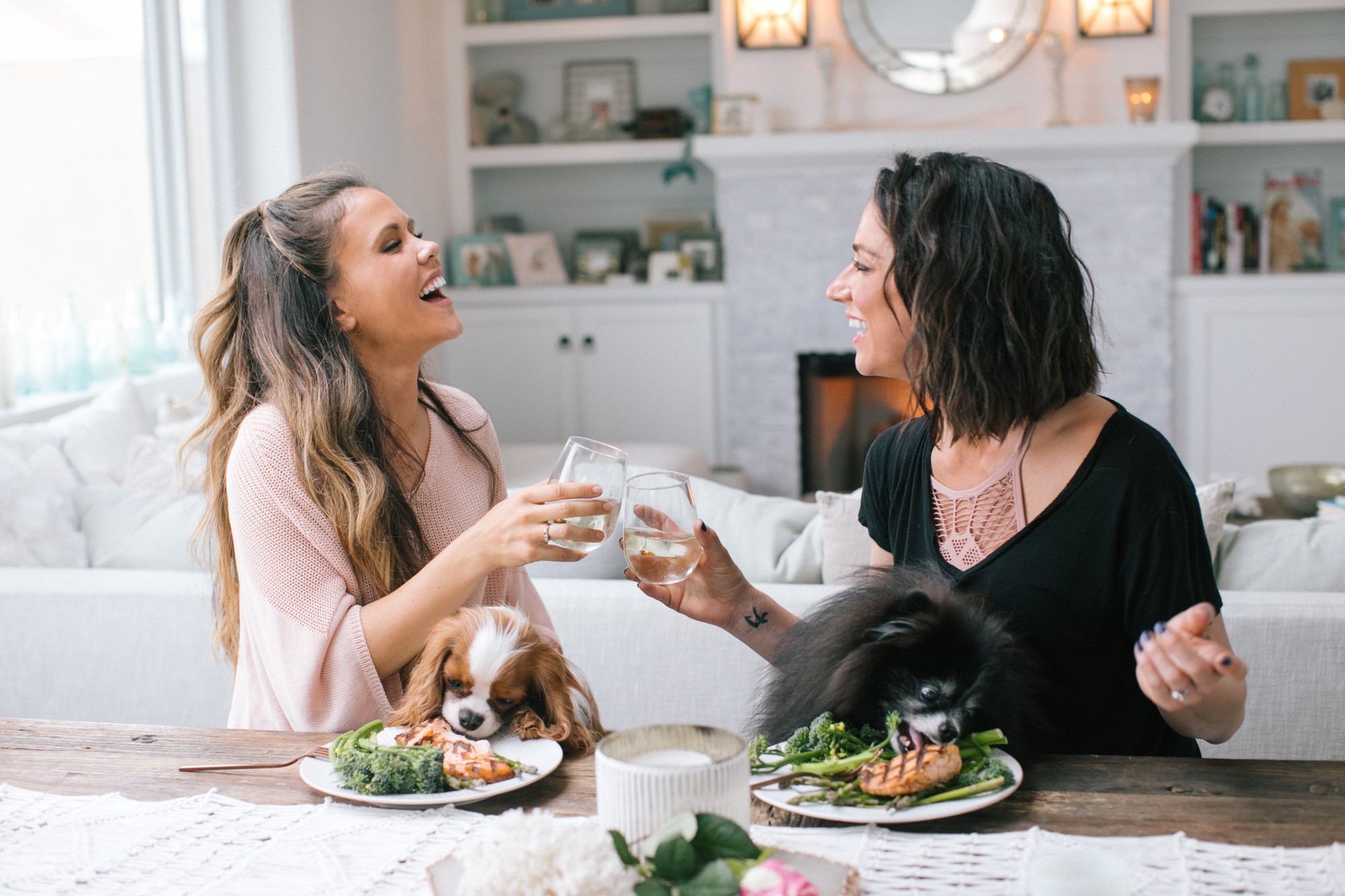 Relax & enjoy
This night is all about you and your girls relaxing, catching up, and connecting. Don't stress about the small details ~ or if your dogs decide to eat your dinner  😂 🐶

Mark more girl time on your cal! Make a date with your girlfriends or come independently to the Tone It Up Tour! It will be a dream day filled with workouts, braid bars, music, & rosé!