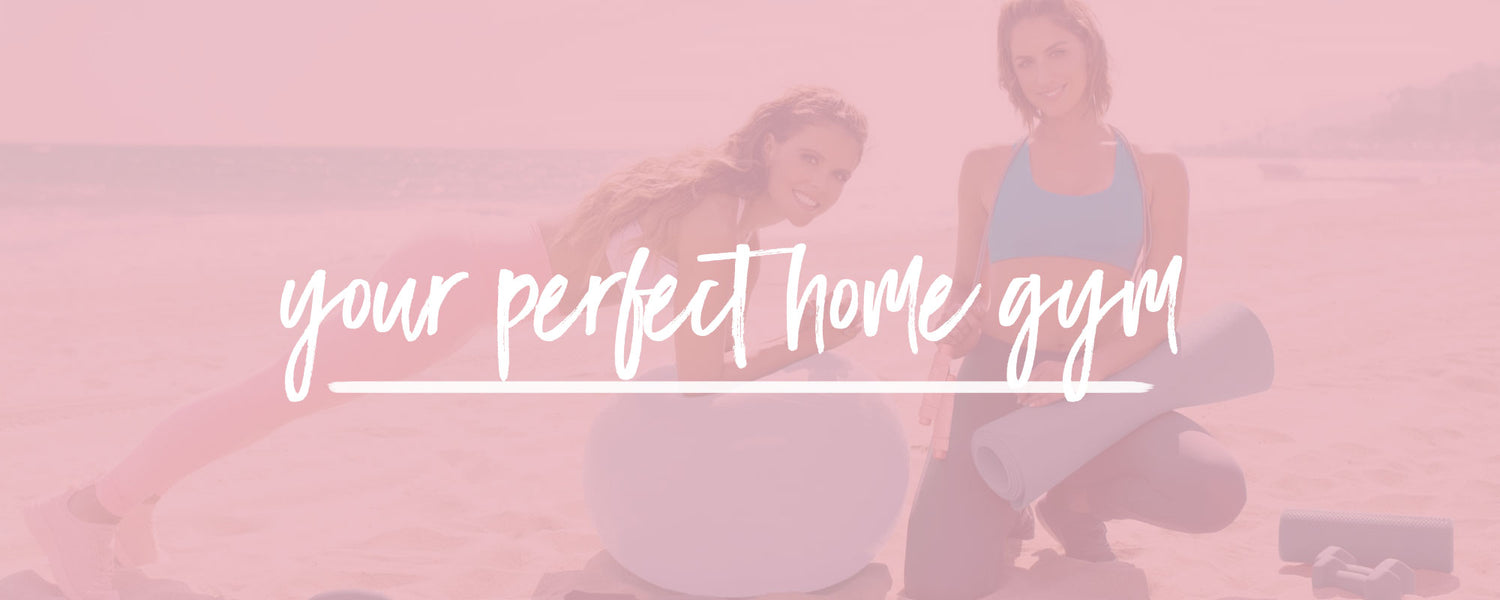 How To Build Your Perfect Home Gym
By Katrina Scott on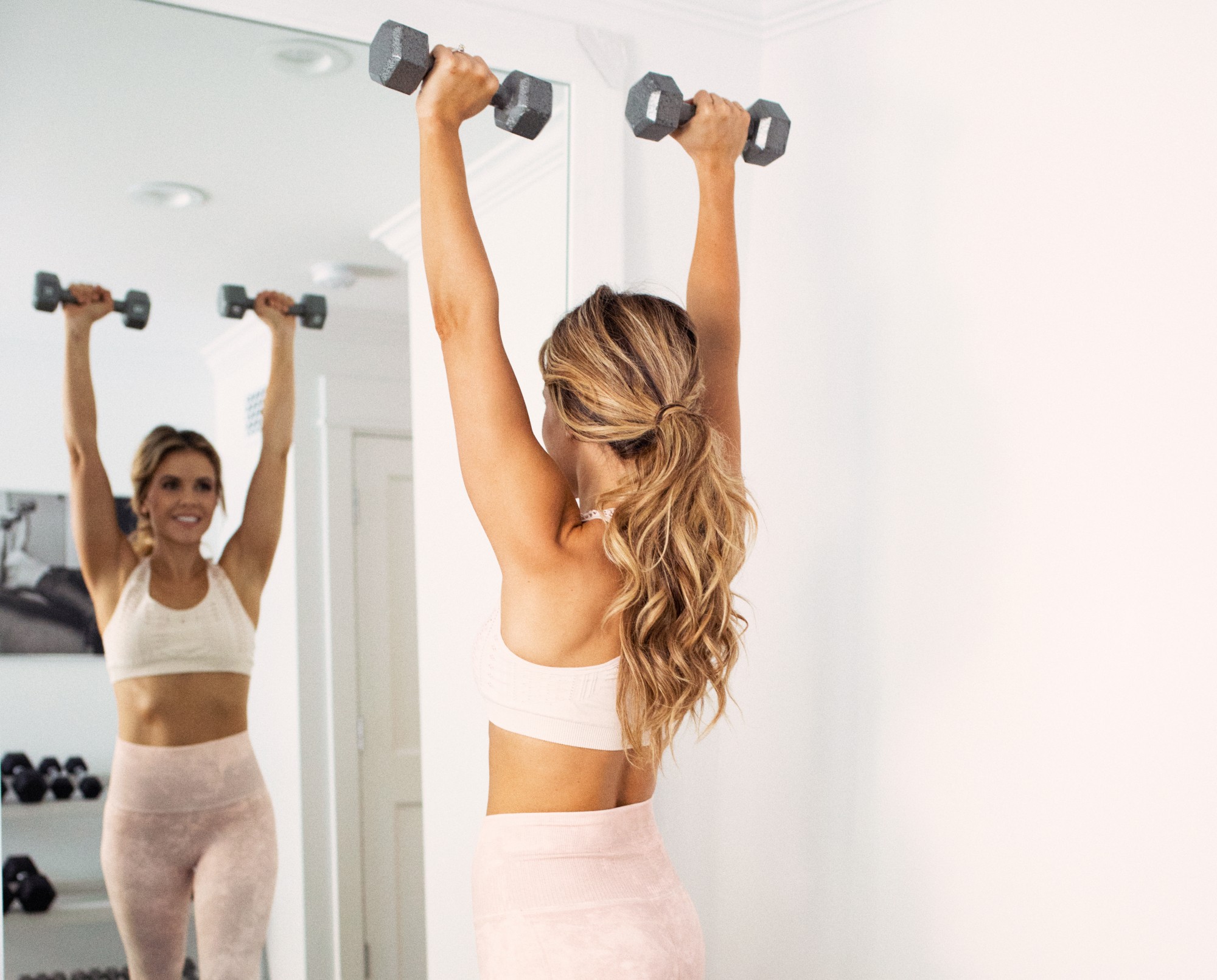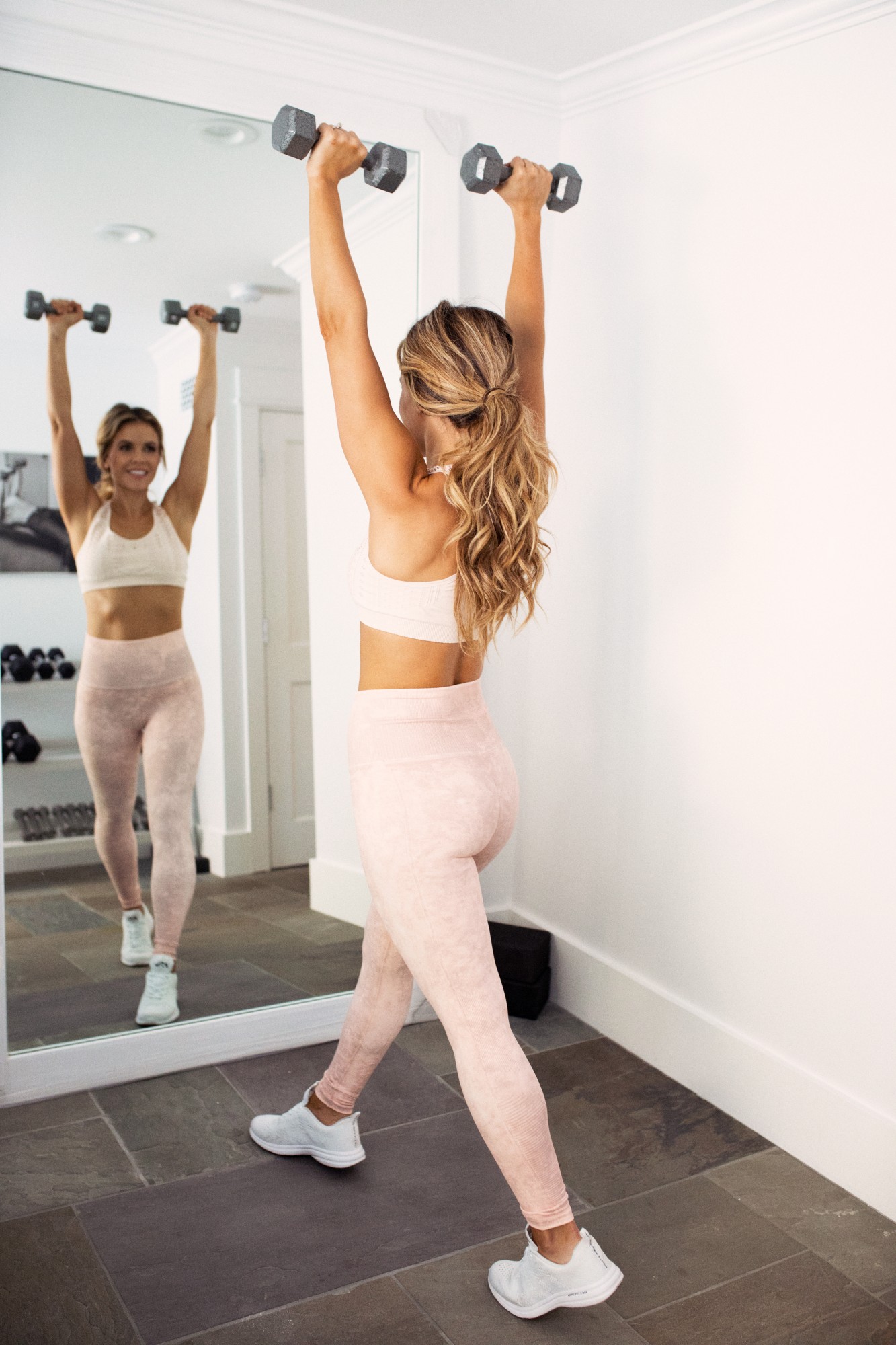 7 DIY Home Gym Tips for Every Woman
Hey babe! With all of us spending more time at home, now is a great time to set up a basic home gym to help you feel healthy, strong, and stick to your routine. It's the perfect place for squeezing in your Tone It Up app workouts and Toning Moves whenever you can fit them in — and getting started is super easy.
The amazing thing about having a home gym is you don't need a lot of space — you don't even need a room! The corner of your living room, office, or bedroom is perfect for a diy home gym, as long as it's a dedicated space just for you and your workout. Anywhere can be transformed into a space that motivates you and makes you feel amazing.
If you build it, you WILL do it! Fill the space with things you love, a few home gym basics, and make it your favorite area in the house! For extra motivation and energy for your workout, be sure to also try Tone It Up's delicious energy drink powder! Here are my 7 TIU home gym essentials that every girl needs — and remember to make it YOURS and add your own style and flair. ;)
xxo, Kat
1. Let's Work Out Together on Your Phone or TV
Step one to building your basic home gym is to make sure you have your phone or TV nearby. It's really all you need to get in the Studio with your girls! With the click of a button you can join us in Studio Tone It Up right from your phone. Sign up for class (there is a class every hour, on the hour so you can always find one that fits your schedule) and invite your girlfriends to take a class with you! You can also swipe through your Toning Moves in the Tone It Up App for free. I do 'em every day at home!
If you have a TV in your space, that's amazing too! Many of you have asked how to stream workouts on your TV and it's SO easy! Simply mirror to your Apple TV like my girl Angela seen above or connect your device to your TV with an HDMI cord.
The Tone It Up fitness app has all your home gym basics - you can join mediations, challenges, and most importantly, you'll receive amazing support from your TIU community!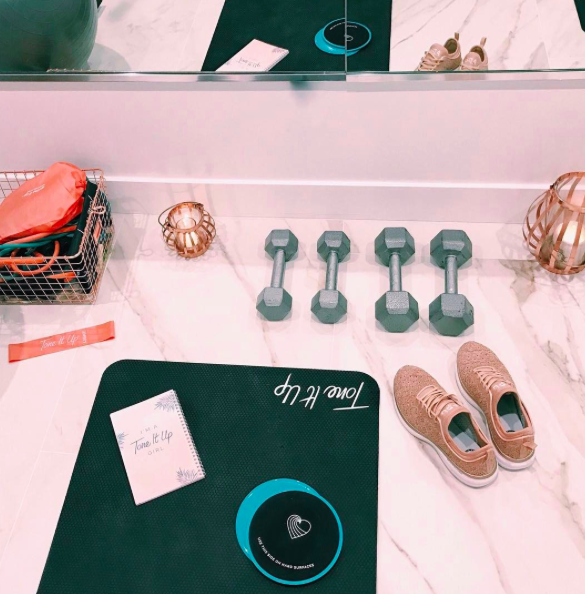 ✓ 2. Roll Out Your Mat
A yoga mat is definitely at the top our list of home gym essentials. Whether you choose an energizing HIIT class or a relaxing yoga session, a high-quality mat is a great way to offer your body support no matter where you're at. And if you're planning on getting sweaty, you might want to consider adding in a yoga towel to protect your mat and keep you from slipping
✓ 3. Booty Bands that Go Wherever You Go
We love booty bands and not just because they sculpt and tone your booty from every angle. They're lightweight and fit anywhere so you basically have the gym with you all the time. When it comes to inexpensive home gym equipment, be sure to add this one to your list!
Karena and I both keep these at home, at the HQ, and in our purses and gym bags. And we even put together our fave booty band moves for you so you can break in your diy home gym with some serious booty work!
✓ 4. Work that Core with an Exercise Ball
No basic home gym is complete without a versatile exercise ball. It's soooo amazing for sculpting your gorgeous core with this Beach Ballin' Workout, one of my faves the Bikini Series. It even doubles as a comfy replacement for a desk chair so there's no need to deflate it when you're done with your workout. Bonus ab work babe!
✓ 5. Pick Up Those Weights!
What simple home gym is complete without a couple sets of weights? They truly are the most essential piece of home gym equipment. And don't forget, you can also tone up with bombshell kettlebells and resistance bands, too!
We recommend having multiple sets of dumbbells for your toning workouts, toning moves, and drop sets. I like weights between 5 and 15 pounds, although everyone is different, so find the combo that works for you. If you want to grab 20's, get it GURLLL! To help you decide, we created this handy guide for which weights to choose.
We love using kettlebells because they add an extra total body toning element to every workout. Check out some of our fave kettlebell routines. And don't forget: kettlebell form is super important to protect your back and get the best results.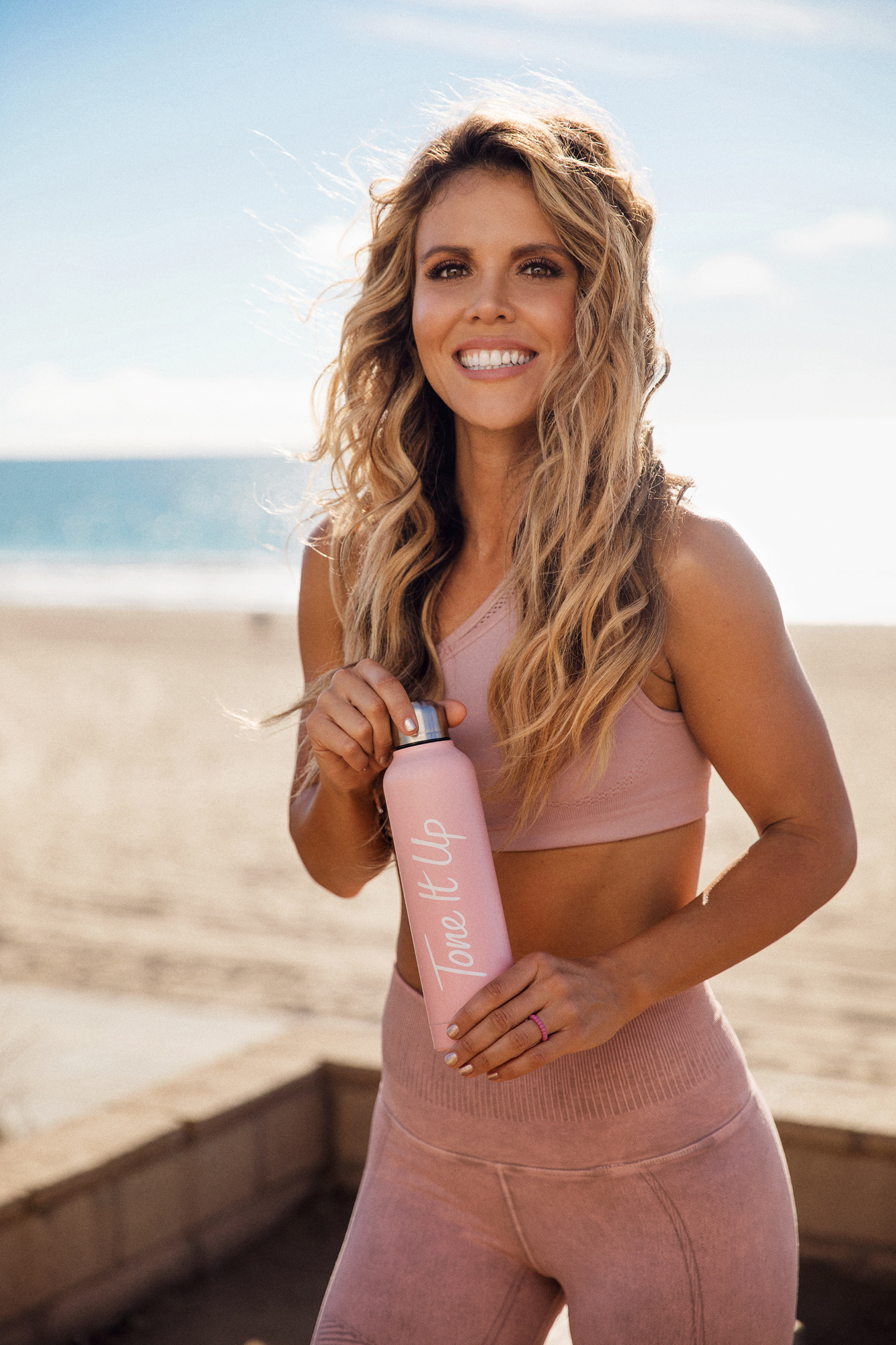 ✓6. Don't Forget Your Recovery
When you're making your list of home gym essentials, don't forget that your recovery is just as important as the workouts themselves. We love using a foam roller to help lengthen our muscles, boost circulation, and improve flexibility
No recovery, or workout for that matter, is complete without your water. Make sure that you're well-hydrated before and after your workouts.
And finally, make sure that you're getting proper nutrition to support all the amazing work goin' on in your home gym! Then give your body some post-workout love by whipping up a smoothie with protein powder, or add a scoop when baking your favorite healthy treats. If you're on-the-go and don't have time to make your own, grab a protein shake to quickly replenish your body.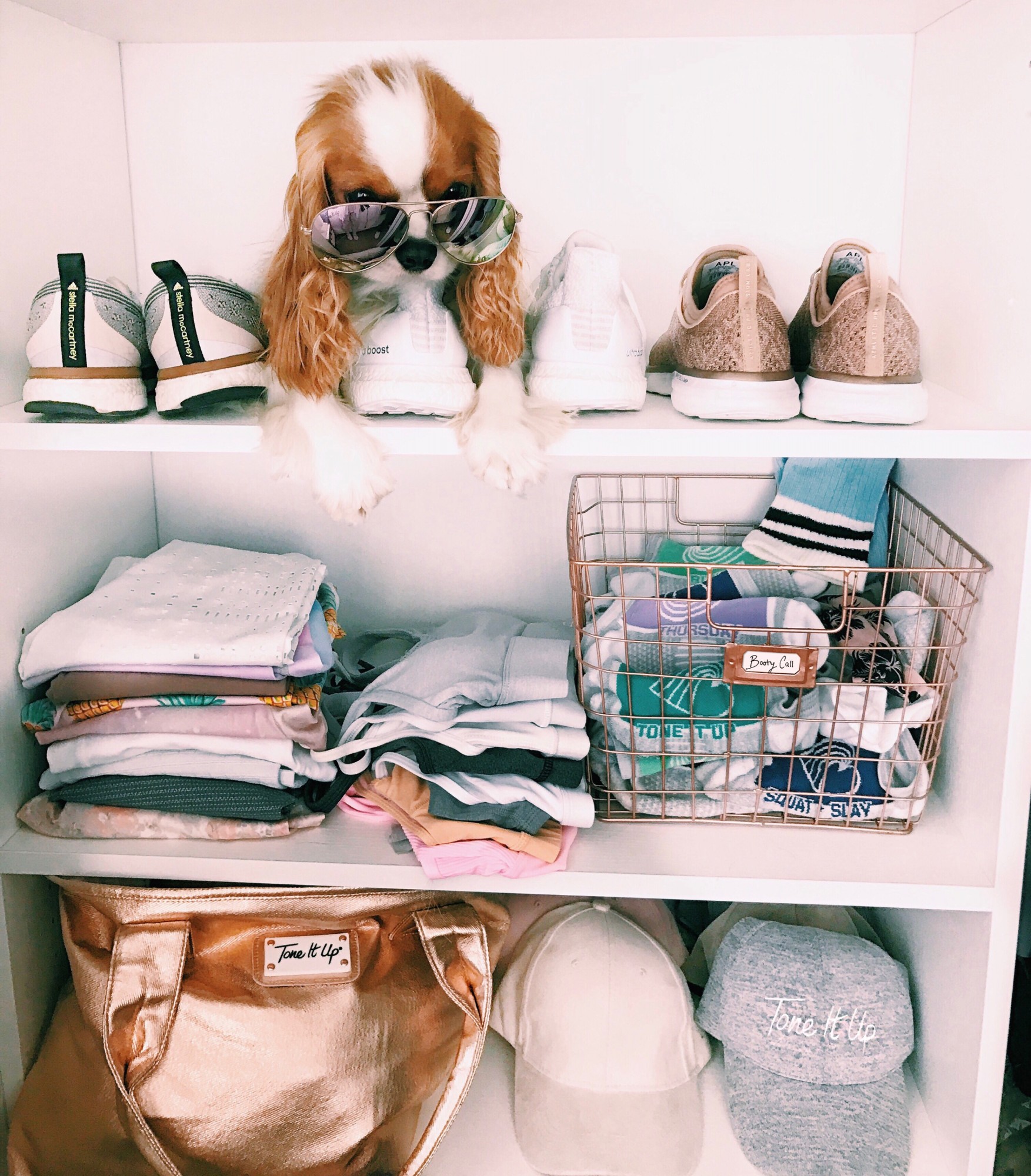 ✓7. Simple Home Gym Storage
One of the tricky parts about how to make an easy home gym, especially if you have limited space, is where to store your gear. Don't worry…we've got you covered
Here a few creative ways to story your home gym essentials when you're not toning up:
- Bins: Rather than just leaving weights and bands on the floor or scattered on a shelf, store them in a cute bin that's also functional, like the wire bins in the pic above. They can easily slide into a closet, cupboard, or right next to your fave books on the shelf.
- Over-the-Door Hooks: We love this tip because it's inexpensive and functional. You can hang workout clothing, bands, and towels on over-the-door hooks so they're quickly available when you need them and hidden when you don't!
- Ottoman: So many of you are getting your workouts in right in the comfort of your living room, so why not use your ottoman for some equipment storage? If you have an ottoman or trunk that opens up, place weights, bands, yoga mats, towels, and any other home gym basics inside for easy access!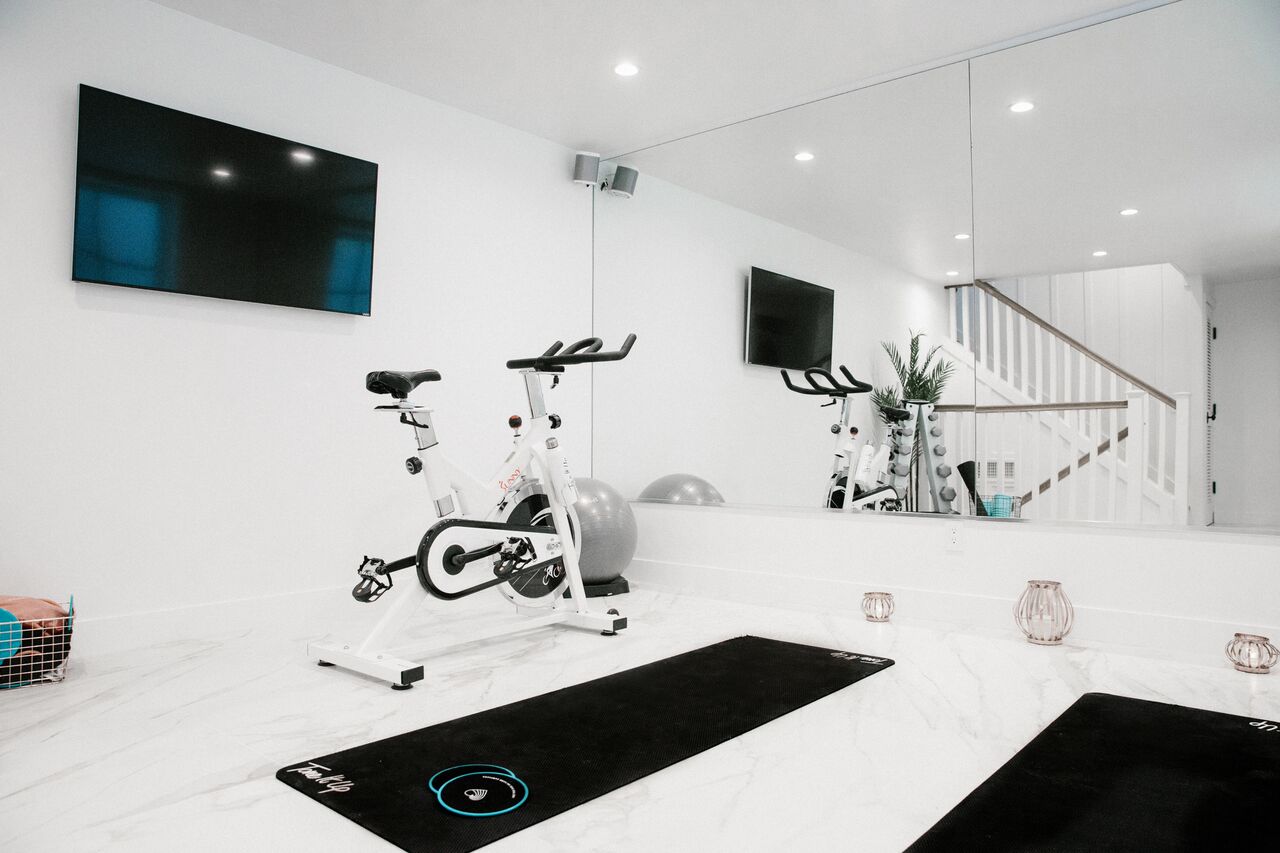 ✓We Want to See Your Home Gym!
Now it's your turn! We want you to share a pic of your space and tell us what your home gyms essentials are! If you're sharing on social, make sure to tag #TIUhomegym. And don't forget — no home gym is complete without the Tone It Up App! We're giving new members FREE access now through April 22nd to help you stay healthy, happy, and fit right at home. What better time to build out your diy home gym than now?!