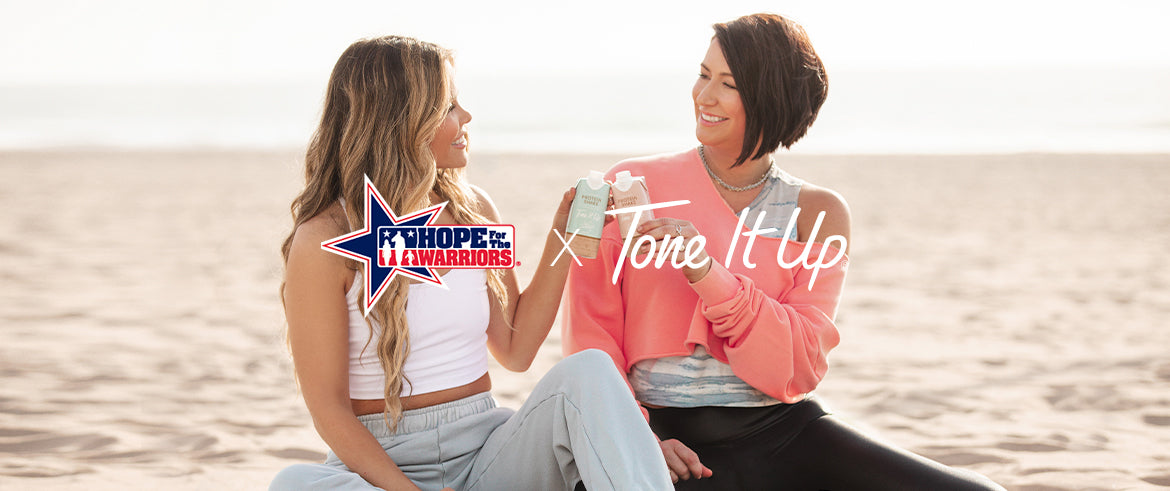 Honoring Our Country's Heroes!
By Tone It Up on
We teamed up with the nonprofit organization Hope For The Warriors to help support the families of wounded or fallen soldiers. On behalf of the Tone It Up Community, we're donating protein products and access to the Tone It Up App.
In honor of Memorial Day, we are honored to team up with Hope For The Warriors for the second year in a row, an organization that provides support to the families of fallen and wounded veterans. On behalf of the Tone It Up Community, we are donating product and access to the Tone It Up App to this organization's incredible community. We are so grateful to be able to provide encouragement and resources to some of the bravest men and women we know — our country's warriors. Hope For The Warriors believes physical and mental wellness are key to a fulfilling life, as well as building the resiliency we need to get through life's challenges. We are honored to help support them in this mission that aligns so closely with our own. 
This weekend and beyond, we stand with our country's warriors and the mission of Hope For The Warriors. 
Hope For The Warriors believes those touched by military services can succeed at home by restoring their sense of self, family, and hope. Nationally, Hope For The Warriors provides comprehensive support programs for service members, veterans, and military families that are focused on transition, health and wellness, peer engagement, and connections to community resources. They work to help shape a life of passion, purpose and value to society by providing resources that promote well-being, financial stability and community connection. You can learn more about their amazing organization by visiting hopeforthewarriors.org. 
Hope is not only what they provide, but it's the heart of who they are. And it's exactly what the world needs now, more than ever. Our friends at Hope For The Warriors put remembrance into action by supporting the greatest legacy that our heroes leave behind — their families. 
Since its founding by military spouses in 2006, Hope has transformed the lives of more than 36,000 individuals. Active duty. Veteran. Military spouse. Caregiver. Military kid. Families of the fallen. All are a part of the warrior community they serve.
This weekend, our country remembers the fallen. We remember their names and we remember how important it is to live each day to the fullest in their honor. 
You can watch this video to honor and remember the Fallen this Memorial Day. 
We are so honored to share this organization with you and have the opportunity to work with them again. Share with your loved ones ~ those who may need or want to offer support! It's so important to give back and Hope for the Warriors does every single day. Learn more or how to donate yourself here! Thank you Hope For The Warriors for all that you do!