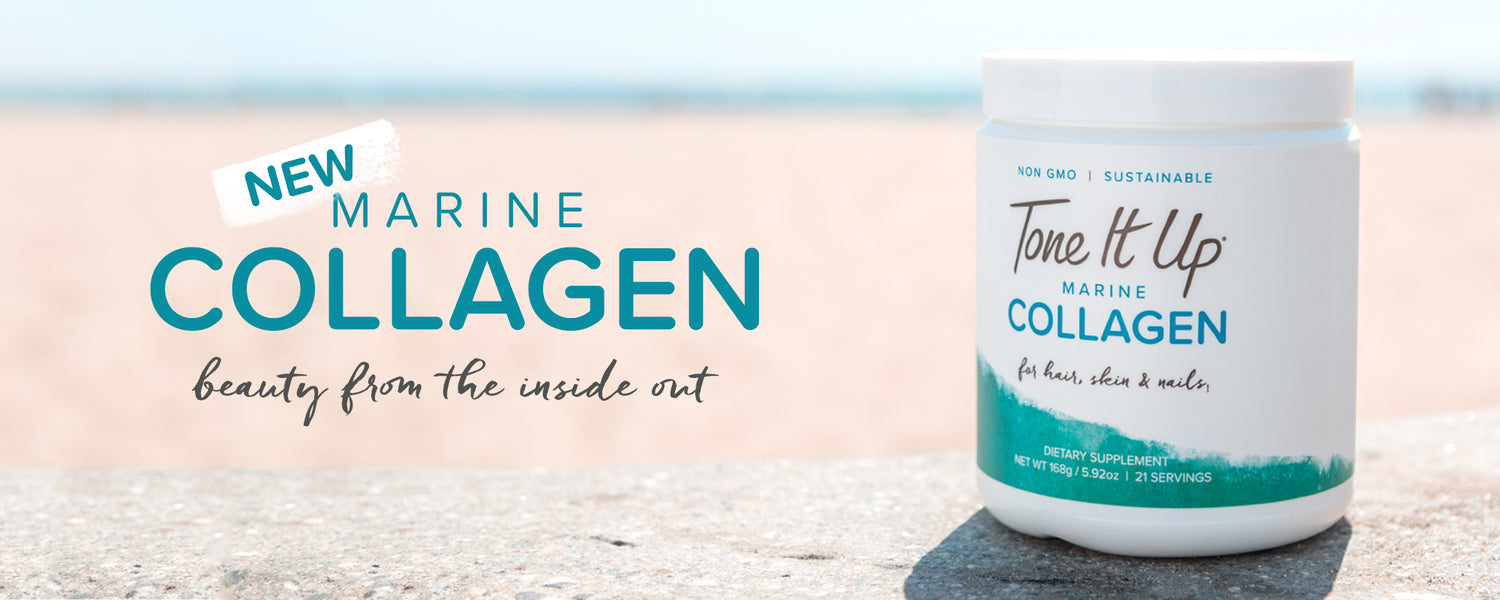 Get Glowing With Tone It Up Collagen ~ All The Beauty Benefits!
By Katrina Scott on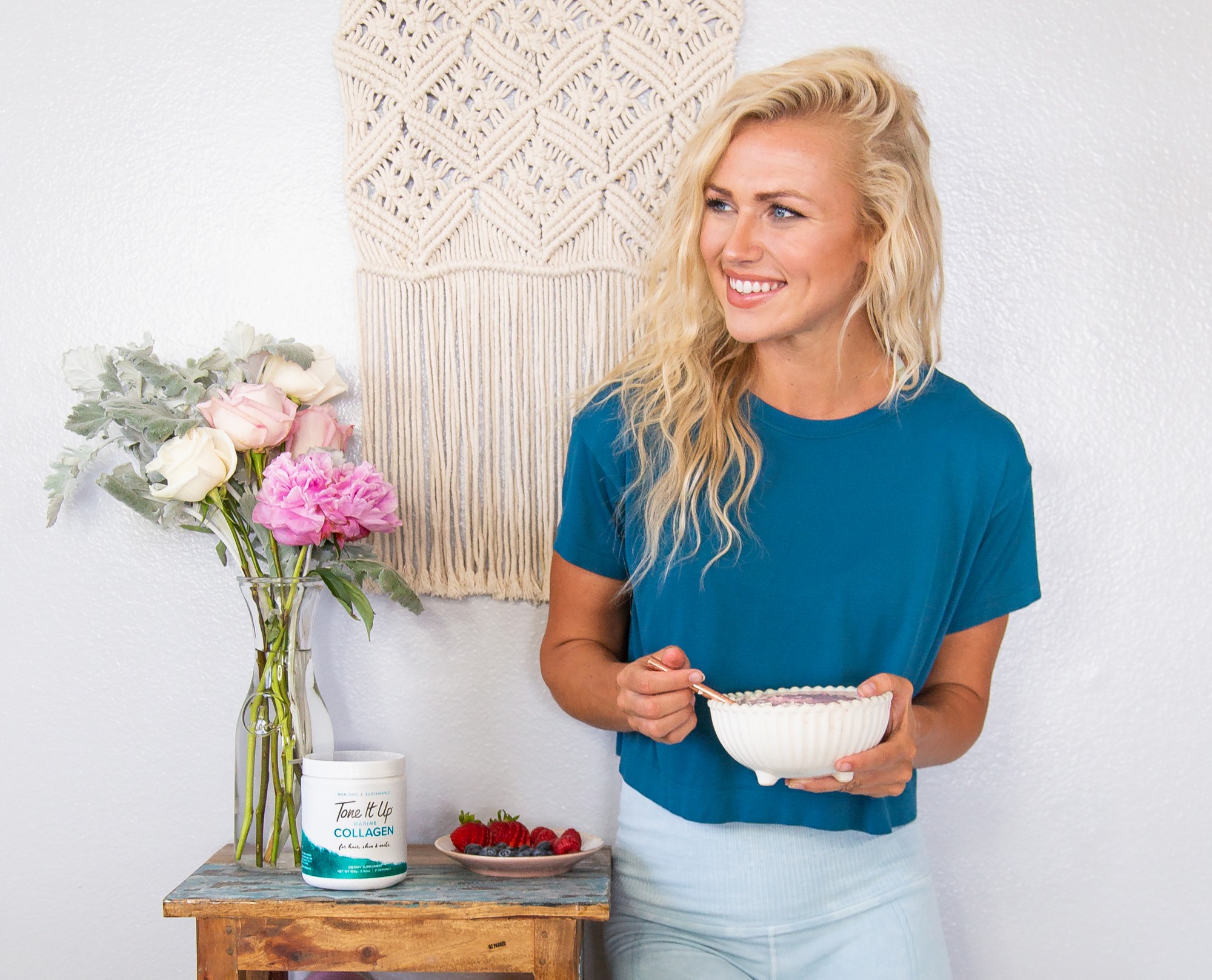 Hey babe! We hope you're having a beautiful morning! ICYMI last week…Karena and I have some BIG news for you! Your Tone It Up Marine Collagen Powder is finally here!!! Beauty starts from within, so we created your very own collagen so we can all get glowing together! ✨ Get yours!
Lately, there's been a lot of buzz and excitement around collagen, and here's why...IT WORKS!!!  Today we're sharing all the important details about collagen, from its top beauty-boosting benefits to our fave ways to enjoy it! You're going to LOVE it! Here's everything you need to know!

So What Is Collagen Anyway?
Many of you have probably seen or heard of collagen facial treatments, but did you know collagen is the most abundant structural protein inside our bodies? Think of it as the glue and scaffolding that hold everything together! It actually makes up 1/3 of the protein in our bodies. Your hair, skin, nails, and all connective tissue all need a healthy supply of collagen to stay strong, flexible, and youthful.**
"As we age, our collagen levels naturally decrease, and we can start to gradually see and feel the effects on the health and youthfulness of our hair, skin, and nails and feel it in our bones and joints."** says our Registered Dietitian Lori Zanini. "Introducing collagen peptides into your lifestyle will help you easily replenish this deficit, boosting levels in a matter of weeks due to their highly bioavailable characteristics."** Translation: hellloooo gorgeous, you've found your fountain of youth beauty benefits!**
Why Marine Collagen?
A little background for ya — there are different types of collagen, each with different benefits, amino acid profiles, and compositions, and we chose marine collagen specifically because it's most beneficial for busy bombshells like you. Compared to bovine collagen or gelatin (which comes from cattle), marine collagen from fish is much more bioavailable, meaning it's absorbed and utilized by our bodies more efficiently because it's made of smaller hydrolyzed peptides that can get where they need to go faster.** In fact, marine collagen is absorbed into our bodies up to 1.5 times faster than bovine collagen.** In addition, marine collagen is packed with the beauty-boosting amino acids glycine, proline, and hydroxyproline, which are all essential for supporting hair, skin, nail, and joint health.**
Tone It Up Marine Collagen is also non-GMO, gluten free, Kosher, contains no sugar or sweeteners, and is sustainably sourced.
Some of you girls have also been asking if there's plant-based collagen. Collagen does not naturally exist in plants, but there are plant-based options available that help support your existing collagen levels. Keep in mind, your collagen levels naturally decrease over time if you are not adding it into your lifestyle.**

Collagen's Amazing Benefits!!!
The Ultimate Beauty Booster
Collagen is packed with a unique combination and concentration of amino acids that support gorgeous and healthy skin, hair, and nails. ** "Collagen can help naturally plump up and moisturize our skin to provide volume that will reduce signs of aging like wrinkles and fine lines," ** Lori says. Oh heyyyy gorgeous! 😉
Marine Collagen Supports and Promotes**:
Youthfulness & Beauty from within**
Strong, Radiant Hair**
Glowing Skin**
Healthy, Strong Nails**
Improved Skin Elasticity & Hydration**
Bone & Joint Health**
Digestive & Gut Health**
Healthy Collagen Levels**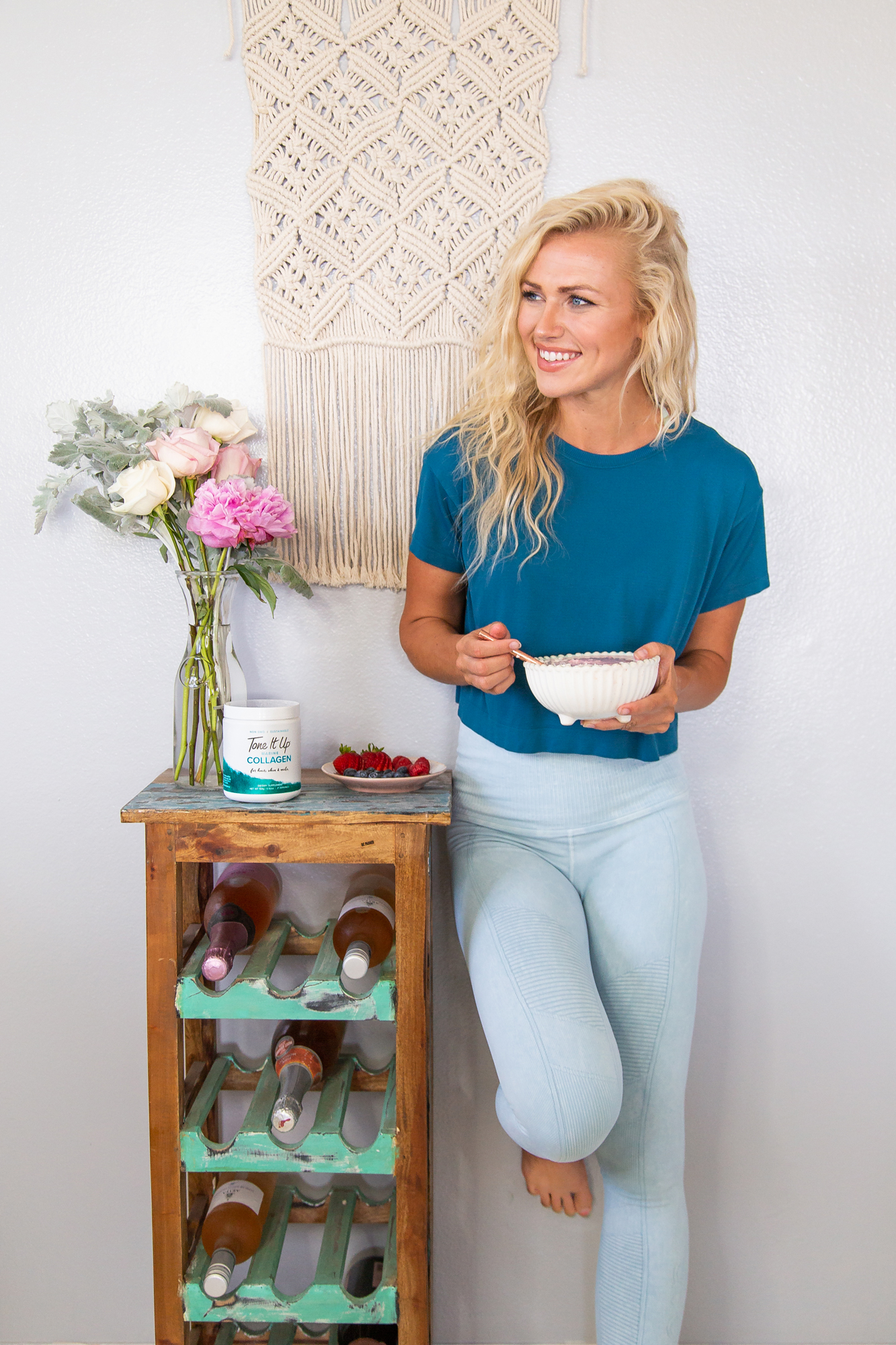 You Can Add It To Errrything!
Tone It Up Collagen is completely tasteless, odorless, and SO versatile! Tone It Up Collagen is not a replacement for your delicious protein smoothies, pancakes, and muffins ~ it's actually a BOOSTER for them. Now, you can turn any recipe into a beauty (and booty) boosting treat! Here are some of our fave ways to enjoy it ~
✓ Mix into hot or cold drinks! Coffee, smoothies, or just almond milk! Also, try our collagen creamer mixed into your coffee for a creamy collagen boost!
✓ Add to your fave baked goods ~ donuts, muffins, pancakes, cookies, you name it!
✓ Stir into your overnight oats or morning parfaits!
Karena and I have been experimenting with so many new collagen recipes. I whipped up this Strawberry Piña Colada Bowl! It's the perfect beauty boost in my favorite recipe!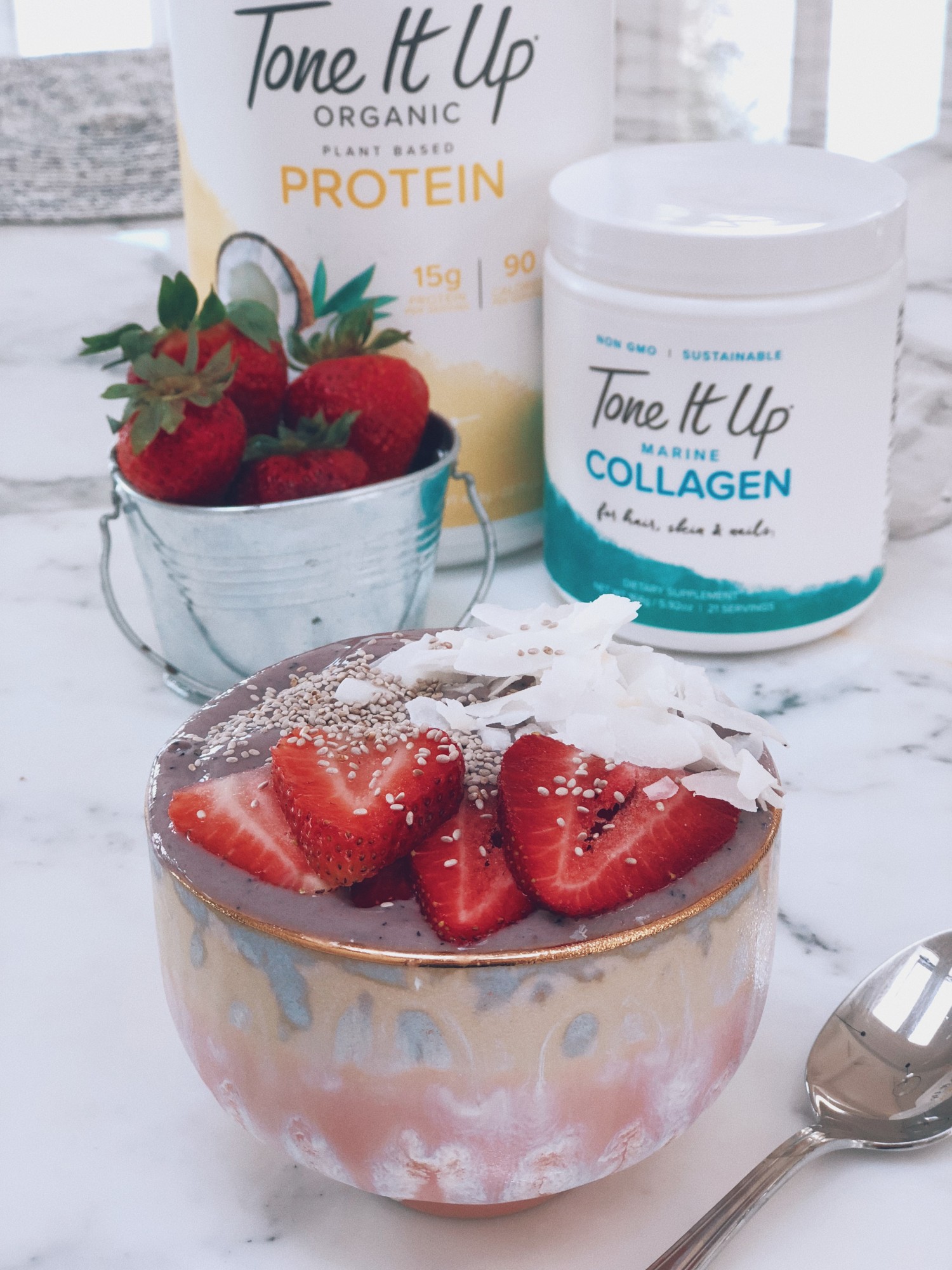 Ingredients: 
1/2 frozen banana
Handful frozen pineapple
1 scoop Tone It Up Protein
1 scoop Tone It Up Collagen
5 strawberries + optional blueberries
1 Tbsp. coconut shavings
1 cup almond or coconut milk
Holding off on the rum for now 😉
Directions: 
Blend & enjoy!!!
And we have new fall collagen recipes comin' for ya in your 31 Day Challenge Meal Plan. Hint hint…dark chocolate collagen bark and spiced cocoa! 😋

It's Perfect In Your TIU Lifestyle
You're already feeling amaaaazing from eating Lean, Clean, 'N Green with your Tone It Up Nutrition Plan. Marine Collagen is the perfect lil' boost to complement your healthy lifestyle.
"There are many things about the TIU lifestyle and Nutrition Plan that already promote anti-aging, like the high amount of antioxidants that help to reduce free radicals and inflammation," Lori says. "So adding marine collagen is a natural and complementary addition since it's an excellent, easily absorbed protein source that will provide even more health benefits to the already well balanced, energizing TIU plan!"
We love mixing it with our Tone It Up Protein too! The amino acid profile of Tone It Up Marine Collagen is different than the profile of your daily protein powder, so they team up to help you feel your best! For a collagen and immunity boost, also try our new vitamin C collagen powder!
We can't wait for you to try your Tone It Up Collagen! Grab yours below and share your collagen creations with us on Insta #TIUCollagen!!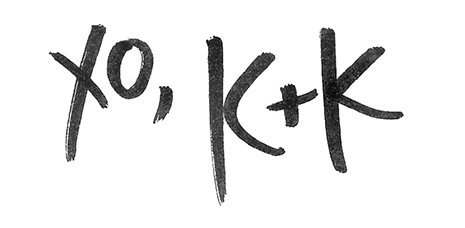 **These statements have not been evaluated by the Food and Drug Administration. This product is not intended to diagnose, treat, cure or prevent any disease.