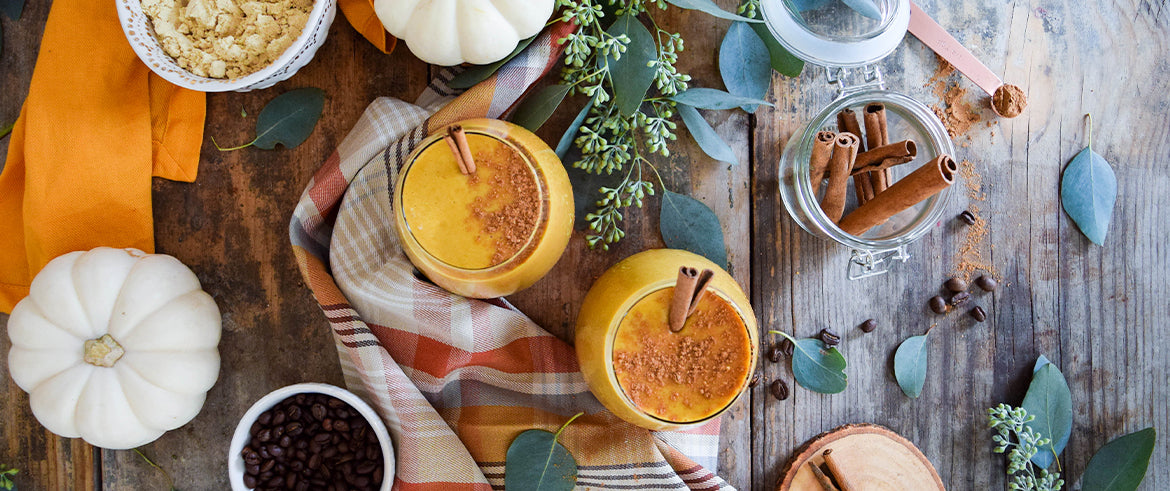 Fresh Seasonal Produce You'll Fall For
By Tone It Up on
It's almost fall y'all! One of our favorite parts about this season — besides the cozy sweaters and fall-scented candles of course — is all the fresh seasonal produce. Fall meals always feel so warm and comforting! 
Today we're sharing five of our favorite fall foods, their benefits for your beautiful body, and how to make them with easy recipes from the TIU app. You'll fall in love with these delicious dishes 💛 🍂
---
Pumpkin
It wouldn't be fall without pumpkin! Pumpkin is packed with vitamins A and C, which can help boost your immune system. It also delivers tons of antioxidants like alpha-carotene and beta-carotene. These have been shown to reduce free radicals in the body, protect against disease, enhance eyesight, and even shield your skin from sun damage.  
Try It In:
Pumpkin Spice Smoothie Recipe
Makes 1 serving
INGREDIENTS
1 scoop

vanilla Tone It Up Protein

1 banana

1 Tbsp. natural almond butter

1 cup unsweetened almond milk

¼ cup pumpkin puree

2 Tbsp. rolled oats (gluten-free if you'd like!)

Dash of cinnamon

Dash of pumpkin spice
DIRECTIONS
  Combine all ingredients in a blender and blend until smooth.
Apples
Apples are filled with fiber and water, making them extra satisfying. In a study, people who ate apple slices before a meal felt more satisfied and ate less. Apples have also been linked to lower blood pressure and enhanced heart health, thanks to their soluble fiber and the polyphenols found in their peels. We love 'em as a satisfying snack with a sprinkle of cinnamon or 1 Tbsp. almond butter. 
Try Them In: 
Baked Apples Recipe
Makes 3 servings
INGREDIENTS
3 large apples, peeled and sliced

1 tsp. coconut oil, melted 

2 tsp. cinnamon

1 tsp. nutmeg

Coconut oil spray
DIRECTIONS
Preheat oven to 350 degrees.

Spray a large baking sheet with cooking spray.

In a large bowl, combine all ingredients in and mix.

Layer the apples on the baking sheet and cook for 20 - 25 minutes or until golden brown.

Add to your oatmeal for breakfast or yogurt for a snack!
Squash 
Squash is an amazing source of vitamin C and beta-carotene, which keep your immune system strong and help protect against illness. Squash is also rich in vitamin B6, a known mood booster! 
Try Them In: 
Fall Harvest Tray Bake Recipe
Makes 2 servings
INGREDIENTS
1 small delicata or acorn squash, cut crosswise into 1-inch thick rings, strings and seeds removed

1 cup (about 16) baby carrots

1 bunch lacinato kale, cut into 2-inch pieces

1 red bell pepper, stem and seeds removed, cut into 1-inch pieces

½ red onion, cut into 1-inch-thick wedges

2 cloves garlic, minced

2 Tbsp. olive oil

1 tsp. fresh thyme leaves

¼ tsp. salt

⅛ tsp. ground nutmeg

Pinch of red pepper flakes

¼ cup pomegranate arils

1 Tbsp. pumpkin seeds

1 tsp. sesame seeds

8 oz (4 oz per serving) prepared lean protein of your choice, such as chicken, salmon, or tempeh
DIRECTIONS
Preheat the oven to 400 degrees.

In a large mixing bowl, toss together squash, brussels sprouts, carrots, kale, bell pepper, onion and garlic with olive oil. Season with thyme, salt, nutmeg, and red pepper flakes. Spread the vegetables out on a rimmed baking sheet. Pick out the kale pieces and set aside for now (they take less time to cook).

Bake for 20 minutes, until veggies are tender.

Add the kale to the tray and bake for another 6 to 8 minutes.

Remove vegetables from the oven, sprinkle with pomegranate arils, pumpkin seeds, and sesame seeds and serve with your favorite protein.
Figs 
Figs are high in fiber and deliver prebiotics to promote gut health and digestion. They're also a powerful source of calcium — studies suggest they contain 3.2 times more than other fruits — so they'll keep your bones strong.  
Try Them In: 
Figgy Overnight Oats
Makes 2 servings
INGREDIENTS
1 cup unsweetened plant-based milk 

⅔ cup gluten-free rolled oats 

1 scoop

chocolate Tone It Up Protein 

2 fresh figs, sliced 

1 Tbsp. chia seeds 

1 tsp. honey or maple syrup 
TOPPINGS
(per 1 serving) 
2 Tbsp. nonfat Greek or coconut yogurt 

1 fig, quartered 

1 tsp. chopped pistachios 

1 tsp. cacao nibs

 
DIRECTIONS
Combine milk, oats, protein powder, figs, chia seeds, and honey in a bowl; mix well. 

Divide the mixture into two mason jars, cover, and refrigerate overnight. 

To serve, top with yogurt, figs, pistachios, and cacao nibs.
Beets
Beets can actually help you rock your TIU workouts! The nitrates in beets have beens shown to enhance athletic performance by improving the efficiency of mitochondria, which are responsible for producing energy in your cells. Studies also show that beets can reduce inflammation in the body. Those benefits can't be beat ;) 
Try Them In: 
Beet & Cauliflower Soup
Makes 2 servings
INGREDIENTS
1-2 Tbsp. olive or avocado oil

1⁄2 onion, diced

2 celery stalks, diced

2 small carrots, peeled and diced

2 garlic cloves, minced

1⁄2 head of cauliflower (about 12 oz.), trimmed and diced

1 cup fresh beets, peeled and chopped

1⁄2 tsp. ground coriander

1⁄2 tsp. ground cumin

1⁄2 tsp. paprika

2 cups low-sodium vegetable broth

Sea salt and pepper to taste 
 DIRECTIONS
Add oil to a stock pot or dutch oven over medium heat.

Add onion, celery, and carrot and season with a pinch of salt and  pepper. Sauté for a few minutes until onions start to become translucent.

Add garlic, cauliflower, beets, coriander, cumin, and paprika. Sauté for a few more minutes, until cauliflower and beets start to become tender.

Add vegetable broth and bring to a simmer.

Once vegetables are tender, add the soup mixture to a high-speed blender. Blend until smooth.

Season with salt and pepper and enjoy! 
---
One thing you'll need to whip up these recipes...Tone It Up Protein! Grab yours at Target, H-E-B, Vitamin Shoppe, and Kroger (and Kroger affiliates including King Soopers, Fred Meyer, Mariano's, Dillons, Smith's, and Fry's). You can find a store near you HERE! You can also stock up in the TIU Shop!