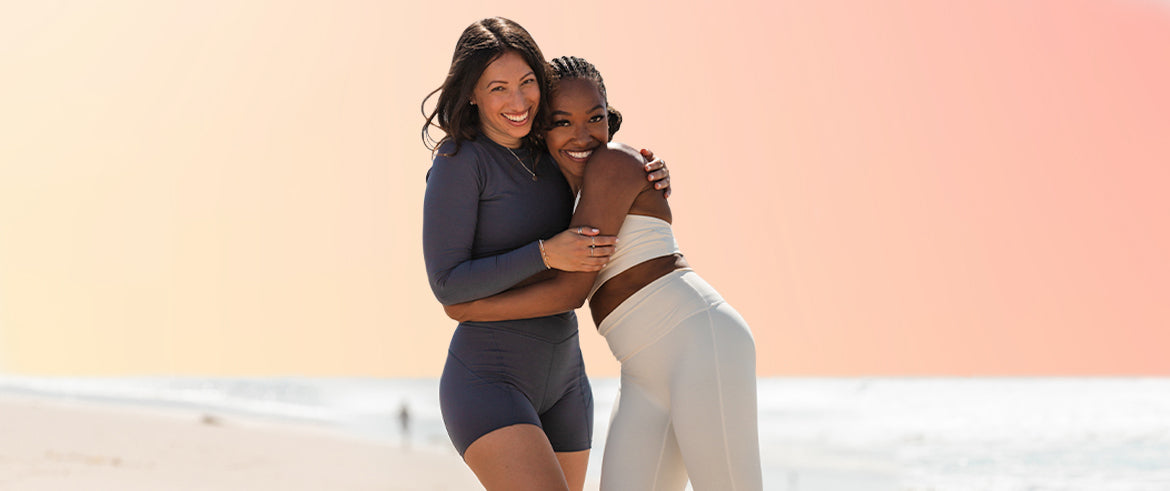 MADE SPECIFICALLY FOR WOMEN
By Tone It Up on
The mission of Tone It Up is to help incredible women like you live your healthiest, happiest, most confident life in the most fun, easy, and accessible way possible. When Karena and I first founded Tone It Up in 2009, there weren't a lot of fitness or nutrition brands made specifically for women that were positive or authentic. So we set out to change that.
Tone It Up is one of the only female-founded nutrition companies created for women, by women. This is the heart and soul of what we do! Karena and I created your Tone It Up Protein and nutrition products for the exact same reason — to serve YOU and what you need as a woman! 
Let's take a few minutes to reflect on the WHY behind your protein.
Taking it back to the very beginning
When I was a teenager, one of my first jobs was at the nutrition store, GNC. I watched as mostly men walked through the doors to buy big tubs of protein powder created just for them. There were some protein brands targeted toward women, but when I looked into them, I realized that they were all created by men and the ingredients didn't serve a woman's body.  I was a science nerd and obsessed with nutrition— I experimented with protein in the kitchen too, making pancakes, muffins, donuts, and cookies, but I knew instinctively that something was missing. 
Fast forward to 2009, we were still asking ourselves, "Why isn't there a protein out there for women?"
Created for the Tone It Up community 
The first time Karena and I went out together, I made her a protein pancake when we got home and it was love at first bite! Soon after starting Tone It Up, we shared the recipe and more protein-based treats with the TIU community.
Very quickly the community started asking, "What's your favorite protein? What kind should we use?" We did so much research and found that there STILL wasn't a high-quality, honest, healthy, clean protein out there that we trusted to recommend to our community. So with the help of our team at the TIU HQ and my husband Brian, we created the very first Tone It Up Protein! 
That was the beginning of Tone It Up Nutrition We've grown and evolved since then, and now you can find lots of options for Tone It Up Protein and snacks in the aisles of your favorite stores including Target, Walmart, CVS, Kroger, HEB, and more! 
Through it all, our vision has always been the same— we're committed to bringing you the BEST plant-based protein, the highest-quality ingredients, and the protein powder, bars, and snacks that love and trust. 
For women, by women 
We created your Tone It Up Protein with the exact ingredients, nutrition profile, and amount of protein to fuel a woman's body. (Learn more about how Tone It Up Protein is different here). So many brands on the shelves say they are for women, but when you flip over the label and look at the ingredients and who makes them, they really aren't tailor made for you. 
When you see Tone It Up Protein in the aisles, you can feel good knowing that you will have exactly what you need — and nothing you don't — to feel fueled, energized, healthy, and strong. You'll also know that you're not only supporting yourself and your health, you are supporting a female-founded company and all the incredible women who work there. You are investing in yourself AND standing with other strong women like you. How amazing is that?!
We are honored to create Tone It Up Protein for you and to continue to serve you however you need. You're our WHY…always!
Want to learn more about why Tone It Up Protein is right for you? 
Check out this post to learn why Tone It Up Protein is plant based, why we chose pea protein instead of whey, and the exact right amount of protein to fuel your body. 
Ready to stock up?!
You can grab your Tone It Up Protein in the TIU shop here and in the aisles of Target and Walmart.