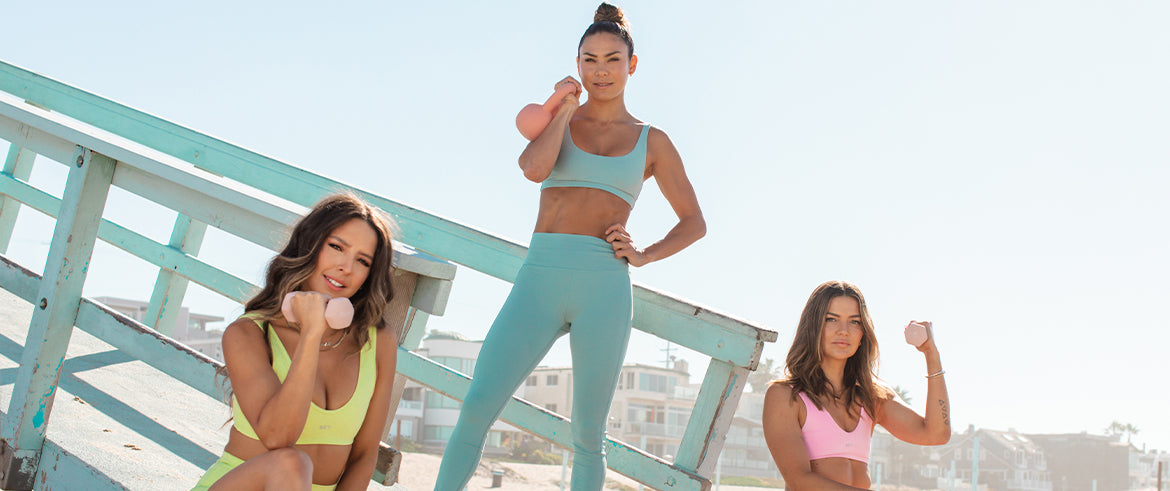 Find Your Confidence With Our New Two-Week Full-Body Program
By Tone It Up on
Hey girl, what are you doing for the next two weeks? Oh right! Your Full Body Blast program!! For anyone who is looking to boost their fitness, feel strong and powerful, and wants a 14-day workout plan that's anything but boring, we have the perfect mix of routines for you!
Your two-week Full Body Blast program, available in your Tone It Up app September 6th, has everything you want from your workouts: energy, a good sweat, a challenge that's scaleable, and motivation to keep you moving! 
Sign Up For Full Body Blast Today!
What To Expect From Full Body Blast
This program has the perfect mix of training modalities, including strength training, HIIT, Pilates, and yoga! You'll also find workouts that target your muscles from head to toe, and other routines that focus on upper or lower body, or ones that zero in on your core! Follow the entire program, and you will definitely hit every muscle of your body multiple times and in new, fun ways! 
Each workout in Full Body Blast is GIF-based, so you always have the option to pause the moves for more rest time or skip those recovery breaks if you're feeling good! This program is all about feeling your best, fittest self, so whatever helps you get there, go for it!
All you have to do is sign up for the program and you get 14 workouts to follow for each day of the 14-day program. While you'll definitely feel challenged and get a good sweat, we programmed in active recovery days via yoga and stretching so you can show your body some love for pushing through all the hard work! Plus, those lower intensity workouts give you a chance to focus on your mindset and the present moment so you remember why you're doing this amazing program in the first place! Tap into that "why" whenever you need a push to hit play.
To top it off, you'll follow along with some of your favorite TIU trainers, including Natasha, Dalia, Bec, Stef, Alexandra, Amber, and Yami! Each person brings their expertise to every single workout so you feel inspired and motivated to keep working hard and crushing each exercise! The trainers mix in different equipment too, from dumbbells and booty bands to Pilates gear, so you find new ways to tap into your strength and stamina. 
Sign Up for Full Body Blast Today!
Get Fit in 2 Weeks With Us!
We want you to push your limits through each of the workouts on this plan, which last 30 minutes or less! When there are intervals, try to turn up your intensity by working a little faster, a little harder. When there's weight training on deck, grab that heavier dumbbell and nail your form! When you hit play on Pilates and yoga, remember to breathe deep and stay connected to your body in the present moment. 

We want you to end this program feeling your BEST, so let's get it done TOGETHER! Don't forget to check in with us on social media using #TIUteam, and post all those sweaty photos! We can't wait to move together, girl!! Let's go!
Love,
Your Tone It Up Trainers