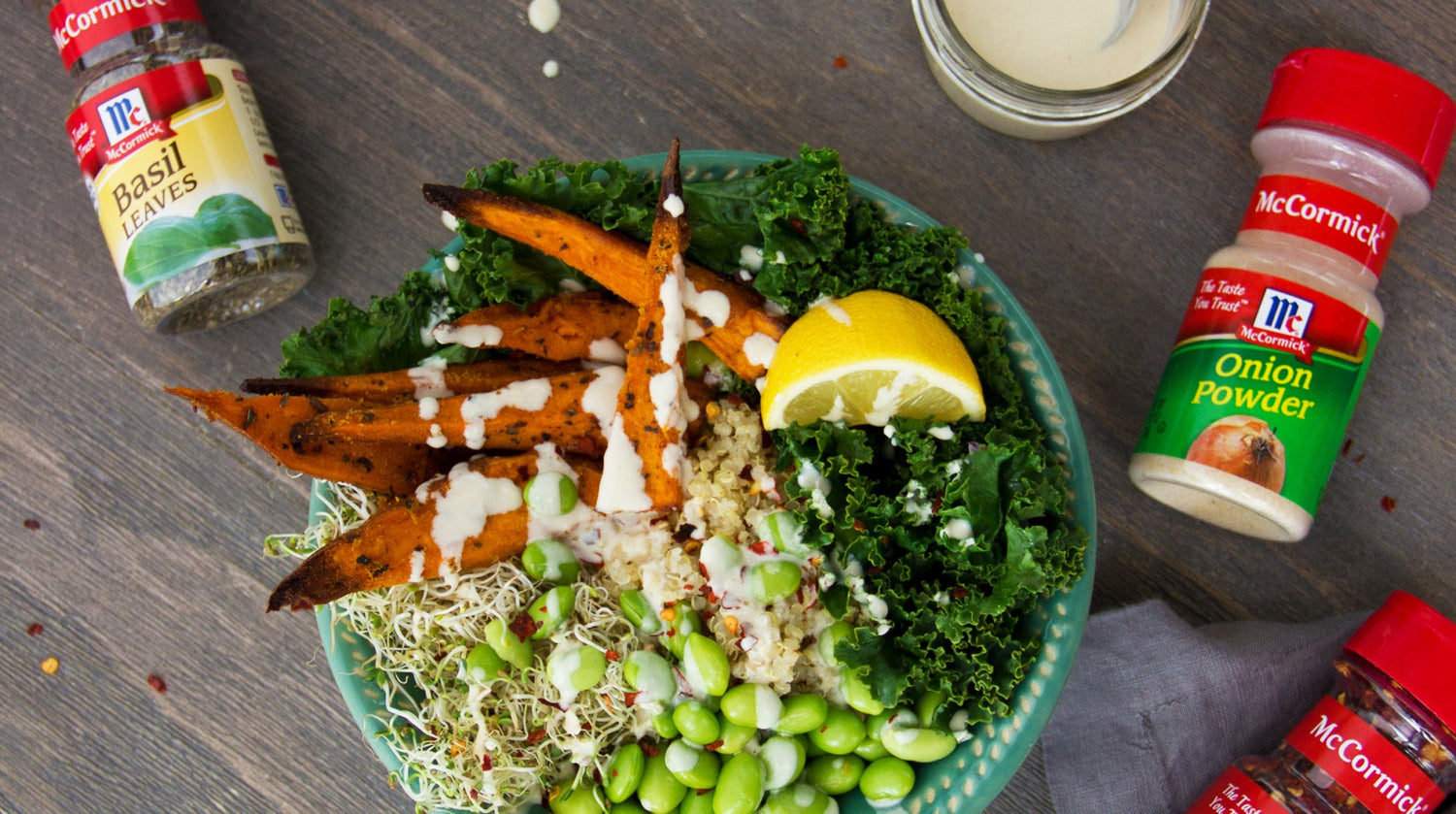 Bikini Series Exclusive Recipe! This Buddha Bowl Is Extra Insta-Worthy
By Katrina Scott on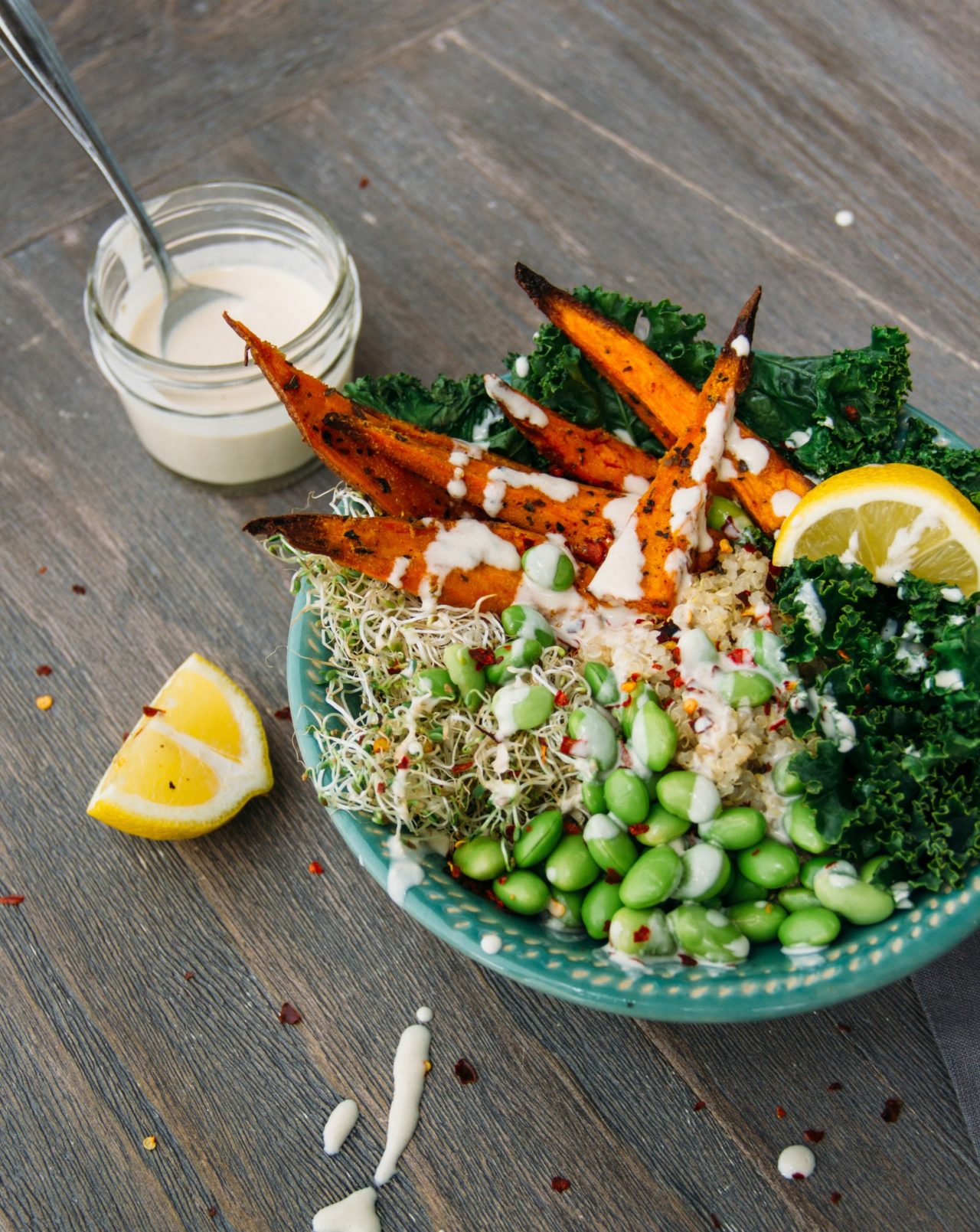 Beautiful Buddha Bowls ~ Featured from the NEW Bikini Series Edition!
We're counting down the days until the BIKINI SERIES starts! Just a few more to go now!! We've been following your
#TIUbikiniseries
posts, and we know you're ready! If you haven't signed up yet, head over
HERE
 to get your Free Starter Pack!
Today, we're featuring another one of the 50+ new recipes from the Bikini Series Edition of the
Tone It Up Nutrition Plan
! This Buddha Bowl was one of our faves at the HQ. It's SO delish. Plus, it's high in protein and healthy fats to keep you feelin' satisfied and rev your metabolism. And it's totally Insta-worthy! Snap a pic of yours and share it with us 
#TIUbikiniseries
!
Pro tip: You can prep a lot of these ingredients a few days before for the entire week. Try roasting extra sweet potato slices, cooking a batch of quinoa, and prepping the tahini dressing in advance so all you have to do during busy weeknights is toss your Buddha Bowl together! Meal prep is errrrrthang, girl!
Members, did you see your Bikini Series Edition?! Check your email! ; ) These new recipes are seriously amaze. And you'll be hearin' from us every Thursday in your inbox with our menu for the week and what meals to prep with us!
If you aren't already a member of the Tone It Up Nutrition Plan, join
HERE
 to get all of these delish meals and take your Bikini Series results to the next level! And we have all the deets on the new Bikini Series Edition
HERE
.
Enjoy the Buddha Bowl, babe!
INGREDIENTS: small sweet potato, cut into thick strips, +1/2 tsp. olive oil, crushed red pepper, dried basil, onion powder, of salt, kale, chopped, garlic, diced, sprouts, edamame, avocado, cooked quinoa + Tahini Dressing: tahini, lemon, juiced, water, of salt.
Preheat oven to 375 degrees.
Toss sweet potato with 2 tsp olive oil, crushed red pepper, dried basil, onion powder, and salt. Pour onto a cookie sheet and bake for 25 minutes.
In pan with 1⁄2 tsp olive oil, add kale and garlic clove. Sauté for 3 minutes.; In a small bowl, mix together the ingredients for the tahini sauce.
In a bowl, combine, all ingredients, including cooked kale and baked sweet potato. Top with tahini sauce.
Gear up for the the Bikini Series with one of our fave dinners from the new edition!
Join the Tone It Up Nutrition Plan
HERE
! It's packed with nutrition advice and thousands of recipes to help you reach your fitness goals. Plus, as a member, you'll receive the Bikini Series Edition with 50+ brand new recipes like the Beautiful Buddha Bowl!